Back to top
Skip to content
Skip to menu
Columnists
Back to top
Back to main
Skip to menu
Columnists
>
Victoria Twead
From Spain to Bahrain - Two Old Fools Go Shopping
Posted Wednesday January 04, 2012 (10:13:16) (2047 Reads)
October is the month for stock-piling firewood in our little Spanish village of El Hoyo. Evenings are very cool, and by the end of the month we would be lighting the wood-burning stove nightly. Not so here in the Kingdom of Bahrain where, for just one year, we're working as teachers in an International School. For the first time in six years, we don't need to think about logs.
Here in Bahrain it is cool inside, thanks to A/C, but step outside and the heat still produces an instant sweat. Clothes, too, are a problem. The showing of arms and shoulders is unacceptable but neither is it comfortable to wear too much. The clothes I brought with me from Spain were inappropriate, and I needed some more to wear to school.
The shopping malls in Bahrain are beautiful; huge, lavish, marbled affairs packed with clothes stores, so I didn't think refreshing my wardrobe would be a big problem. Wrong. I'm not a city gal, and I don't enjoy shopping, but needs must, so I put a day aside to hunt down some new outfits.
With Joe trailing behind me, I rifled through racks and racks of clothes, trying to find something suitable. To my surprise, everything on display was low-cut, skimpy, glittery or a combination of all three. Rack after rack of exotic-wear. How is that possible when Muslim ladies are dressed from head to toe in black, with only their faces (or just eyes) showing?
We deduced something that day. Outwardly, Muslim ladies are the picture of anonymity and decorum, but underneath those veils...who knows what secrets are lurking?
And these ladies, all dressed in black, posed yet another problem for me this week. It was Parents Evening at school, and the Principal gave an introductory speech. The rows of mothers, all veiled and dressed in black, listened intently. Then the Principal invited parents to introduce themselves individually to us teachers. Soon there was a long queue of them waiting to speak to me.
"How is my little Mohamed doing?" asked the first mother.
I couldn't see enough of her face to work out a family resemblance, plus I have at least five Mohameds in every class. Which of them belonged to this lady? I struggled.
"How is my little Mohamed doing?" asked the second mother.
By the time I had reached the fourth, my reply had been perfected. "He's doing fine," I would answer, "Lovely chap, bit chatty, but when he applies himself he can do really well..."
My recipe of the month - Matbucha
The name Matbucha literally means 'cooked salad' in Arabic and is popular throughout the Middle East as a side dish or over fish.
You will need:
1/4 cup extra-virgin olive oil
3 cloves garlic, minced
5 tomatoes, chopped
5 green bell peppers, chopped
1 hot chili pepper, chopped
1 teaspoon paprika
1 teaspoon ground black pepper
1 pinch sea salt (optional)
1 lemon, juiced
Method:
Heat the olive oil in a large pot over medium heat. Stir in the garlic, tomatoes, bell pepper, and chili pepper. Season with paprika, black pepper, and sea salt. Cook, stirring occasionally for 20 minutes until the vegetables are tender. Reduce heat to low, cover, and cook until the liquid evaporates and the salad thickens, about 2 hours more. Stir in the lemon juice, and refrigerate overnight before serving.
Serves about 6.
Victoria is the author of 'Chickens, Mules and Two Old Fools' (available at Amazon UK or Amazon USA) and 'Two Old Fools - Olé' (also available at Amazon UK or Amazon USA)

"a charming and funny expat tale" The Telegraph (UK)
"Weeks later you will be doing the dishes and recall some fleeting scene with chickens or mules or two old fools and laugh out loud all over again." The Catalunya Chronicle

Contact Victoria by email on TopHen@VictoriaTwead.com or via her website at www.victoriatwead.com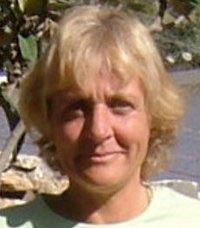 Victoria is a New York Times bestselling author. In 2004 she nagged poor, long-suffering Joe into leaving Britain and relocating to a tiny, remote mountain village in Andalucía where they became reluctant chicken farmers and owned the most dangerous cockerel in Spain. Village life inspired Victoria's first book, 'Chickens, Mules and Two Old Fools', which was quickly followed by two more in the Old Fools series, all of which fast became Amazon bestsellers. Victoria and Joe continue to enjoy life keeping chickens, writing, sampling the local wine and living alongside their colourful neighbours.
Expat Health Insurance Partners
| | |
| --- | --- |
| Bupa Global | Bupa Global is one of the world's largest international health insurers. We offer direct access to over 1.2m medical providers worldwide, and we settle directly with them so you don't have to pay up front for your treatment. We provide access to leading specialists without the need to see your family doctor first and ensure that you have the same level of cover wherever you might be, home or away. |
| Cigna International | Cigna has worked in international health insurance for more than 30 years. Today, Cigna has over 71 million customer relationships around the world. Looking after them is an international workforce of 31,000 people, plus a network of over 1 million hospitals, physicians, clinics and health and wellness specialists worldwide, meaning you have easy access to treatment. |