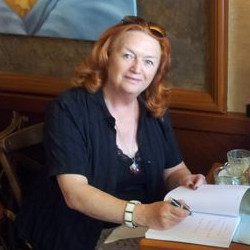 June Finnigan is an English expat who lives with her man in a lovely old monastery farmhouse overlooking the Chianti Hills, in Tuscany. She is a published Author and her novels, 'My Father, The Assassin', 'The Bolivian Connection' and 'The Italian Connection' are available on Amazon. She is also the lead singer of 'The Rock Chick Band' in Tuscany. June also shares more information about life in Italy through her blog.
Posted by:
Jamie
on Sunday September 15, 2019 (11:19:09) (55 Reads)
Frequently I see clients in my practice who are ESWKs (pronounced 'eswik') or Expat Spouses Without Kids. Although they are in an enviable position by some standards, they often tell me that their spouse is working all the time, they are lonely, and are fighting, sometimes successfully and sometimes not, the tendency to hide out at home. One client mentioned that she sometimes felt like curling up and hiding in a box in her closet.
There are two sides to the coin of being an ESWK. On one side you have the freedom to do almost anything you want to do, and on the other side is an almost complete lack of structure which at times can seem overwhelming and even despairing. In addition, when you have young children it is much easier to bond with other parents, as you have a built in reason for doing so.
more ...
Posted by:
Jamie
on Sunday September 15, 2019 (11:17:54) (59 Reads)
Erik Erikson, one of the foremost developmental psychologists of all time, outlined The Eight Stages of Human Development (Erikson 1950). In this seminal work he states that every human being passes through 8 stages of psychological development from birth to death. It is not the scope of this article to go into all the stages, but as an expat, and as a psychotherapist working with expats, I am continually reminded of the 6th stage, Isolation vs. Intimacy, which generally occurs between the ages of 19 to 40. The stage immediately preceding this is the adolescent stage of Identity vs. Role Confusion. Once one's identity has come into clearer focus, he or she is ready to move on to the task of establishing important relationships such as spouse, children, colleagues and close friends.
more ...