Who are you?
My name is Jacques Kotze-Garcia, I am from South Africa and moved to Peru in early 2016.Where, when and why did you move abroad?
I married a Peruvian diplomat who was posted in my country and moved here because the posting had come to an end, generally a posting is 3 years in Peru and 5 years abroad.
What challenges did you face during the move?
Moving from my country was not too difficult but the biggest challenge was bringing over our bulldog, who had to fly 3 different airlines to make it to Peru. Once here it was a matter of hours before we were able to get her into our possession without any quarantine period.
How did you find somewhere to live?
We used plenty of online websites like adondevivir.com and airbnb, and found an apartment close to what we needed in no time.
Are there many other expats in your area?
We live in Miraflores, Lima, a very busy touristic neighbourhood that has everything we need. Through Facebook groups I was able to meet other expats who were friendly and always willing to help with any advice I needed regarding a vast variety of topics as well as other expats I met who studied Spanish with me at Idiomas Catolica and IPCNA.
What is your relationship like with the locals?
The locals are extremely welcoming and friendly, although basic Spanish is a must in order to converse with people from store workers to taxi drivers.
What do you like about life where you are?
The area I live in is walking distance from everything I need, it's a safe, vibrant part of Lima with lots of character and life. Rent in general is expensive compared to where I come from but overall there seem to be new buildings popping up every few months to accommodate the growing population of Lima.
What do you dislike about your expat life?
The downside of this is traffic, I do not own a car here as it is not necessary, there are numerous taxi apps available and once you learn to negotiate you can get into a street cab too, but at peak traffic hours and depending where you are headed it can take up to an hour or more to get from one part of the city to another.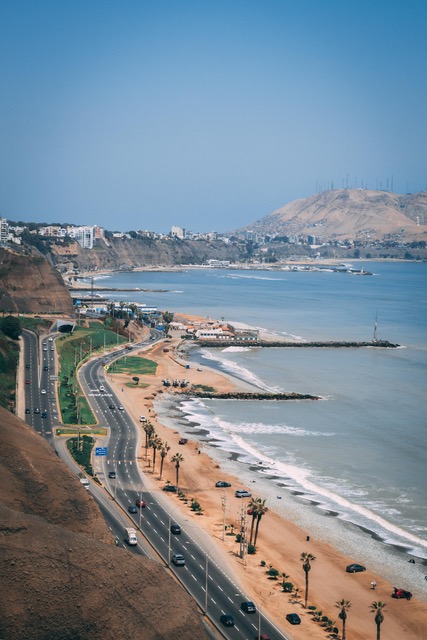 The coastline in Miraflores, Lima
What is the biggest cultural difference you have experienced between your new country and life back home?
Culturally it is a city that starts very late, social events, bars dinners etc tend to start much later at night around 9pm or later, but there are not plenty of things that are too out of the comfort zone. Weekends the social spaces of the city light up with plenty of people, markets etc popping up everywhere from parks to streets, this is rather nice and welcoming to all.
What do you think of the food and drink in your new country? What are your particular likes or dislikes?
Food in Peru absolutely delicious, from ceviche to lomo soltado there is something for every palate. Seafood and chicken, not to mention the 1000 different kinds of potatoes, make up the staple of most dishes. You can find some good meat too but at a cost. Being the gastronomical hub of the world it will not disappoint, word of warning: take your time to discover different meals and dishes if you are not used to a wide variety of seafood and raw fish, it takes your tummy some time to adjust, it's just so damn good.
What advice would you give to anyone following in your footsteps?
For anybody planning on moving here, I would suggest to try and learn as much Spanish as possible if you are able, there are plenty of Spanish schools that are aimed at adults and kids, do some research on where you want to live and have a look on google maps or google earth at what the area looks like.
Also if you are planning to work here try and have an idea of where, and see what requirements you need. I was able to get my work permit in about 4 months with the help of a lawyer, but lots of companies offer these services to their employees.
What are your plans for the future?
I am focusing currently on blogs around different aspects of life in Lima.
You can keep up to date with Jacques' adventures in Peru on Instagram.
Would you like to share your experience of life abroad with other readers? Answer the questions here to be featured in an interview!