Who are you?
My name is Yasmin but most people call me Yaz, I'm 25 years old and from Glasgow in Scotland, UK.My professional background is marketing, specifically social media and I've always had a passion for writing! I've kept a journal since I was 17 years old, currently on book number 13, so blogging was quite a natural progression for me!
Where, when and why did you move abroad?
I moved to Long Island, New York and live a 45-minute train ride from Manhattan. I moved here in August 2017, as my husband is a US citizen, we completed a K1 Fiance Visa and got married here last month! We met through a mutual friend who I lived with when I completed the International College Program in 2012 at Disney World in Florida
What challenges did you face during the move?
The first challenge was the visa process, US immigration is quite rigorous and so we had a lot of paperwork, a medical exam and an interview to complete prior to me being allowed to move here. The second challenge and probably biggest was saying goodbye to all my friends and family. I'm very close to them, so it was definitely difficult, to say the least! Moving country is a massive undertaking as you're leaving behind everything that is familiar, so it really forces you out of your comfort zone which can be pretty scary and stressful, but also really exciting!
Are there many other expats in your area?
Living so close to NYC there are a lot of expats here, it's one big melting pot!! Though, I'm yet to meet another Scottish person who lives in NY, I'm sure there are plenty though! Please get in touch with me if you are, I'd love a fellow Scot as a friend in NY.
What do you like about life where you are?
This might sound really generic, but the summer weather and the fact there are definitive seasons! It makes such a big difference to your life; in Scotland we only really have one season, its called grey haha! I live really close to the ocean now, which is beautiful. I also love how extravagant everything the Americans do is, weddings, Halloween celebrations, Christmas decorations etc., it's really great to be a part of!
What do you dislike about your expat life?
I dislike being so far away from all my friends and family, it's something I'm still getting adjusted to, I'm a real mummy's girl.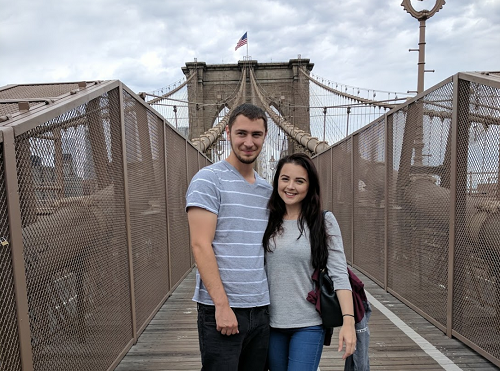 Yasmin and Anthony on Brooklyn Bridge
I'm also a little bit impatient, more than I would care to admit haha, so I really don't like not knowing the local area like the back of my hand but that will just take time I guess! Right now I have to use GPS to get anywhere!
What is the biggest cultural difference you have experienced between your new country and life back home?
The humour is quite different, Scottish people have a very unique sense of humour and a lot of it doesn't translate well. This probably has to do with the fact that Scottish people have lots of their own words and expressions which originate from old languages of Scots and Gaelic, so sometimes, I find myself struggling to put words from Scottish English into American English.
That probably sounds really bizarre as we both speak English, but sometimes my accent and dialect completely throws people off and my husband ends up having to "translate" me to people or if I'm by myself I need to put on an American accent just so people can decipher what I'm saying! It does make for some pretty funny situations though!
What do you think of the food and drink in your new country? What are your particular likes or dislikes?
The US, New York in particular, has such a wide variety of food, as there are people here from all round the globe, so there is something to suit every kind of craving! However the portion sizes are pretty out of control, sometimes I feel full just looking at the plate before I've even eaten anything! However they do let you customise anything on the menu and taking home food is a given, which isn't always the case in the UK.
There is a massive frozen yoghurt store at the end of our road, due to allergies I can't eat ice cream, so this is a major plus for me, especially in the summer months! I'm also pretty much gluten free and there is a wide selection of shops that stock these types of products!
Hmm what else… I love sparkling water (here it's called Seltzer), and unlike the UK, you can get it in cans in the US! I really don't like their chocolate though; UK chocolate in my opinion is SO much better! Everything I've tried here except Nutella, tastes like cooking chocolate! Their potato chips (which we call crisps back home) don't come in as wide a variety of flavours either!
What advice would you give to anyone following in your footsteps?
If you are immigrating to the US through marriage to a US citizen, read read and then read some more! Your research and understanding of the process will be crucial to your success, it can be very confusing if you haven't dedicated enough time to learning all the ins and outs of what is required from you and your significant other.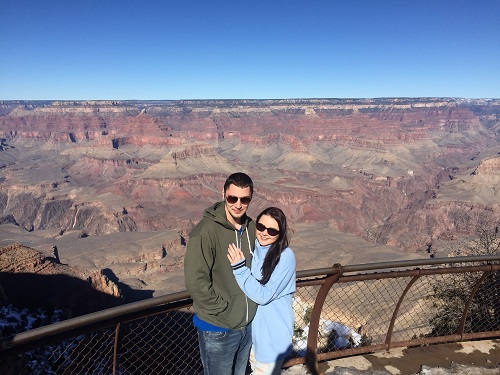 Yasmin and Anthony at the Grand Canyon
On a more general note, enjoy the time you have with your friends and family, sometimes you look forward to the move so much, that you can't wait for it to happen, but you will really miss your people when they are no longer close to you anymore! Homesickness will hit you eventually, it really does come in waves, but don't be afraid of it! It's a very normal reaction to such a major life change!
Try to have a little patience; it may be a while before you feel settled. Not everything is going to happen at once, it will take time to adjust and learn the way of life in your new home. With that being said, don't change yourself completely just to fit in, keep your roots – cause they make you who you are and it makes you very unique in your new country!
What are your plans for the future?
Continue blogging about my new life in the US, move into our new house, which we are currently renovating, start my new job and a visit home to Scotland in 2018!
You can keep up to date with Yasmin's adventures on her blog, Yaz Talks A Lot.
Would you like to share your experience of life abroad with other readers? Answer the questions here to be featured in an interview!