Famed for its weather and beautiful beaches, Antigua and Barbuda, a tiny Commonwealth state in the Caribbean, can only be described as a tropical paradise. While the island of Barbuda is still recovering from the massive damage dealt by Hurricane Irma in September, the nation remains an attractive destination for tourists and expats alike.Expats who have animals as part of the family and want to move to Antigua and Barbuda will have questions about how to handle this. Most countries have strict regulations about bringing animals (whether pets or livestock) in from elsewhere, with one of the primary concerns being disease. Antigua and Barbuda is no exception.
If you intend to take an animal with you when you move to this idyllic location, you will need an import licence from Antigua and Barbuda's veterinary and livestock division. The requirements for this vary depending on whether the country you're coming from is classified as rabies-free or rabies-infected. Let's consider both cases.
Rabies-Free Country Of Origin
If your country has been officially certified as rabies-free by the World Organisation for Animal Health (also known as the OIE), then you need to submit the full medical history of your dog or cat, including their vaccination details. In particular, the rules state that you should get your pet tested for Lyme disease and Ehrlichia, as well as FIP, FeLV and FIV for cats.
You'll find the contact details for the veterinary and livestock division at the end of this article.
Once the authorities have reviewed your application and deemed it safe for you to bring your pet into the country, they will issue you an import licence. However, there are a few more things you need to keep in mind for when you're actually travelling to Antigua and Barbuda.
First, you'll need to get an official health certificate issued for your pet by the government of the country you are coming from. This certificate should be no more than seven days old by the time you arrive, and will certify your pet as healthy and free from disease.
According to the regulations, you also have to get your cat or dog treated for 'internal and external parasites'; that is, worms, ticks, fleas and so on. The treatment has to be carried out in the week before departure, and the products used must be mentioned on the health certificate.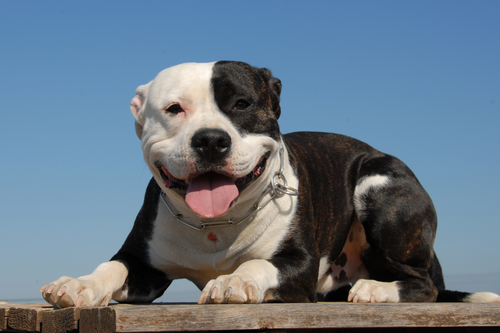 Certain breeds are restricted from entering the country
You have to contact the authorities in Antigua at least 48 hours in advance to tell them when you'll be arriving so that they can arrange for a veterinary inspection at the airport. There's an inspection fee, and since animals are treated as goods, you may be charged customs duty as well.
One last thing to note is that pit bulls are banned in Antigua and Barbuda. If you have a dog that resembles, but isn't, a pit bull, you will have to present a certificate from a kennel club stating your dog's breed.
Rabies-Infected Country Of Origin
If your country is classified as rabies-infected — notable examples include
the US and Canada —there are a few more steps you need to take.
First off, you will need to do everything mentioned in the previous section; that is, submit medical records, get your pet tested and treated, and receive a health certificate from the authorities, and let the Antiguan government know when you'll be arriving.
In addition, you will have to submit a rabies vaccination certificate, which shows that the vaccine has been given within the last year. You also have to get a rabies titre test carried out at an accredited laboratory. The OIE has a list of approved labs here; the European Union also maintains a list of approved rabies serology labs, which you can find here.
It can take a few weeks to get the results of the titre test, so plan to get it done well in advance. If the test results are clean, and the cat or dog's medical history passes muster, then the Antiguan government will issue you an import licence.
As well as that, you also need to get your pet microchipped. This refers to a procedure where a tiny chip (AVID is a popular brand) is injected below your pet's skin. The process is harmless and the needle no larger than what is used for vaccinations and the like. Each microchip has a unique number which can be read by a microchip scanner, and which helps identify your pet if they get lost.
There are many different types of microchip. It's recommended to get the ISO standard one, which uses 15 digits. There are also 9- and 10-digit chips. If this is the type your pet already has, or is the only type you can get at the moment, then it's advisable to carry a compatible microchip scanner of your own when you go to Antigua and Barbuda. Again, if there's any confusion about the chip to be used, just check with the Antiguan authorities.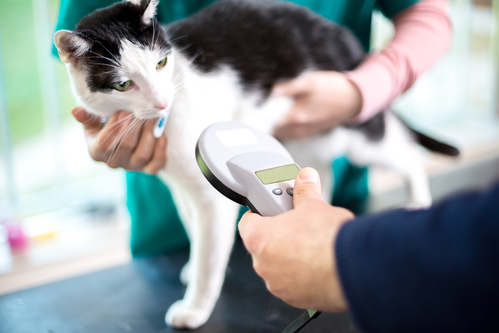 Get your pet microchipped before you move
Finally, these instructions apply mostly to cats and dogs. In case you intend to take other animals with you, such as birds or rabbits, you should contact the livestock division in Antigua to check whether your pet can be allowed into the country, as well as what the requirements are to get a veterinary import licence.
If you have a more exotic pet, it would be a good idea to double check whether it is classified as an endangered species; there are restrictions on the trade and movement of such animals under international law. You can check the list of species here.
Travel Tips
We've covered all the basics as far as getting permission to bring your pet goes. But what about the actual process of transporting them to another country?
First, you need to check with your veterinarian whether the pet is fit to fly. Very young (less than two or three months) and very old animals cannot deal with the stress of travelling in the cargo bay; this may hold for pets with permanent injuries or special needs too.
The next step is to contact the international airlines that have flights to St John's in Antigua. Each airline will have different requirements, but most will ask for copies of your pet's medical and vaccination records. You should also enquire about what type of kennel or carrier is acceptable.
The IATA (the International Air Transport Association) has a set of guidelines for travel kennels, which you can see here. You can ask pet stores for IATA standard carriers. It's vital that you have a sturdy container to make sure your pet doesn't escape at the airport or while in transit.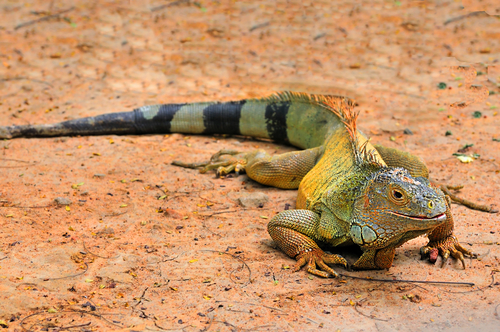 If you have exotic pets, check that they are allowed into the country
Do check with your vet or at a reliable pet store about the size of the kennel or carrier. You'll generally want a larger container than you would normally use for short trips to the vet and so on. This will mean that your pet has enough room to move around during the flight. If you have more than one pet, it's recommended that you use separate containers, rather than one big one, since the stress of travel might spark aggressive behaviour.
Some airlines allow you to take your pet along as cabin baggage, so you can have them by your side throughout the trip, although you still have to keep them in a carrier or a crate of some sort, either in the overhead baggage compartment or under a seat. This can take away a lot of the stress involved in moving a pet between countries, but it's only an option for small animals or breeds.
If your pet does have to travel in the cargo bay, you should contact the airline to ask the following questions.
• Do you have to arrive at the airport earlier than other passengers?
• What are the charges are for transporting your pet or pets?
• Is the cargo bay is temperature-controlled (it can get quite cold 35,000 feet in the air) and pressurized?
• Where you have to go at the airport to get your pet and kennel or carrier loaded onto the plane? Frequently, this process is separate from checking in your other luggage.
If you have to change flights, find out how you can check whether your pet has been shifted from one plane to the other, and whether you need to do anything during a stopover.
In the weeks or months leading up to the flight, you should make sure that your pet is comfortable being in the carrier or kennel. Leave it open around the house, with a toy or a blanket that they use inside; try to get them to spend some time inside the container, along with small bowls of food and water. Every little bit helps.
It may seem like a good idea to sedate your pet, but this can be dangerous. Only resort to sedatives if your vet says it's okay. In fact, only use them if the vet actually recommends them for your pet, which may be the case if your animal is particularly prone to aggression or nervousness.
Other than that, remember to give a packet of food and a familiar toy to the airline staff when your pet is being loaded on to the plane, along with the medical papers and whatever other documents they need. You may also want to periodically remind the staff, during and after the boarding process, that you have a pet in the cargo bay and that they should ensure the bay is pressurized and kept at the right temperature.
Before you depart, don't forget to ask around for vets in Antigua. Your current vet in your home country may be able to help; otherwise, you might want to look up friends who live or have lived in Antigua, or perhaps online pet owner communities. Dogs and Cats of Antigua is an example. Try to get in touch with your new vet before you leave in order to arrange for a visit when you reach your new home.
One other alternative is to contact a company that offers professional pet transport services. They will be better equipped to handle the details of the journey than you, and will likely also be able to help with the paperwork and formalities required. However, they will charge a hefty fee, so this may not be an option for those on a more limited budget.
Settling Your Pet In Antigua And Barbuda
You'll need to spend some time acclimatizing your pet to the new environment. Toys and familiar objects such as rugs, blankets, food bowls, scratching posts and so on strewn about the house can help get them used to the new location. You will also need to keep the climate in mind. Antigua and Barbuda are just north of the equator, and the heat can very quickly affect animals used to colder climes. Powerful air conditioning may be a good investment if that's the case.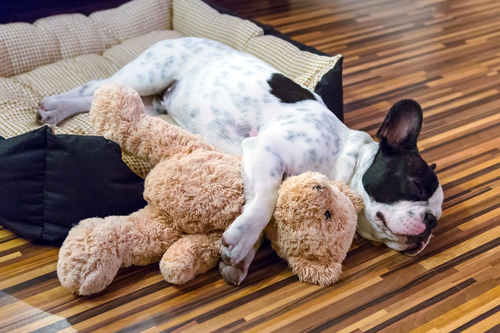 Make sure your pet has immediate access to familiar things from home
If you have a dog, you'll have to get it registered and microchipped if it's six months or older, according to the Dog Registration Act of 2006.
Antigua and Barbuda are fairly well connected and provisioned, but it's still quite possible that pet supplies you're used to having aren't easily available. This can apply to everything from food to medicines, so it's a good idea to stock up on the essentials before you leave your home country. For hard-to-find items, look up alternatives you can find in Antigua, or find out how you can import them if need be.
Here's wishing you and your animal friends a safe journey!
Further Reading
• Government Website
• Antigua Animals
• Antigua-Barbuda.org
• Pet Travel
• Europa
• Pet Relocation
• OIE
• IATA
Have you moved to Antigua & Barbuda with pets? Share your experiences in the comments below, or answer the questions here to be featured in an interview!