The twin island country of Antigua and Barbuda is located in the Caribbean and is bordered by the Caribbean Sea and Atlantic Ocean. Antigua and Barbuda are the two major inhabited islands. There are also some smaller islands such as the island of Redonda in the south, Great Bird, and Guinea. The explorer Christopher Columbus discovered the islands in 1493. The capital city of St. John's is the largest port in the country and is located on Antigua. The country's population is approximately 81,800. Once a part of the British Empire, its influences are visible in the island's government, culture and language.Antigua and Barbuda is blessed with rich natural surroundings. It is renowned throughout the region for its education system, and has a literacy rate that exceeds 90 percent. It offers its inhabitants a high standard of living. The island is sometimes referred to as the 'Land of 365 Beaches' because of its numerous surrounding beaches. Expats are drawn to Antigua and Barbuda because of its lush natural scenery and stunning beaches. Since the island bears resemblances to Britain, it is popular with expats from the UK. The country also has a blend of Portuguese and African culture.
Dance and music are integral to the local culture. The carnival, which is held every year, takes place in Antigua and marks the cessation of slavery in the country, and also the end of the Lenten period. Huge crowds gather together for the carnival, from within the island as well as from abroad.
English is the official language of Antigua and Barbuda. There is also a local language called Antiguan Creole, which is drawn from African, American and British influences. The island also has a considerable immigrant population from the Dominican Republic and therefore Spanish can also be heard throughout the region.
The process of entering Antigua and Barbuda is simple, provided you have all the necessary forms for obtaining the appropriate visa, which is a must for those who plan on staying in the country for more than six months. Residents who have lived in Antigua and Barbuda for more than seven years are eligible for citizenship.
Employers in the country are permitted to employ foreigners provided they first advertise the prospective job in local newspapers and hold interviews for locals. If it is established that no one else is eligible for the position, they can go ahead and hire foreigners. Expats who plan on living and working in Antigua and Barbuda needs to have a temporary visa and a work permit. The employer is responsible for applying for an expat's work permit at the Ministry of Labor at St. John's. The documents that are necessary for this process include your passport, the filled out application form, a bank statement, two reference letters, a letter from an employer which has been notarized, and proof of temporary residence.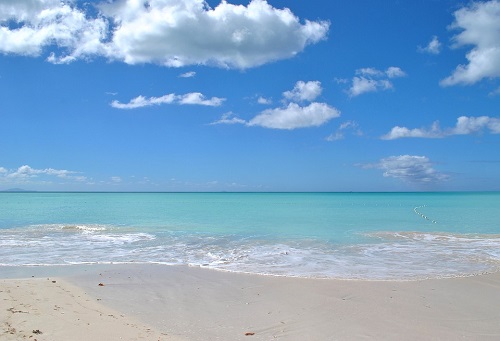 The country's beautiful beaches are one of its main attractions
© nike159 on Pixabay
The economy of the country mainly depends on the banking, tourism and agricultural sectors. Due to the low cost of living in Antigua and Barbuda, expats can look forward to a comfortable stay on the islands.
Antigua and Barbuda serves as a renowned medical services provider in the Caribbean region. The Mount St. John's Medical Center, in the capital city of St. John's, is the most modern of all hospitals among the Caribbean islands.
The healthcare system
For the purpose of healthcare, Antigua and Barbuda consists of six medical districts. There is a district medical officer for each district, who is appointed to carry out medical services. Health centers are responsible for delivering primary healthcare, and these health centers are located within a 3km radius of each major settlement.
Antigua and Barbuda has a National Drug Formulary that is part of the public healthcare system, which provides 380 different types of drugs. This guarantees that all those with chronic conditions can have access to medications.
Government expenditure and role in healthcare
The Ministry of Health governs the health of the country, and receives funds from Ministry of Finance. Patients or non-governmental sources such as charities, private insurers or employers funded only about 25 percent of healthcare. The government expenditure on healthcare is 3 percent of the country's GDP. The nation's government released the Report on the Draft Strategy for Universal Health Coverage in 2014. The report emphasized four areas that can guide the improvement of health systems in Antigua and Barbuda. These were:
• Improving access to high quality, comprehensive health services, which are also centered on the people and communities.
• Enhancing governance and stewardship
• Increasing and enhancing financing in an equitable and efficient manner, without out-of-pocket expenses
• Initiating intersectoral action on the social factors concerning health. Intersectoral action are the actions that influence health outcomes initiated by sectors outside of the health sector. These actions may or may not be taken in collaboration with the health sector.
The International Covenant on Economic, Social and Cultural Rights places the responsibility on signees to ensure 'the right of everyone to the enjoyment of the highest attainable standard of physical and mental health'. It must be noted that Antigua and Barbuda is not among the signees of the covenant.
The government of Antigua and Barbuda is dedicated to ensuring the health and wellness of its inhabitants by offering strong leadership, good governance, provision of services, sufficient and sustainable financing, and through fostering a partnership of the public and private sectors. The government is in the process of building a National Strategic Plan for health.
The government has also created special policies and plans in the fields of mental health, non-communicable diseases, aging and health information systems. With the understanding that a number of today's public health issues must be tackled within a legislative framework, the government has updated legislations meant to regulate healthcare providers. It has also created new legislations for food safety and tobacco control.
The Antigua and Barbuda government has been providing free of cost medication, medical services and medical supplies to persons diagnosed with chronic non-communicable diseases such as chronic respiratory disease, diabetes, cardiovascular diseases and cancer, through the Medical Benefits Scheme. But since a number of these conditions are related to lifestyle and can be prevented through cost-effective measures that are centered on diet, exercise, obesity, and a decrease in tobacco use and alcohol consumption, the scheme now includes prevention. This scheme especially targets youths as part of its programs.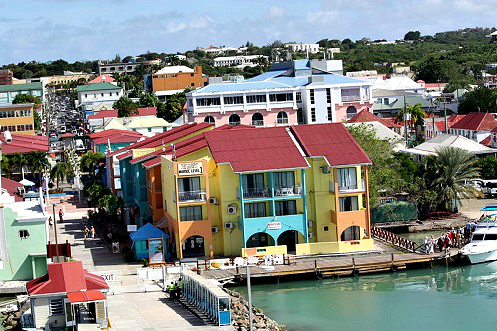 St John's has the best medical facilities
© Anneli Salo on Wikipedia
The Ministry of Health has recently created a public and private sector health task force that aims to enhance the connection between the two sectors via regular dialogue and discussions. This is aimed at better collaboration on patient referrals, shared services, and information and data sharing.
There are a number of factors, such as low financial resources, adverse effects of globalization and limited human resources that affect small island developing countries such as Antigua and Barbuda. But the government is committed to focusing on the social factors related to health and exercising firm political will, along with a continued strengthening of the healthcare system, in order to make sure that citizens and residents have access to quality and equitable healthcare, which in turn will have a positive impact on sustainable development.
Healthcare facilities
There is a network of 26 community health facilities, one public hospital in Antigua, and an 8-bed medical facility in Barbuda that provide healthcare services to the people of Antigua and Barbuda. The healthcare staff at the clinics use a team approach to deliver primary healthcare to locals and expats. One of the achievements of the nation's healthcare system is nearly full coverage for vaccine preventable diseases.
Antigua and Barbuda has a number of qualified general practitioners and specialists on the island. There are also well-equipped testing clinics. The healthcare services in Antigua and Barbuda are known to be adequate, but there are some major conditions that cannot be treated. It is best to check in advance if the facility near you can treat all conditions. Most hotels have general practitioners as part of the staff. If there isn't one, you can ask the desk for a recommendation for the appropriate doctor or specialist. Doctors, ophthalmologists and dentists are also listed in the telephone book.
The main medical care facility in Antigua is the Mount St. John's Medical Center. Its facilities adhere to international standards. This hospital provides services such as casualty, maternity, and radiology with the latest in digital technology, pharmacy, pathology, surgery, intensive care, a children's ward and a special care unit for babies born prematurely. The hospital also offers health promotion and prevention programs for diabetes, hypertension and antenatal care. The hospital even has a blood bank, and provides medical treatment for dialysis, nephrology, oncology, reconstructive surgery, and physiotherapy and rehabilitation.
Healthcare is also provided through four institutions that cater to the sick and aged. Mount St. John's Medical Centre replaced the Holberton Hospital in Antigua in 2009. Mount St. John's Medical Centre is a 185-bed teaching hospital with accreditation from the Caribbean Medical Council Association. It aims to adhere to the standards of most hospitals in the United States.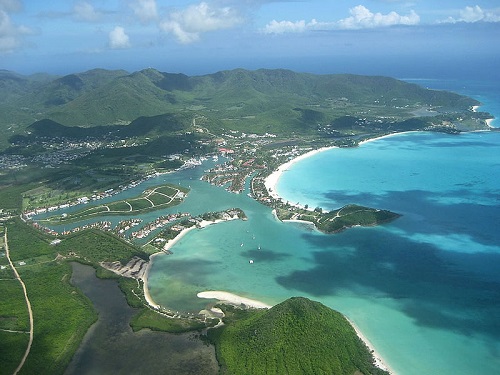 Antigua & Barbuda is a beautiful Caribbean destination
© David Stanley on Wikipedia
Both Holberton and Mount St. John's Medical Centre were aided by the Mill Reef Fund, which assisted both hospitals in acquiring medical beds, washing machines, sterilizers, an operating room and diagnostic equipment. In recent times, the fund provided the financial resources required to ship a 20-foot container from Canada, which was carrying used or surplus hospital supplies and equipment to the Mount St. John's Medical Centre. The fund also offered a grant for important equipment and training for basic life support, immediate post-cardiac arrest care, cardiopulmonary resuscitation, and hospital beds for the hospital's pediatric ward.
The Adelin Medical Center, located at Fort Road, St. John's, is a private hospital that provides general medicine, ENT, ophthalmology, obstetrics, gynecology, pediatrics, endoscopic surgery, orthopedics, dentistry, X-Rays and physiotherapy. It is open 24 hours a day.
There is also the Fiennes Institute for the aged, which has 100 beds, and was originally built to alleviate the suffering of homeless Antiguans. Many of these are senior citizens who are not able to care for themselves. The residents are housed in six wards and are provided care by a staff of more than 20 nurses. The wards are connected through outdoor walkways.
There are numerous pharmacies on the island, with most of them concentrated in St. John's. Most pharmacies open at 9 in the morning and close at 5 in the evening, from Monday to Saturday. Ceco Pharmacy, which is a 24-hour pharmacy, is open all days of the week from 8.15 in the morning to midnight, and is located on High Street. This pharmacy provides full prescription services. Pharmacies can also be found at the Woods Shopping Centre and at Jolly Harbour. However, there are currently no pharmacies in the English and Falmouth Harbour regions.
There are currently no vaccinations necessary when traveling to Antigua and Barbuda, unless you are coming from an endemic area. However, it is advisable to check the World Health Organization (WHO) website and the information provided below in case there are any changes.
Health advice for expats traveling to Antigua and Barbuda
Expats are advised to bring with them sufficient supplies of all medications in their original labeled containers. They must also have with them a dated and signed letter from their primary doctor describing their medical conditions and listing all medications. Expats should ensure that they have proper health coverage and accessible funds to pay for any medical treatment and repatriation. Here are some additional points to keep in mind when moving to Antigua and Barbuda:
• Visit your doctor at least four to six weeks before your move to confirm if you require any vaccinations or other preventive steps
• Dengue fever is endemic to the Caribbean region and can strike throughout the year
• The UK health authorities have listed Antigua and Barbuda as a risk-area for transmission of the Zika virus.
• There have been confirmed cases of Chikungunya virus in Antigua and Barbuda.