Who are you?
Katie Dundas, originally of Poolesville, MD, USA, a small town near Washington DC, now residing in Sydney, Australia.I currently work for an Australia-based charity and am also a freelance travel writer.
Where, when and why did you move abroad?
I moved to Australia in 2012 on a working holiday visa. I have made my home in Sydney since then, and am now a permanent resident. Before arriving in Australia, I attended graduate school in Scotland, so I have been living abroad since 2008.
What challenges did you face during the move?
Just getting settled, since you're often starting from scratch when you move to a new country. Finding work can be a big challenge – if you don't have local experience, it can be hard to get a foot in the door, so to speak. Locating a place to live, making new friends, learning how things work, all take time but will eventually settle into place.
Are there many other expats in your area?
Yes, one of the great things about living in Sydney is its diversity. While there are many Americans here, it is great to meet new people from all over the world and I find it fascinating to learn about other cultures.
There is also an American expat club in Sydney, 'Sydney Americans', which is a good way to meet fellow expats, and they host large social events for Thanksgiving, Halloween, 4th of July, etc.
What do you like about life where you are?
Sydney is an incredibly amazing place to live. Surrounded by national parks and beautiful beaches, I love doing anything outside- swimming, diving, bushwalking, and weekends away mean there is always somewhere to be explored. There are also always new restaurants and small bars to check out, in fun neighbourhoods like Surry Hills, Crows Nest, and Manly.
What do you dislike about your expat life?
Australia, especially Sydney, is infamous for its skyrocketed property prices and high cost of living. While salaries are generous here, Sydney is still an expensive place to live and purchasing property is out of reach for many people of my age. It is frustrating, I think if I had stayed in the States I would be able to own a place by now – but living in Sydney is still worth it!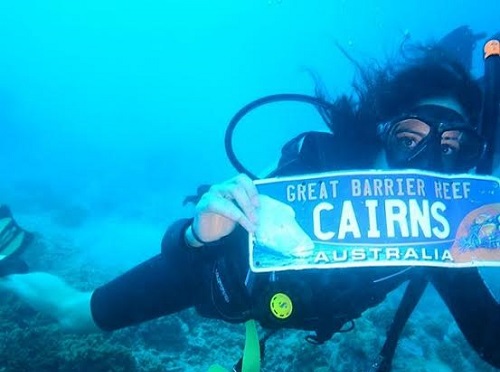 Katie diving in the Great Barrier Reef
The public transport is also somewhat inefficient for such a large city, but the government is actively making changes to improve this by constructing a light rail and expanding the train services, which is positive.
What is the biggest cultural difference you have experienced between your new country and life back home?
Australia and the US are similar, as American (and British) culture has shaped Australia in many ways. Most differences that irk me are minor, such as driving on the opposite side of the road, the lack of central heating and air-conditioning in homes, or the oddities of the Australian political system.
Australia does have a wonderful culture of 'mateship', a quintessentially Aussie term which means men and women helping and supporting each other whenever possible, and is a really positive approach to life.
What do you think of the food and drink in your new country? What are your particular likes or dislikes?
Ironically, Sydney is in the midst of an American food revolution, and there's a lot of restaurants doing amazing American cuisine, such as Hartsyard in Newtown or Surly's in Surry Hills.
Australia produces amazing and fresh seafood, cheeses, wines, and even truffles, so I love trying different specialty products from different regions. I do find that meat, especially pork, plays very heavily into Australian traditional cuisine, so this can be a challenge at times outside of the larger cities.
What advice would you give to anyone following in your footsteps?
Try to do as much research as you can before moving over- check out which neighbourhoods you might like to live in, have a look at job opportunities, and talk to others who have moved over, through online forums or expat resources.
What are your plans for the future?
I plan on staying in Sydney, but continuing to travel Australia and Asia whenever possible!
You can keep up to date with Katie's adventures on her blog, The Accidental Australian, and on Facebook and Twitter.
Would you like to share your exprience of life abroad with other readers? Answer the questions here to be featured in an interview!