Brussels, the capital of Belgium, is also known as the Capital of Europe as it is the administrative center of the European Union. Growing from a tiny rural settlement along the river Senne, Brussels has now become a vital destination in Europe.Brussels has been a hub for international politics since the end of World War II. It houses a multitude of international organizations and its population consists of a considerable number of diplomats and politicians. The city's character draws from a blend of Flemish and French culture. A truly cosmopolitan destination, it features impressive boulevards, wide parks, lively squares, great restaurants and a cultural life that is always abuzz.
Brussels is today a thriving expat destination because it offers a high quality of life. It also has a pleasant climate and is conveniently connected to the rest of Europe. Its status as the capital of the European Union lends it an international vibe. Professional expats are drawn to Brussels as it houses plenty of multinational companies.
Brussels is a city steeped in culture and it has many historical attractions. Its restaurants are excellent and it has some great shopping areas. The public transport system is efficient and affordable and consists of buses and trams, making it convenient for expats to get around the city. Expats with families will be happy to know that the city's healthcare facilities are excellent and there are a number of reputed internationals schools to choose from. There are also a variety of housing options available, from the larger homes on the outskirts to apartments in the city center. There are very few downsides to living in Brussels, but one challenge expats may face is the traffic congestion. The cost of living in Brussels can also be on the higher side.
Here are some reasons why you might want to consider Brussels as your next expat home.
Cultural diversity
The culture of Brussels, and of Belgium in general, is a mix of the French south and the Flemish north. Brussels is an important hub for performing arts and has thirty independent theatres. Expats will have an opportunity to feast their eyes on the performances staged by the National Orchestra and the National Opera House. There are seventy-five museums in Brussels showcasing a wide variety of objects of interest.
Perhaps the city's best-known landmark is the Grote Markt, which is known to be among Europe's most attractive squares. The Town Hall is in Grand Place, an extravagant square lined with beautiful buildings. It has a Gothic design and a central tower that rises to 215 ft. The interior can be visited by appointment and one of its main highlights is the mirrored Gothic Hall.
Brussels is the home of the architect Victor Horta and his colorful monuments can be found across the city.
Art and architecture
Brussels is renowned for its Art Nouveau architecture. Victor Horta and Paul Hankas, who both hail from Brussels, designed the world's first two Art Nouveau buildings.
At the turn of the 19th century, a huge number of structures ranging from schools to private homes were built according to the Art Nouveau style. Nearly 500 of these still remain. Expats can go on a series of guided walking tours as part of the Biennial Art Nouveau Event, which explores the art style.
Brussels' Grand Place, the central square of the city, is a UNESCO World Heritage Site. It is considered to be one of the most beautiful places in the world and definitely among the most attractive in Europe. A spectacular example of 15th century and 17th century architecture, Grand Place was the venue for a number of historic events, such as the burning of the first Protestant martyrs by the Inquisition in 1523 and the beheading of the counts of Egmont and Hoorn in 1568.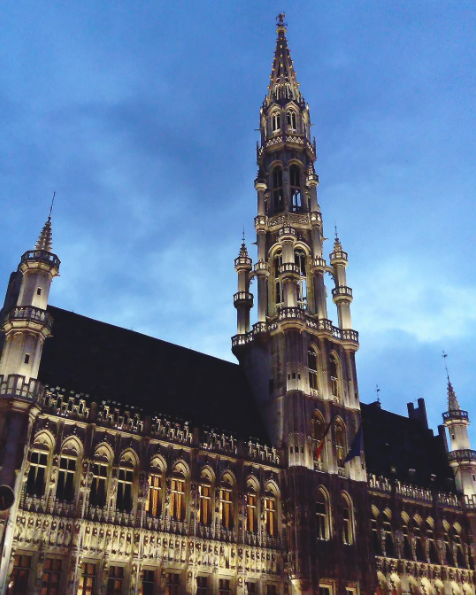 The Town Hall in Grand Place © jeviscachee on Instagram
A more recent example of the stunning art and architecture of Brussels is the Atomium, which was built for Expo 58 and is a great example of 20th century design. It is made of nine spheres that form a 103-meter representation of an iron crystal.
Gastronomical delights
In Brussels, food is an art form. This gourmet haven has more Michelin stars per head than any other destination in the world. In fact, the whole of Belgium is a paradise for food lovers and one doesn't need to spend heavily in one of the country's many Michelin-starred eateries to have a delicious feast.
There are restaurants that prepare local specialties as well as international cuisine throughout the city. Belgium is especially known for fries and waffles, which are popular street foods. In Belgium, frites (fries) are accompanied by mayonnaise or served alongside a dish of mussels.
Brussels is also renowned for its seafood. Trout, in particular, is found in many of the rivers. Some of the popular soups include waterzoni, a stew-like preparation. Lobster and oysters are served in restaurants around the city.
Beer, which Brussels is also famous for, is an ingredient in many of the local recipes. Some of the most refined restaurants in Europe can be found in Brussels. Expats moving to Brussels are in for a gastronomical delight.
Healthcare
The Belgian healthcare system is considered to be one of the finest in Europe. Expats living and working in Belgium, upon completing the required registrations, are entitled to subsidized healthcare.
The healthcare system in Belgium is separated into the state and private sectors. Social security contributions fund the payable fees in both sectors. Expats can choose their own doctors and facilities for treatment. Patients usually pay the costs upfront and later claim reimbursements for a portion of the medical fees, hospital treatment, maternity expenses, prescriptions and dental fees from their health insurance fund. In French, the fund is known as mutuelle, and in Dutch it is called ziekenfonds. There are also reimbursements for certain alternative treatments if they are conducted by a qualified doctor.
In addition to their state health insurance cover, most expats also opt for private insurance so that they can claim a full refund on all their medical expenses. Doctors in Belgium work in public as well as private facilities. However, almost all dental facilities are private.
In the Euro Health Consumer Index of 2016, Belgium ranked in fourth place, ahead of countries like Germany and Denmark. The Belgian Healthcare system was especially praised for its easy accessibility and quickest access to healthcare services than any other destination in Europe. Belgium is one of the few countries in the world that spends more than 10 percent on healthcare, putting it in line with countries such as Sweden, Switzerland and France. 78.8 years is the average life expectancy estimated in Belgium. The country has about 6.2 beds per 1000 people.
Festivals
Brussels is famous for being the administrative center of the European Union, however it is not all work and no play in this vibrant city. The city hosts a number of different festivals and carnivals every year and there is a celebratory spirit prevalent in the city's character. The festivals also play the important role of carrying forward cherished traditions down the generations. Expats living in Brussels will usually find the population in the midst of one celebration or another. These range from film and music festivals to art and architecture events.
One popular festival in Belgium is the Ommegang Festival, which occupies a key role in the country's historic and cultural heritage. It has been celebrated since 1549 in honor of Charles V and Philip, his son. Held on the first Thursday of July, nearly 1400 participants collect together wearing elaborate costumes and bearing antique weapons like crossbows. There is a procession held at the Place du Grand Sablon where members of the public can watch the event along with the Royal Family.
Another unique event held in Brussels is the Carpet of Flowers, where participants from across the country gather in Grand Place and engage in creating beautiful carpets made entirely out of flowers. This event takes place in August and has been celebrated since 1971.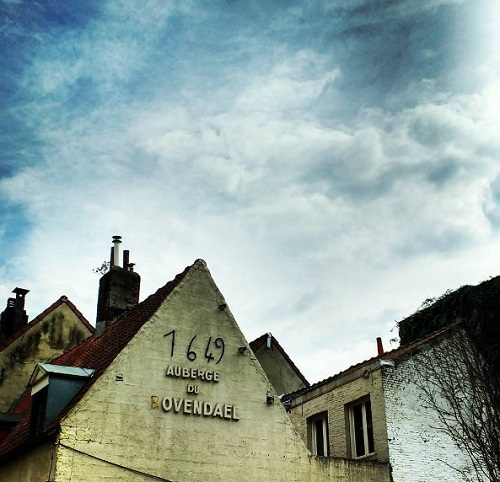 Brussels' architecture is a mix of old and new © jeviscachee on Instagram
Efficient public transportation
Brussels is equipped with an efficient public transport system, making it easy to get around the city. Public transport is handled by the STIB or Société des Transports Intercommunaux de Bruxelles. The Brussels metro and the vast network of tram, bus and night bus facilities are operated by STIB. Since the ticketing system is standardized, STIB ticket holders can also use the coaches and trains within the city.
The quickest way to get around is the metro, and a unique feature of the metro stations is the artwork that decorates the walls. Expats working in Brussels will be able to get away for the weekends to places such as the town of Knokke, which is located by the sea, and is just a 90-minute train journey away. Apart from an efficient public transport system, Brussels is also a bicycle-friendly destination.
Comics
There are very few places in the world where comics are considered to be such a serious affair as they are in Belgium. The country is home to numerous comic book authors and has produced characters such as Tintin and the Smurfs which are beloved the world over.
Brussels in particular has several shops dedicated to comics. A must-see for comic lovers is the Comics Art Museum located in the heart of the city, which celebrates creators and their characters.
Belgian beer
Brussels is the best place for those who enjoy a beer, as well as more seasoned beer experts. The city has beers that cater to every taste; some popular places include A la Mort Subite, a popular beer hall, and Moeder Lambic on Place Fontainas. Expats can also visit the local breweries such as the Brussels Beer Project, a collaborative attempt to infuse fresh air into the conservative brewing scene. There's also the Brasserie Cantillon, a small family brewery that dates back to 1900.
Beer aficionados can look forward to the opening of the Belgian Beer World in 2018, a large-scale beer haven that aims to highlight the various aspects of Belgian beer culture.
Chocolateries
Belgian chocolatiers are world-renowned and have been in the business of making chocolate for over a century. Brussels is known to have more chocolate factories than any other city in the world. This chocolate capital of the world is home to the master chocolatier Pierre Marcolini, who is believed to personally choose the cocoa beans and roast them himself. Marcolini's chocolate boutique is located at Sablon.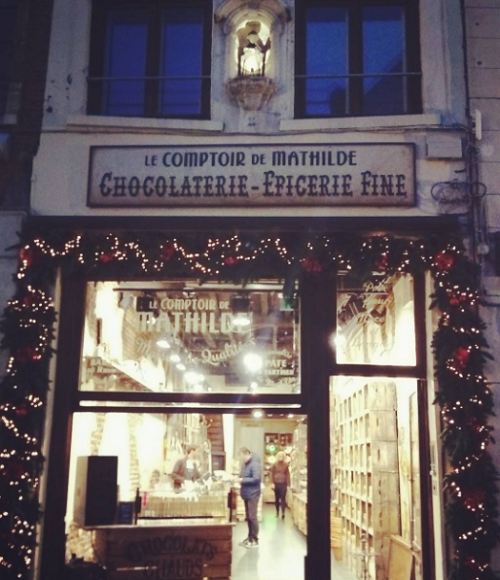 Brussels' chocolate shops mix decadence with style © jeviscachee on Instagram
Brussels is the home of the first organic chocolate-maker in northern Europe that makes melt-in-the-mouth milk and dark chocolates. Passion Chocolate follows the artisan way of chocolate making and uses no concentrates or extracts. It is especially known for its 85 percent dark chocolate and its biscuit pralines, which is made from a secret combination of caramel and nuts.
Have you lived in Brussels? What were your favourite things about it? Share your thoughts in the comments below, or answer the questions here to be featured in an interview!