Although several nations have endured a bout of election fever recently, we in little Hong Kong have enjoyed our moment in the media spotlight too. Nothing quite as grand as a full-blown general election for us however, no, ours was a much more humble affair in the form of a territory-wide district council poll, one held every four years. Although I say more humble, the anticipation and fervour leading up to the event truly belied its status.Indeed, in view of our recent disturbances, the event garnered significant attention both in Hong Kong and around the world, the election could thus be regarded as a mini-referendum on the government's performance to date. Even though core district council matters tend to focus on mundane, everyday issues, the occasion would bear some significance as elected council members do have a small say in the nomination of our leader, the Chief Executive.
With our problems dominating the headlines this summer and autumn, the path leading up to the elections underwent a turbulent period of yes-we-might-hold-the-election one minute, but swinging to oh-no-we-won't the next. And would it really be feasible to hold free and fair elections in the current climate of protest and violence? Nonetheless, the majority of the general public together with all pro-democracy politicians couldn't make it happen quickly enough, so desperately keen were they to get their anti-government message across in a peaceful and rational way, the ballot box way.
The pro-Beijing or establishment camp on the other hand, in fearing a bloody nose inflicted by a battle-fatigued electorate, played up the violence rampant in the community by indulging in a few blatantly transparent theatrics against themselves. Indeed, any excuse to unjustly finger those highly dangerous pro-democracy supporters, so we'd better cancel the lot on safety grounds they pleaded in a last ditch attempt to save their skins; but at last government gave the go ahead.
And so it was that in great numbers, and with great expectations, we headed to the polls on a fine Sunday morning, Sunday being the favoured day for elections in these parts. Incidentally, elections in Hong Kong are quite pleasant events in which, by virtue of our permanent residency status, we are eligible to participate. They are also a little interesting in build-up and procedure, let me explain.
Unlike in the UK for example where a basic, mailed voting card appears on your doormat, here we receive an envelope posted a week or so before polling day containing the relevant dos and don'ts of the day, together with important information required. This information is indispensable, bilingual and comprises ones Poll Card (obviously!), a detailed survey map showing Name and Address of Polling Station, a Guide on Voting Procedure and an Introduction to Candidates sheet bearing passport-style colour photos and their brief electoral message. It's reassuringly professional and leaves voters with little doubt as how to proceed.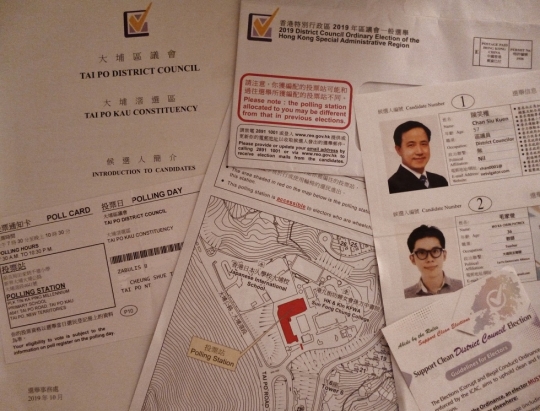 Our polling station is always located at the Tin Ka Ping Millennium Primary School, roughly a one kilometre walk which includes 100 up, up and up metres of unrelenting hillside to negotiate before getting there; it's one of those energetic ascents which bestow an added virtuousness on the performance of one's civic duty.
Our choice of candidate was limited to two only, one, the incumbent who claimed no political affiliation and the second, a fresh-faced young school teacher who veered pleasingly to the Tai Po Democratic Alliance, Tai Po being our District Council. For weeks prior to polling day, vivid banners bearing political slogans and mug-shots had manifested across the region and, on the day, the incumbent, clearly with a bigger budget to waste, had planted flags and cheerleaders along the school approaches; we were not to be swayed however! Spared the lengthy opening queues reported earlier at some stations, our voter catchment area being relatively small, we were in and out in barely a couple of minutes.
The polling station officials were unfailingly polite and respectful; always a little surprised at our appearance leads me to believe that not too many non-Chinese voters are entertained at this particular location. One official guided voters carefully through the identity and polling card check before handing over a clipboard, voting paper and chop assemblage, no pen or pencil used here! Once it was clear that we'd done this sort of thing before and thereby knew the ropes, he reverently directed us to the nearest free booth. With only two choices it was quick, the chop swiftly held down to place a black-inked tick neatly aside our favoured chap's number – job done! Form folded and placed in ballot box on the way out – easy.
And that was it, we then returned downhill to the homestead for a well-deserved lunch and an afternoon scanning the South China Morning Post's live on-line feed to check the day's events. Polling day passed off peacefully and reports of any irregularities were few and far between.
The turnout was a mightily impressive 71%, that's nearly three million people! This election had drawn out many newly registered voters, doubtless the fallout of our recent troubles, and some fresh, eager candidates to boot; 452 seats of the 479 available were contested including ours, which hadn't been previously. The results proved a spectacular landslide for the pro-democracy camp, gaining control of 17 of the 18 District Councils while enhancing their number of seats from 124 to 388. Crucially, this translates to 117 sub-sector seats in the 1200-member Election Committee responsible for electing Hong Kong's next Chief Executive.
As predicted, the pro-Beijing parties received an enormously bloody nose by losing a massive 242 seats, of which the biggest party, the Democratic Alliance for the Betterment and Progress of Hong Kong (DAB), lost nearly 100 seats; sadly for them, I've a feeling not too many folk will mourn their passing. A DAB period of licking wounds whilst reflecting on their actions, or lack of, during the summer and autumn disturbances would probably not go amiss.
Whereas it would be totally wrong of me to suggest that all pro-Beijingers are somewhat nefarious in nature, they're not, some are decent citizens of Hong Kong who have made, and will hopefully continue to make, a meaningful contribution to our society; but I'm not going to tell you who is which! What seems to irk Hong Kongers mostly however is not that pro-Beijing groups are so pro-Beijing, no, it's their willingness to place the interests and influence of Beijing above those of their home, Hong Kong. A case of misplaced priorities, it's as simple as that!
So in the election aftermath the city breathes a collective sigh of relief, apart from some fringe riot activity all is reassuringly quiet on the eastern front, though for how long is anybody's guess. For now at least, the overwhelming success of the pro-democrats has evidently tempered the anger and violence of the protest movement, as if a legitimate mouthpiece had at last been realised; yes, an effective way of making themselves heard existed after all, and that's all they ever wanted.
But did anybody listen? Is anybody listening? Not sure, our Chief Executive, Carrie Lam, once famously stated that she was all for listening to the disgruntled and would thus initiate serious dialogue to fully understand and address society's concerns and difficulties. Unfortunately, after only one such dialogue session months ago, talks ended abruptly.
Why? Well, listening's great so long as people say what you want to hear, sadly Mrs Lams handpicked audience went on the offensive, audaciously criticising her governance. How dare they! For Carrie Lam then, with unwavering arrogance and an inability to perceive any problems stemming from her own inadequate performance as leader, the exercise was doomed to fail. This was clearly a major setback for the government and little has happened since, dialogue has turned to silence; the great unwashed unheeded. Carrie Lam by the way is rarely seen nowadays…
And what's next? September 2020 will see elections for the Legislative Council, our mini-parliament you could say. Based on our recent electoral events therefore it's sure to be a fascinating event and we look forward to it with even greater expectations; rest assured we'll be there to do our civic bit. So watch this space and I'll let you know what happens of course!