We couldn't find a comprehensive, scientifically-based, large study of what happened to the people who moved to Mexico, so earlier this year, we conducted one ourselves— "Expats in Mexico: Expectations, Worries… and How It All Turned Out," now available for free download at our site. More than 1,100 current expats living in Mexico participated. The margin of error was 2.9%.
The questions were designed to uncover what the expats hoped and what they feared would happen before they moved to Mexico and then compare that with what actually did happen after they moved.Hopes and Desires
For example, here are the results to "Please check all the things you thought you would achieve by moving to Mexico":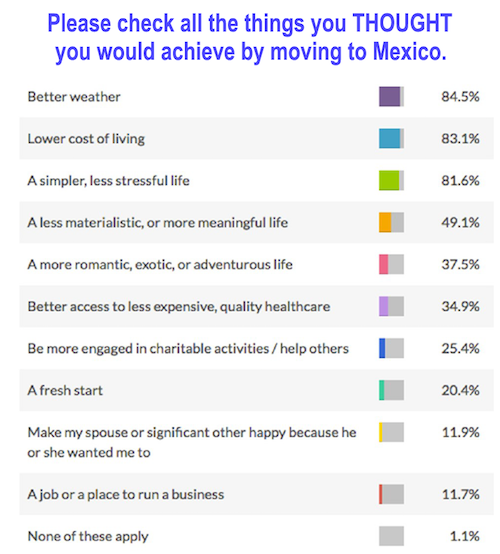 We then asked our respondents what they found when they got to Mexico and lived there, using the same choices (Lower cost of living, Better weather, etc.) The results were pretty compelling. The only expectations that were not met were "Better weather" (which missed by a statistically insignificant 0.1%) and "A simpler, less stressful life", which, given the strength of the expectation (81.6% said they hoped to find this) missed by a relatively small 5.9%. It would be difficult to compare the expats' expectations with their results and not conclude that moving to Mexico had met or exceeded almost all of their hopes, some by quite a bit.
For example, statistically one of the biggest happy surprises of those who moved to Mexico was "Better access to less expensive, quality healthcare," which exceeded expectations by a whopping 46.7%. Also, the desire to "Be more engaged in charitable activities / help others" was attained 39.0% more often than anticipated.
Women were more than twice as surprised as men by how Mexico provided them with "A more romantic, exotic or adventurous life."
Here are a few representative comments provided by our respondents:
"We had a great life up north. We made good money and had jobs we loved, but we never had enough time for the things that mattered: family and friends. Mazatlán offers a sane, healthy life balance," wrote a middle-aged female from the US.
A self-identified high school dropout who had been a mechanic all his life in the US wrote about how his life had dramatically changed after he moved to the Yucatan. "Now I am a volunteer English teacher at an after-school program for under-privileged girls. I cannot imagine a bigger change in my lifestyle."
Some of our respondents like American Greg Miller pointed out how much easier it was to move to Mexico than other, more physically distant locations. "I have lived in other parts of Mexico and loved it, but family is important to me. Being one hour from the border and three hours from San Diego means family is close. They come here as often as I go there! I live in a sports paradise with boating, quad riding, and kayak paddling and where we have group get togethers with fun and friends!"
"The cost of living makes living here so wonderful!" wrote a middle-aged female living in Baja California Sur. "My spouse recently retired and needed a place to live where his money could go a long way and where he could fish every day. Here, he was able to purchase a boat and is
living his dream!"
Worries and Fears
In addition to their desires, we also compared the worries or fears people had about moving to Mexico with what actually happened. When we looked at the data, we found that the results were even more dramatic. In every category of fear these future expats had before they moved, the reality of that fear actually happening was less.
For example, 31.3% of our respondents were fearful they may not be able to communicate in Spanish, while only 3.3% had that fear after actually moving.
While 18.6% were worried that living in Mexico may not be safe, only 4.5% felt that way after living there.
But the most dramatic difference between fears and reality was "None of these apply", which was cited by 31.1% of respondents as their situation before they moved, but by a whopping 70.4% after they moved. We were so struck by the magnitude of this that we developed a term to describe it— "The 126.4% Relief Factor."
Here are some representative comments from our respondents:
"Yes, things are different here, but what you see as being important in your life changes," explained Cathy Quinn, who used to live in the US but now lives in the Yucatan. "You may think you can't live without some product you've used forever, but you let go, adjust and move on. Don't get stuck on the small stuff!"
A senior female living in Puerto Vallarta agreed. "Whatever one might miss after moving to Mexico is made up by great people, culture, weather and things to do. You can always get a friend to bring some specific 'need' down."
A middle-aged woman from the US wrote, "It was good for me to learn to live in a different part of the world. It has expanded my view. I have learned that some things I thought were common around the world are common to California only. And living abroad makes me see the whole world in a different light. I have learned that it's ok to be different and it's fun to accept new and different friends."
More detail can be found in the study. In our next article, we'll report what our respondents told us about the cost of living in Mexico.