Copenhagen, Denmark, the most livable city in the world according to many, home of the best restaurant in the world in NoMa, land of tall Viking blondes. There's much to love about Copenhagen indeed, but the cost of living, oh dear, that is a little less appealing.A common joke among visitors to Copenhagen is that it's an experience of a lifetime – because you can only afford to go once! If you find yourself in Copenhagen as a student or even expat, you desperately need to get up to speed on the money-saving ways of the Danes. Not just because the benefits it will have on your account balance, but because frugal living is an integrated part of Danish life, where ostentatious displays of wealth are frowned upon. This is a country which values equality and simple pleasures. When in Denmark do as the Danes with these local money-saving tips!
Get on a bike
If it's been many years since you last rode a bike, then now is the time to rekindle your childhood experience, because there is no way you're going to go local with the two-wheeled steel horse. Copenhagen is probably the most bicycle friendly city in the world. The local city council has gone to great lengths to provide every amenity for bicyclists, even so far as providing leg rests at red lights! Riding bicycles is a way of life for the Danes and with Copenhagen public transport being very expensive, it is also an economic necessity for many.
You'll find no difficulties acquiring a bike of your own in Copenhagen. Used bikes for sale are plentiful and cheap. The local equivalent of Craigslist – DBA.dk – has a section dedicated to the purpose with thousands of bikes available from as little as $100 (sometimes less). Go get yourself one, save money and tone your legs while you're at it!
Live local, eat local, fish local
Heard of the restaurant NoMa? Twice crowned best restaurant in the world, NoMa has changed the world of gastronomy and had a huge influence on local eating habits and attitudes to food resources. Head Chef at NoMa, Rene Redzepi, could frequently be seen wandering around the beaches and forests of Copenhagen, gathering forgotten but tasty local greens and plants. This new old approach to eating what nature provides has sparked a renewed interest in hunting, gathering and fishing locally.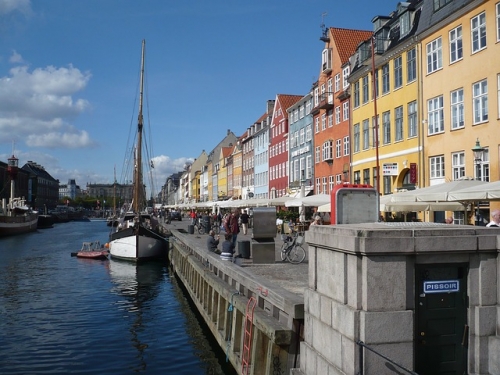 Gathering wild garlic might not be a good use of your time, but fishing is. There is a huge community of Urban Anglers who fish in Copenhagen Harbor and beyond. The water quality in Copenhagen is spotless, as proved by the open air Havnebadet, where locals go for swims in the summer. Catching a tasty Cod or fat healthy Mackerel in the harbor is both a great hobby to pick up and an excellent way to save on food costs. Several Facebook groups and websites are dedicated to the purpose:
https://www.facebook.com/groups/sundfiskerne/ – Urban Angling group, in Danish, but members speak excellent English
Oceankaj.dk – directions to the most popular fishing spots
Drinking with the Danes

Alcohol plays a major part in Danish social life. This fact, frequently both lamented and celebrated, is something every visitor to Copenhagen will soon discover on their own. When Danes don't drink beer and wine, they drink coffee. Lots and lots (and even more) coffee. In fact, Denmark is in the top 3 of coffee consumption.
With a population of such prolific drinkers, be it coffee or alcohol, you would think supply and thus prices would match, but that is not the case. Coffee is exorbitantly expensive in Copenhagen. If $5-$7 seems reasonable for a cup of joe, then consider yourself Danish, because not many other nationalities would. Alcohol too can be very expensive if you're drinking in hip city center bars and pubs. A draught of beer can easily come at $10 in some of the more upscale drinking holes.
The solution, as always, is to do as the locals. You will rarely find a Dane drinking $10 beers after work instead opting for cheap spots early in the evening before switching venues later the same night. Nyhavn, the famous New Harbor, is a great example. Beers here are among the most expensive in the city and thus the locals just grab a six pack from a nearby "kiosk" and dangle their feet over the canals or hang out in impromptu picnics after work. You might think that drinking in public like that would be frowned upon but that is not so. Many would be surprised if they knew the job titles of the carefree young professionals lounging in parks and by the sea.
Saving on food – like a Dane
Getting used to the cost of food in Denmark can take some time. Forget about just going out to eat every night, unless you've got somewhere to unload the receipt! Copenhagen is among the most expensive cities in the world for food.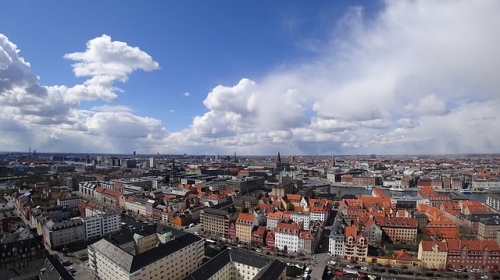 The Danes get around this by going by being discount hunters extraordinaire. That's something you need to realize even if you don't want to become one. The grocery store market operates on the concept of discounts to lure in customers. These discounts are often substantial and vary from week to week. If you're buying only or mostly on discounts, then you can cut your food costs substantially. The drawback of course is that those who don't discount hunt are the real losers, paying high costs, in some way subsidizing the discount crowd.
The website Tilbudsugen.dk gathers all discounts in one place and allows you to search for individual products. Simply type in the product you want in Danish and you will see all offers.
Take advantage of publicly funded activities
Denmark is the most heavily taxed country in the free world, but you do get something for that: healthcare, schooling, study stipends and more.
It's this "more" that it pays to investigate. Many Danes are bad at actually using the acitivities that their tax payer money funds.
There's something for everyone in Denmark, sometimes free, such as great libraries which allow you to borrow console games and Blue Ray discs, but mostly just subsidized. Lots of things which would ordinarily cost money, such as going to the National Museum, is free or cheap here.
There are too many free offerings in Copenhagen to discuss here. I'd rather suggest you always check to see if there is a public option available before going private. Often there is!
Do go – despite the cost

I hope you still want to visit and live in Copenhagen, despite the costs. It really is a great and very livable city and if you stay on for work after finishing school, be content that wages are also high. With knowledge of local money saving secrets, your stay will also be far less expensive than rumors would have you fear.