The Month of May
May is always a very busy month for the Italians and for us, in our little bit of Chianti in Tuscany.
The first week heralded the arrival of our favourite house guest, the sister-in-law and her beautiful daughter. The plan was to get them both on to horseback for country trekking on one day and then up in an air-balloon for a flight over Chianti on her big birthday.The weather proved fantastic, and apart from getting to the lift-off balloon site an hour too early (5am), everything went like clockwork. The flight took about two hours, floated gently over the Chianti Hills in glorious sunshine and ended up back at the balloonist's place, where they were served a buffet breakfast! They had a great time. Meanwhile, my man and I stayed with our feet firmly attached to terra firma! Go to www.flyballoon.it
Of course May Day is yet another excuse for the Italians to have a Festa, and Certaldo welcomed the local marching bands and cheer girls.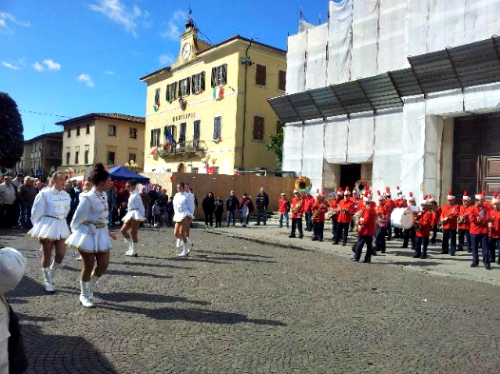 The following weekend was the turn of I Bersagliere. It was very impressive to see the arrival of men jogging in uniform with black feathers flopping up and down on their hats and playing instruments at the same time! When they stopped I was able to get a shot of the band leader who made it to my blog as hunk of the month! The story is that the original troop, formed in 1915, were a famous wartime battalion of Italian cyclists, which covered horrendous mountain roads carrying or riding their bikes with rifles over their shoulders. Bersagliere also translates as 'Marksmen'.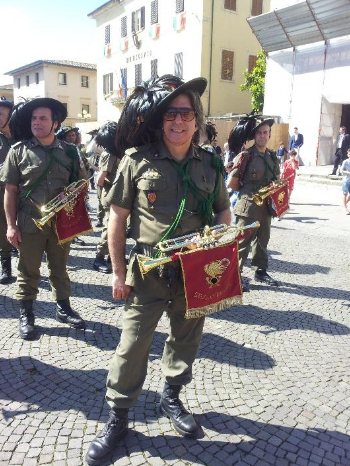 Another important happening every May is the crazy race through Italy called La Mille Miglia. This consists of vintage and classic cars, usually driven by maniac geriatrics and celebrities that get mixed up with the normal traffic including one year, our good selves. We had an old Mercedes at the time and we had no idea the race was on. Then we saw crowds of people waving at us and realised something was up!
At the end of May, Florence was shocked by the collapse of the road next to the River Arno and very close to the medieval Ponte Vecchio Bridge. Parked cars plunged into a watery canyon causing a major crisis for the city. Be careful where you park!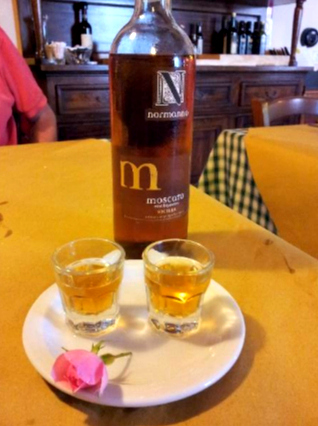 On a good news note, a local restaurant called L'Osteria Casa Chianti re-opened under new ownership a few months ago and is only ten minutes from us and fifteen minutes outside Certaldo! We like it so much that we are going at least once a week. You will need to like loud theatrical table service, but the delicious food is well worth it. It has quickly become very popular and I recommend you telephone and book a table. Go to www.osteriadicasachianti.it
Finally, just to let you know that we are really enjoying our new home and one of our May visitors was the Hoopoe. Obviously, it's a time for mating and one lovely character spotted his image in our bathroom window and thought it might be an amore! Here is a picture and if you visit my Youtube page you will find him on film. (On the youtube site search June Finnigan)
Well, enough of that. It's now just a week and a half to my next Rock Chick Band concert and lots of rehearsals to do. I'll let you have some pics next time.
Have a great month.
Salute
June