The continuing adventures of June Finnigan, her Man, and Farty Barty the cat.
November Reflections
Benvenuti to all my Loyal and New Followers.
November in Tuscany can no longer be described as the beginning of winter. The countryside stubbornly hangs on to late summer and early autumn and does so even into December.Our little bit of the Chianti Hills glows with copper and golden leaves, particularly the small leaved Oak Tree that grows by the thousand in this area and of course the vineyards in their various shades from yellow through to copper. We did have our cold days and most evenings the log fire was lit, but midday, more often than not, the sun was warm enough to eat lunch in the garden. I know, we are so lucky. But for me, it is hugely important to have the changing seasons, even if they are a little later than Northern Europe. Perhaps it's the Englishness in me and the love of the new growth in the spring.
Well, what else was happening here in November? Heavy rain early on, encouraged the fungi to pop up all over the place, both the edible and non-edible varieties. Of course it is the month for Porcini mushrooms that are delicious grilled over a wood burning fire. Equally as mouth-watering are the white truffles, Tartufi Bianco, absolutely heavenly grated raw over pasta or made into a variety of toppings and sweets. Mmmmm…
In the second week, I popped down to see Sandra in Certaldo to have my hair done and to grab an hour and a half doing absolutely nothing and found the most beautiful picture of eighty-one year Sophia Loren in a glossy magazine. Not only is she stunning but has a career behind her of over a hundred films. Did you ever see the 'Yesterday, Today and Tomorrow' and 'Marriage Italian Style'? She starred opposite Marcello Mastroianni in both films; the most perfect casting! Do go onto Amazon and check out some of her early films, I've ordered some for Christmas!
Meanwhile, back in my studio overlooking the Chianti Hills, I had started on a ghost writing project for a client who is a cybercrime expert. This was proving very interesting and as my genre is thrillers with a bit of romance thrown in, I was thoroughly enjoying myself. As I write this, I must apologise to my readers who are waiting for 'The Italian Connection' to be finished, as it may not now be published before the summer. But don't worry, my head is full of the story and I'm looking forward to getting on with it!
By mid-month the olives had all been picked and we were pleased to hear that it was a good year for olive oil, unlike last year which was a disaster. So we were able to enjoy Cold Pressed Extra Virgin Olive Oil drizzled over fresh bread and toast rubbed with raw garlic, which the Italians call Fetunta. There is no comparison with the stuff you buy in the shops, you have to come here to get the real taste of this heavenly green oil. Yummy…..
The highlight for many Italians in our area, Il Provincia di Firenze, was the arrival of Pope Francis to Florence and surrounding towns. Thousands thronged to every appearance of this hugely popular man. Of course, the whole of Europe was mourning the death of so many Parisians in November and we can only hope that our Pope can have some influence as he travels the world with his message of peace and love. Whether one is religious or not, he certainly helps to put smiles on peoples' faces wherever he goes. I read that his Holiness has also made a pop record, so that sorts out the Christmas number one then. As in the rest of the world, Certaldo held a rally in memory of the lives lost in Paris and we all gave our support to the message of peace.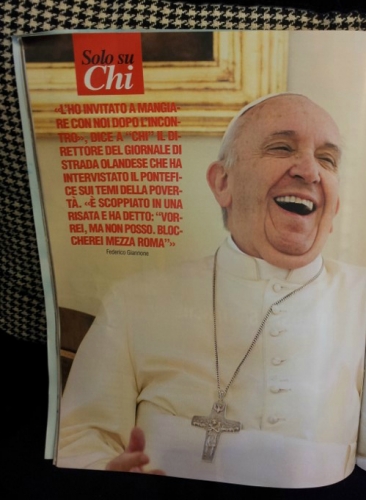 On a lighter note, as we were finishing our coffee in Bar Solferino, I read in the local papers that sixties protest singer Bob Dylan was also in Florence strutting his stuff, looking more like an aging cowboy that his former image of a stoned hippy. Then everyone started rushing outside to watch runners going by, who were competing in the 'Corsa Podistica,' a sort of local Olympics with hundreds of runners, walkers and hikers of both sexes and all ages taking part in races in and around Certaldo. Then I returned to the bar for a second cup of coffee, which sorted out my exercise for the day.
Well, enough of that. As I write this column, we are half-way through December and looking forward to taking some time out over Christmas. So may we wish you all a very happy Festive Season and look forward to hearing from you soon.
Don't forget to visit my author site for your Christmas reading.
Salute June x