It's important to discuss the importance of diversifying both your life and your assets offshore in the current global climate.
The question then becomes: What should you diversify into?
As a speaker at this year's recent Offshore Wealth Summit put it:
"Physical gold is about as useful in an end-of-days scenario as my ability to make spreadsheets. You can't eat gold. It's the farmers who will rule the world if the banking, credit, and financial industries collapse… as they well could…"
Traditional "go-offshore" wisdom holds that every portfolio should include gold. Some advisors say 10% of your assets should be in the yellow metal; others say 20%. I know one go-offshore guru who maintains that at least 50% of any investment portfolio should be invested in gold.That idea has never sat well with me. I know a pile of gold in a vault in Switzerland, say, gives some people peace of mind. It's a real asset, tangible, that, unlike paper currency, has intrinsic value.
Fair enough. But what good are my bars of gold going to do me if society so breaks down that other means of paying for things are no longer available or accepted? How will I get to wherever my gold bars are stored? How will I transport them to wherever I need them to be?
At lunch one afternoon with attorney friends in Panama City recently, we went around the table reminding each other of our preferred offshore asset strategies.
You know mine—real estate.
"Yes, great, buy a condo on the beach in the Caribbean or a finca in Argentina," one friend replied. "I agree that real estate is the best option for both storing and growing wealth long term. However, you've still got to be able to pay for things. You've got to pay your ranch hands… you've got to buy supplies.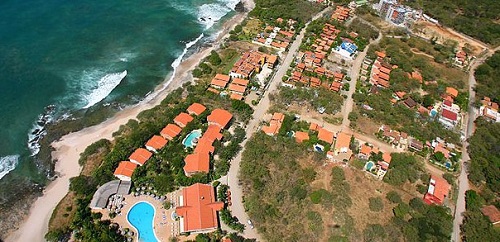 "I also agree that gold isn't practical for these purposes," my attorney friend continued. "However, the poor man's gold can make sense. I keep small silver coins. You could use these to buy things and to pay for services just about anywhere in the world."
My husband, Lief, and I have a small amount of gold that we've bought because we felt like we ought to. A sack of small silver coins seems more sensible.
Back to the bigger-picture point, though, what if the doomsdayers are right? What if the end of civilization and the total breakdown of the rule of law are just around the corner?
I come back to real estate.
In this context, a bolt-hole. That's why we look at options for where and how to organize a failure-plan-in-a-box that you could pull the trigger on now or at some time in the future.
The overriding objective is a backup plan that would allow you and your family to survive and thrive in case of a global systemic meltdown, but I like to think of the agenda less dramatically. None of us knows what the future holds, so it makes sense to take control of what's within our ability to control. I recommend, though, you think about doing this in a place where you enjoy spending time.
Maybe the end of days won't arrive for a while. Why not enjoy your end-of-days plan in the meantime?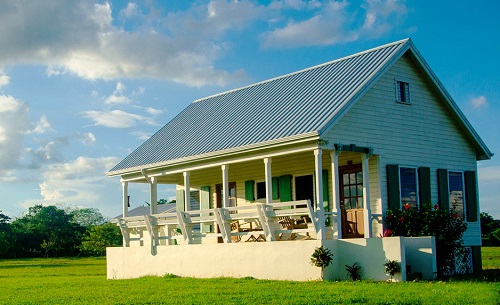 We've written about several places in particular where you and your family could go off-grid and off the world's radar and ride out whatever storm might lie ahead…
Including, for example, Cayo, Belize, a great failure plan option that doubles as a great place to hang out in the meantime. Our friend Phil Hahn is developing a sustainable community in Cayo.
As Phil describes it, "The Carmelita community I'm building on the banks of the Belize River is a place for like-minded people to be independent together."
Living at Carmelita, you definitely will know your neighbors. You'll see them all around you. And, indeed, the community has been designed to facilitate interaction among neighbors. There are community gardens and orchards for owners to tend together (if you want… you're not obliged to pick up a hoe).
The property even has what is suspected to be a small Mayan ruin, and the plan is to invite owners to participate in its excavation under the oversight of a Belizean archeological society.
Carmelita is about two hours from the international airport in Belize, but it's up in the "mountains" of Cayo, meaning some elevation and cooler temperatures than down on the coast, especially at night when you don't necessarily need air conditioning. To get to the beach, you could catch a flight to Ambergris Caye from one of the two nearby local airports. For shopping, San Ignacio is about 15 minutes away in one direction, Spanish Lookout about 15 minutes away in the other direction.
Phil is incorporating the latest in solar technology, contained wastewater systems, and rainwater catchment systems. The construction design styles fit the location, the vision behind the community, and the climate.
A self-sufficient lifestyle in Belize could be a great Plan B… but maybe you have no interest in going off-grid and back-to-basics. Maybe you'd prefer your bolt-hole to be more fully appointed.
The focus is often on investing, doing business, creating wealth, and protecting assets offshore… not lifestyle.
That said, lifestyle is the place to start.
You don't want to organize your Plan B around things like residency options, investor incentives, and tax code. Those things become important considerations to research and understand once you've identified a short list of potential Plan B destinations.
However, to create that short list, you should put the spreadsheet and the immigration law aside.
If you could go anywhere to escape the troubles of the world and create your own picture of Utopia… where would that be?
Start there.
And start now.