Every single struggle we experience on a daily basis; every complaint, every dissatisfaction, every career problem or personal battle can be drilled down into a single source: the big, fat and limiting lies we tell ourselves. You see those limiting beliefs become a second nature for most, and in fact are holding us down and hurting your career change.Being away from "home" (whatever that might mean in this global inter-connected world) is not easy. Striving to change careers and achieve success abroad is even more difficult. When you are isolated from your natural mold, your mind start playing tricks on you. We tend to derogate to self- sabotaging thoughts and prevent our own success by limiting so-called truths.
So I've gathered 9 of the most common lies we tell ourselves, and some advice on how to overcome those.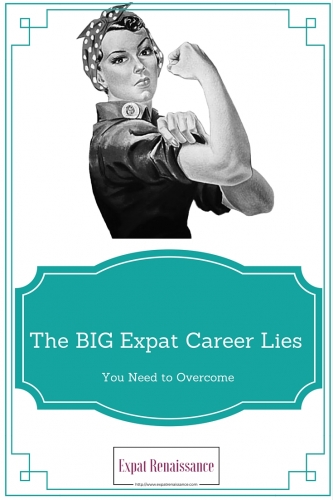 1. I have to find my true passion.
On the surface the "finding your passion" seems to work… in reality it's not much more than a secondary piece of advice by self-proclaimed gurus and B-level speakers. Assuming that there this only one true magical passion for each of us is just not true. A passion is something you enjoy and are interested in. Passions are what you want to BE, not what you want to DO. You can have a passion for helping others, studding languages, painting, and hiking all at the same time, and limiting your mindset to only one is really holding back your abilities. Are passions (yes! in plural) grow, evolve and change over time, just as we do.
2. I'm happy with what I have now
Though gratitude and positive thinking are both important for your career and wellbeing, this is just the "comfort zone" fear speaking out of your throat. Staying where you are for good is equal to moving backwards. Sure, it might be scary, overwhelming and intimidating at first – but here's the thing: your comfort zone is like a muscle. You can work out, follow a regime, and – BOOM – it gets bigger, allowing you to try and dare more things. If you don't take action and push yourself out there, your Comfort Zone is going to stay a miniscule dot, when in reality it has the potential of a giant ocean so you can shine and show your awesomeness!
3. It's not going to work
The fear of losing is really a nifty one, because, let's face it, there are a lot more people willing to detail what could go wrong rather than what could go right.
Well here's the thing: it could go wrong, but it could also go right! Yep, the only way to find out is by trying.
Oprah Winfrey was told she "wasn't fit for television" and was fired from her position as a TV reporter; now she's one of the most recognizable TV personalities in the entire world. It's important to manage these "losses" and look at the bigger picture; just because they said it, doesn't mean it's true.
4. Money is the source of all evil
Money generally gets a bad rap. It's something most people want, but it often ends up criticized as an evil entity out there to encourage people to do absolutely anything to get it. Well here's the newsflash: Money doesn't matter. I know, glad you are sitting down for that one, right? It's a mere representative of goods and services that actually bring you enjoyment, not the paper itself. It is a means for the things that we desire and that make us feel good (and those vary a lot between different people). As a first step, you need to evaluate what you want from life and what brings you pleasure. If money was a nonexistent problem, how would you spend your time?
5. Better safe than sorry
The stability tale that we grew up with is a thing of the past: go to school, find a job and retire after 40 years of a successful career. Well here's the thing: it just doesn't work! Yes it was the desired lifestyle in the 60s, 70s and 80s… but in today's hyper-connect, technology oriented and fast evolving market – well it's just not going to fly. So basically, job security is an oxymoron. You can either have a job, or security, but never both.
6. You can make a job out of any passion
Sure, liking something and enjoying your time doing it is a great start, but I'm afraid it's not going to cut. There is a difference between being a spectacular shower-singer and actually making in the music industry. If you're looking to turn your passion into a job, then it does need to be marketable. The key to deciding which passion can actually be a career is by asking yourself two simple questions – are you good at it? And are you ready to fight for it? We've all seen American Idol enough times to know that a love for singing does not equate a rock star. 🙂 You have to be good at it your passion if you want to make it into a career. Also the ride is not always going to be smooth; to turn your passions into a career demands dedication and hard work.
7. I'm such a fraud
Many high-achieving people – and, statistically, most high-achieving women – find it difficult, if not impossible, to internalize their accomplishments. Even when external evidence proves their competence, they can't take mental credit or even recognize the magnitude of their achievements – yep I'm talking about the Imposter Syndrome. It's not humble to think less of your accomplishments – it's self-depreciation, and it holds you back from pursuing your goals with passion. Overcoming this syndrome is about forcing confidence into your daily life, accepting compliments, and demanding your mind recognize your achievements in all their glory.
8. It doesn't make any sense
Many people have a defined idea of success. They call it "conventional wisdom" or "common sense," and most value it as the ultimate truth. These people have good intentions, they really do; most actually believe it's the only way to success, and want you to be successful. They want to save you from heartache, from failure, and from making the wrong choice. But ask yourself: did the internet make sense 50 years ago? Did a computer make sense 100 years ago? Heck the mere idea of eating out in a restaurant didn't used to make sense a while back. The modern idea of a restaurant – as well as the term itself – appeared in Paris in the 18th century. Logic and previous experience are important, but only to some degree. Sometimes you just have to take a leap of faith and try the "unreasonable".
9. I'm not ready yet
We all have it…a list of things we need to do… to read… to prepare… to finish before we start something else. Blogs. Magazines. Books. Courses. Assignments. Travels. Networks. Yes you name it, there's always going to be something "needing to be done" before we feel that we've "graduated" to the next step. The only problem is: well it's never going to come, unless you commit to actually taking action and making it work. You're not going to be fully ready, so roll up your sleeves and embark on this new project and career makeover.
So now you have them – the nine big myths we feed ourselves and prevent us from an even more successful career. Don't be that "great potential" who traveled around the whole world, but was afraid to pursue her own dreams of career change! It's time to learn how to leverage your mindset to keep pushing your forward, not backwards.