29 September here, and as I write we are enjoying an Indian summer. There is a great deal going on – wine festivals, antique fairs, exhibitions and much more. Find out more here.
I, however, am typing this surrounded by cardboard boxes. On Monday 2 October work will begin on ripping out our old kitchen and installing a new one.In my September effusion I said:
Digression:
When Georges Delcros built his dream home here at Maré le Bas he added many refinements, including an electrically-operated sunblind and a call button at the gate which invokes a CCTV system (I just yell 'J'arrive' and hurry to the gate, but John likes to check who is calling). Then Georges ran out of money and transferred the 1960s Formica and chipboard kitchen from his old house. I lived with it, although bits kept falling apart, from our arrival in 2005 until July 2017 when the sink tap went all wobbly. The chipboard had rotted and John had to jury rig a plank to hold the tap firm. I decided enough was enough…
We chose an independent supplier rather than a chain like Conforama. M Laurent came with many recommendations from delighted customers. And if anything goes wrong we know where he lives! So our cleaning lady Yvonne, whom we inherited from the Delcros (see above) and I, with John to do the strong-arm stuff, have been emptying my kitchen. I can cook in Charity Cottage for a few days, and there are plenty of local eateries. We will survive.
We Hate La Redoute
After we did up the upper floor of Charity Cottage (see my August piece) I chose a bed from La Redoute's website. Here's a picture from their publicity – nice, isn't it?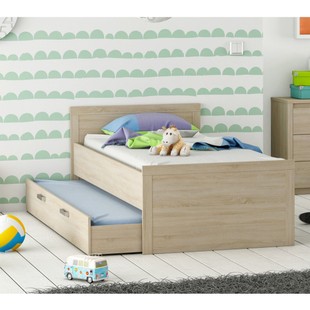 One does not expect a mattress; and in any case we had brought a lovely Dunlopillo mattress from Suffolk. One does, however, expect something to put the mattress on. Nowhere on the La Redoute site could I find any indication that the most important part – a sommier, a slatted mattress base – was not included in the kit. It was not until we unpacked it that we found the instructions, which stated clearly that no sommier was supplied.
Now the real annoyance began: a helpline whose robot operator said they were too busy to talk to me – would I please try later. Then requests for feedback about my purchase arrived by email almost daily. I responded – nothing happened. I eventually spoke with a human being at La Redoute who promised to get back to me and never did. All this is carefully documented. Meanwhile for 69 euros Aldi in Corbigny sold us a pine bed complete with sommier, which John assembled without difficulty.
In 2003 I co-wrote a Pocket Lawyer title about consumer rights. In England and Wales the vendor (La Redoute) is responsible; in France it is the supplier (an outfit called Matelas) who carries the can. So on 11 September I wrote courteously in my best French, with accusé de réception, (recorded delivery) to both managing directors. I included a picture of John sitting on Aldi's satisfactory bed and looking ruefully at the useless La Redoute kit. The accusés came back, but no replies. In England I'd have had grovelling apologies and a bouquet of flowers before now.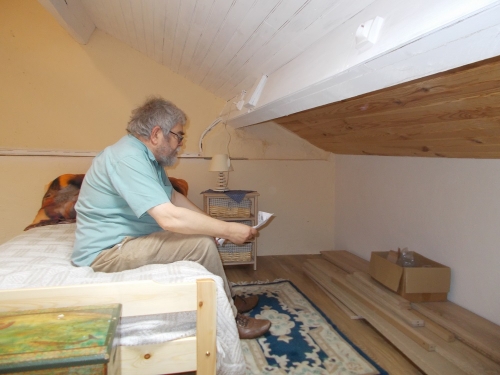 Two days ago Pierre, our local reporter, visited us to write about Charity Cottage (more about that anon). He has taken my file away to see if he can get us either a refund or a sommier. He seems to think a grovelling apology is unimaginable.
Help for Heroes
Concerned that Charity Cottage was underused, I made friends with another charity, Help for Heroes, without in any way affecting our relationship with Combat Stress. Help for Heroes would offer stays in the cottage to families free of charge. They advertised Charity Cottage in their newsletter, then had a ballot to choose several families to benefit.
That was most gratifying. Then we all realised that families with school age children were dependent on school holidays. In my day a friendly letter to the head teacher, emphasising the cultural advantages of a holiday in the historic Morvan, would have been enough to obtain official blessing. Now the rules have changed and families who take their children out of school in term time face severe consequences. Fine, except that in school holidays the cost of Channel crossings increases alarmingly. Two families have had to turn down our offer because they cannot afford to get here.