Our next visitors to Charity Cottage are due on 13 August. Keith, his son and his son-in-law are coming by car – with three bikes on the car roof. They emailed us several weeks ago, asking about interesting places to see by bike. As always, I was happy to do a spot of research.All our nearby tourist venues – the Château de Bazoches, St-Père with its amazing church, Vézelay ( a three star heritage site) and the huge lakes – are within easy cycling distance. And if Autun with its glorious Roman remains is too far to pedal – well, they can drive there and have the satisfaction of pedalling through a Roman gateway (the main road runs through it).
A nice English language website is http://www.burgundytoday.com/towns/autun.htm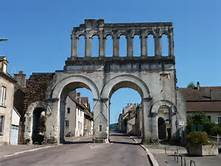 The Canal du Nivernais a few miles from Charity Cottage is an obvious candidate, thanks to the absence of steep hills and the beautiful scenery. Cyclists are especially well catered for.
The canal features some wonderful locks and tunnels. One website says:
Built between 1784 and 1843 to float wood for heating along the river from the Morvan and Bazois forests to the French capital, the Nivernais Canal covers 174 kilometres, from Saint-Léger-des-Vignes, near Decize in Nièvre, to Auxerre in Yonne, through Châtillon-en-Bazois and Clamecy.
That is all very well, but who built the canal? Wikipedia led me to Aimable Hageau, who started the project, which was interrupted by the Revolution. Philippe Fougerolle completed the work in 1843.
The weekend of July 23 – 24 was very worrying for some of our friends who were expecting visitors from England. The start of the school holidays always creates travel problems (why can't school holidays be staggered as they are in France?) but this time was especially harrowing. The heatwave did not help… There was frantic shutting of stable doors following the truly horrific slaughter at Nice. Every vehicle had to be checked – so why didn't the French bring in the manpower to do so?
The Daily Express said:
"French authorities say higher security sparked by the recent terror attacks were to blame for the disastrous tailbacks.
But motorists said French border control posts at Dover were ridiculously understaffed on what was clearly likely to be the busiest day of the year as schools across the country broke up.
Passengers sitting in their cars have been baking in the summer heat and many have got out of their vehicles with some even playing football in the road.
Kent county council and the coastguard have been set to hand out water to people stuck in queues…."
The Times told the same story:
"Kent County Council said at one stage only one French officer was available to check passengers on hundreds of coaches, resulting in each coach taking 40 minutes to process. The delays persisted this morning as more travellers continued to head for Dover while the port was still dealing with Saturday's backlog."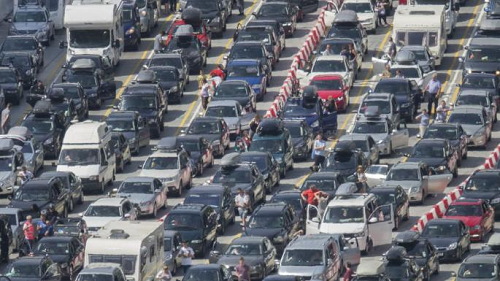 We were expecting a teetotal visitor for lunch, and I looked for an alternative to my Pimms.
Digression: Bootleg Pimms
I found this recipe in the Sunday Times at least 20 years ago. I have never tasted 'genuine' Pimms, so I cannot guarantee authenticity, but our local friends love it.
1 cup of gin
1 cup of red vermouth
Half a cup of Marie Brizard Triple Sec (or anything orangey)
Mint
Cucumber
Lemon
Lemonade and ice cubes
Anyway, I spotted this non-alcoholic punch in Aldi. The name – Sex on the Beach – was so irresistible that I bought two cartons, one to drink and one for our guest to take home to show her friends.