Mars, actually, but I do enjoy a good pun and En Marche! is the slogan of one of the contenders for the French Presidency.
Digression: Despite rendering unto Le Fisc that which is due unto Le Fisc, John and I are not allowed to vote in this election. Whatever happened to 'No taxation without representation'?For a few years March was Germinal, which is also the title of a tedious novel by Emile Zola, on which I wrote an essay in 1963 without ever reading the book. They gave me a B+. The French Revolutionary Calendar (or Republican Calendar) was introduced in France on 24 November 1793 and abolished on 1 January 1806. It was used again briefly during the Paris Commune in 1871. Each day in the Republican Calendar was divided into ten hours, each hour into 100 decimal minutes, and each decimal minute into 100 decimal seconds. The Revolutionary calendar never really caught on – read all about it here.
Here in France – odd in a proudly secular country – every day of the year has its own saint: March 21 commemorates Saints Axelle and Clémence. The Revolutionary version majored in rural endeavours. March 21 is devoted to Primever, the primrose. 5 and 10 Frimaire (25 and 30 November in Gregorian) celebrate the pig (cochon) and the pickaxe (pioche). Check out the Wikipedia page. My birthday is the day of the Handcart (chariot). Well, that's enough of that.
As well as marking the first day of Spring, March 21 is the day ENEDIS (formerly ERDF) are sending a man to inspect our solar power installation and fit the new meters. We live in hope of much lower electricity bills to offset the 470 euros per month we have to pay for 6 years, to support France's efforts to get out of nuclear generation. As my Dad used to say, we could all be dead by then. Meanwhile the installers of the panels, AB Services, have yet to come up with their promised donation to Combat Stress or the explanation I asked for – see my February article.
The End of an Era
Since 2005 the Rabsons and their visitors have enjoyed superb meals in a beautiful setting chez Perreau at Lormes. Snowy white napkins, home made amuse-gueules with the apéritifs, excellent food and wines, and prices to make London foodies weep with envy.
Digression: An amuse-gueule is what our son calls a pre-prandial titbit. Une gueule is a gob – interestingly, a French hangover is une gueule de bois . Our friend Claudine, always the 'refained' lady, insists on amuse-bouche. Perreau majors in tiny sausage rolls and choux pastry puffs.
The TripAdvisor website loves Perreau too. Here is just one comment:
In the middle of the Morvan forest this is a little jewel. A very traditional restaurant, owned by a nice couple who greet you warmly, an impeccable cuisine! Incredibly cheap, copious portions. I hope it will stay the same for ever. We will certainly go back next year. Merci!!!
Alas, he may be disappointed. The owners, Raymonde and Bernard, are retiring and our favourite restaurant is changing hands. Sequels ain't equals. Watch this space.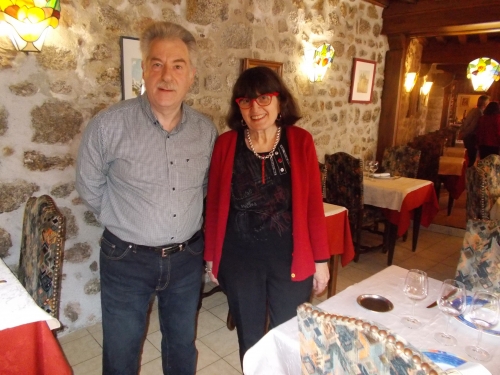 The Chop?
In O Henry's The Gift of the Magi Della sells her hair to buy a watch chain for her husband Jim, who meanwhile has sold his watch to buy combs for Della's hair. I cut my hair for charity. On 15 February Laure, the mobile hairdresser we inherited from the previous owners of our house, gave John his monthly hair, beard and eyebow trim and created the plait pictured below for me. Most hair charities concentrate on the young, but oldies suffer hair loss too. Start on the Cancer Research site and work on from there.

It is the season for cutting and lopping. The avenue of trees leading to the cemetery in Cervon have had the chop too.