La République En Marche ! is the political party founded by Emmanuel Macron. When something is en marche it is on the move. En Marche! was the title of my first French textbook in 1953.
As I type Monsieur Macron may still be en marche, but he is not having an uneventful journey. Fortunately the violent protests and downright vandalism do not seem to have reached the Morvan. Meanwhile Theresa May in London must be wishing she had never heard of Brexit.We have friends in the US who are hoping to emigrate to France – one holiday in Charity Cottage and they were hooked! – and have bought a house not far from Maré. They are waiting to see what happens in the protracted Brexit negotiations. And so we have advertised the property as a holiday rental. See HolidayFranceDirect.
Mardi Gras
The month of March is of course mars. And this year Shrove Tuesday, Mardi Gras, falls on 5 March: Easter is late this year. A cheerful website https://www.littlefrenchy.com.au/article/mardi-gras-in-france says:
Mardi gras has become a day of crêpes and carnivals for many of us.
Mardi gras is originally a Christian tradition which marks the last opportunity to eat rich cuisine before the 40 days fast of Lent. In French "Mardi Gras" literally means "Fat Tuesday".
As well as crêpes (see my February effusion for details), people in the Morvan make bugnes, a sort of doughnut. Type bugnes and you will find dozens of reliable recipes. Some require half a dozen eggs or more. Basically it is a doughnut mixture, deep fried and sprinkled with icing sugar.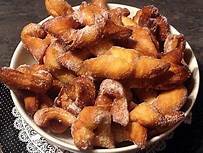 Digression Thereby hangs a tale. I have a friteuse, a deep fat fryer, bought in Aldi for 30 euros. Today I decided to change the oil after making onion bhajis, and was horrified to see how filthy the appliance was. Well, the minimum hourly wage in France, le SMIC, was recently increased to 10 euros. As it took me several hours to clean and replenish my friteuse, I propose that next time it needs attention I shall take it to the déchetterie after emptying the oil into our incinerator, and invest in a new model.
Squirrels
Our red squirrels have not bothered to hibernate this winter, possibly thanks to the plentiful food on our kitchen windowsill. John has not photographed them lately, but here is a picture of a squirrel courtesy of our commune, which issues every household with a kitchen bin and a bigger version to be collected by our friendly bin men and converted into rich compost, available free of charge.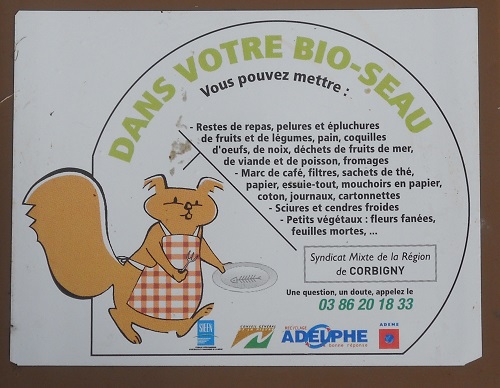 Many British communities could take lessons from Corbigny.
Citizen Rabson
John applied for French citizenship long before Brexit reared its ugly head: he pays French taxes and he wants the right to vote: 'No taxation without representation'. Well, as I type John has a rendezvous with a view to progressing his application.
Last year The Times reported the case of an Algerian woman who was denied citizenship because she refused to shake hands with a male official at the ceremony.
John assures me that he will shake hands or even perform la bise, the traditional kiss, if that is what it takes to get him the vote.