I'm sure many of us, as expats, relate to this scenario.
You dreamed of retiring and living overseas, and finally your dream became a reality. The excitement was palpable, as was the thrill of having something new to focus on.
I know, because as a serial expat, I've been there, watching as I and others slowly came down from the high and settled into a routine, with the eventual realization that the dream wasn't quite living up to expectations.THE THREE YEAR ITCH
When I lived in Spain, we used to call it "The Three Year Itch".
Here's how it pans out:
Year 1: There's plenty to do to keep you inspired, occupied and fulfilled. A new home to create, a new circle of friends, a new environment to explore. There are the problems to solve and challenges to overcome. Sometimes you'll have the added pleasure, or pain, of learning a new language.
Year 2: You are nicely settled and it's time to entertain friends and family. You have a continual stream of guests, keeping you on a high as you share your new life. There's also time now to join expat groups, explore the area, and become involved in community projects. Life is good.
Year 3: Umm. This is when the downhill slide begins, if it's going to. Fewer people come to visit, family have their own lives to contend with, and you find yourself starting to see the limitations of your new lifestyle. This leads to feelings of homesickness, discontentment, nostalgia for your old life, and doubts about whether you've actually made the right decision.
You discover that being an expat is not always easy!
Now of course, this doesn't happen for everyone.
Some people are well suited to their new lives and continue to get fulfillment and happiness from their expat lifestyle. But you'll find plenty of stories of people who, for various reasons, finally decide to return to their home country.
WHAT ARE THE REASONS THAT PEOPLE RETURN?
Missing family and friends – This is the number one reason, and is especially true when grand-kids appear on the scene. Technology allows us to cross divides, but it also makes it easy to see family events and friendly meet-ups that we are missing out on. It's sometimes not easy, or even financially viable, to pop back for every wedding, anniversary or birthday celebration, and you're left viewing Facebook images on the sidelines!
Culture shock and difficulties adapting – This is a very real dilemma and not everyone can adapt to a new environment on a forever basis. Language, differences in culture, and the ease with which you are accepted into the local community all play their part. This is especially true if you are living remotely, possibly off-grid, and without the support of an active expat community.
Boredom and a perpetual need for change – Some people, like me, thrive on change. Moving to a new country is just the first step in realizing that new projects, different challenges, and a desire for change are what keep life interesting and fulfilling. It's the "been there, done that" syndrome, and once you get to that point, you really have returned full circle in your mindset, to where you started when you first sought out your expat dream lifestyle!
HOW HOUSE SITTERS CAN HELP
Maybe there's no need to make drastic changes.
If you are missing family, but concerned about leaving your property or pets, then professional house sitters can be used, often at no cost. You provide the accommodation and the utilities, and in return, they care for your property and pets.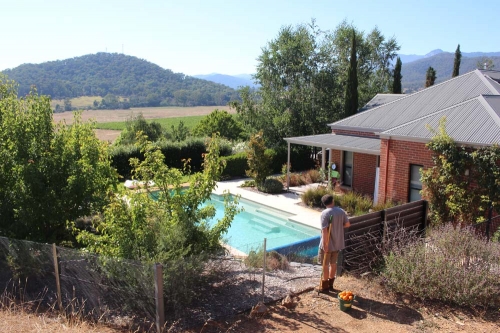 Is your expat home remote? This is one we looked after in Australia
It's what we often refer to as a win-win-win situation. It's a perfect solution for the expat homeowners, the house sitters, and the pets!
And, the great thing about house sitters is that you can go away for as long as you want. Long term and full time house sitters will usually be looking for house sits from a one to twelve month duration.
Dispel feelings of homesickness by scheduling time back home with your family and friends. If your finances allow, make time to go back and spend quality time in your home town environment among people you are close to.
BUILD LONG-TERM RELATIONSHIPS WITH YOUR SITTERS
You can go away as often as you want once you've established relationships with reliable house sitters. We are currently on our third repeat sit in just over a year, at the same expat property in San Miguel de Allende in Mexico. Our homeowners have been back to see family and friends a couple of times in the US, and taken vacations in Africa and now in Italy.
Relationships like this often build naturally in the house sitting community. You'll find a few like-minded couples, families or even single people that you connect with and they are happy to return regularly to provide cover while you return home, or go on vacation.
DEALING WITH CHANGE
What about those expats that simply want a change of scene for a short while?
If you are in year three of the cycle, you might be feeling a little disenchanted, and in need of some time away. However, you are concerned about how you can possibly leave your property and pets, even for a short vacation.
Ironically it might be this the simple act of taking a vacation that is enough to fulfill your need for change, providing you with renewed vigor and enthusiasm for your expat life.
We recently house-sat for a couple in Ajijic, Mexico who were teetering at the three year itch. They explained that, like us and without kids, they had a love of new challenges and change in their lives. At the start of every year they ask each other, "Are we still happy here?", sure that eventually they will want to sell up and move somewhere new.
However, when they heard about our lifestyle as full-time house sitters, they realized that this could actually be the answer to their own conundrum. They had no idea that house sitters were available long-term, but saw how this would actually free them to go traveling.
They even saw the possibility of looking for a house sit assignment themselves, thus satisfying their need for change without having to go through the upheaval of selling, moving and re-establishing themselves more permanently!
WHAT IF A BREAK ISN'T ENOUGH?
If you have problems adapting to a new culture, it might be enough to have a break, but you might find that you are, in fact, better suited to an alternative location or destination.
If you're not ready to return home, but also not sure where you'll best fit in, you might find that becoming house sitters yourselves will provide the opportunity to "try before you buy" in an alternative country.
Or, you might be financially able to rent property elsewhere, while using house sitters to look after your home and/or pets, until you decide.
Selling property abroad can often take much longer, depending on supply and demand, and you may be in a position to move on before any sale is completed.
In this case we've seen a good number of home owners who use house sitters to look after their property while it's on the market. This has the added advantage of keeping the property with a "lived in" feeling, making it easier to sell.
No need to empty the pool, or use property maintenance agents to upkeep the grounds. House sitters will take care of this – as long as you leave the furniture!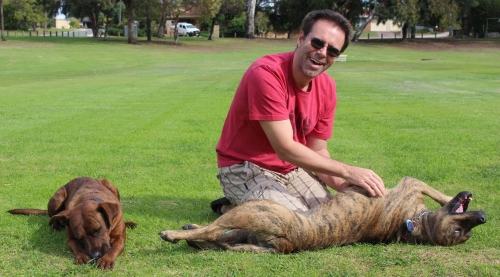 Know that your pets are being well looked after while you are away
WHAT IF MY PROPERTY IS REMOTE OR OFF-GRID?
There are many house sitters with the skills to look after remote, off-grid properties. You may need to interview more carefully, in order to find applicants with the relevant skill sets, but it's certainly possible. We've owned our own off-grid island property in Panama, and often find ourselves in demand to look after these types of properties.
HOW DO I FIND OUT MORE?
There are many house sitting websites where you can register your property, or your own profile, if you want to try out house sitting for yourself. House sitting is becoming a very popular concept, and is taking off in the way that couch-surfing and Airbnb did a few years back.
The largest and most popular international house sitting platform is TrustedHousesitters.
There is an annual subscription charge of $119 US but this is a small price to pay for the ability to leave your home and precious pets in professional and capable hands. Boarding your pets is extremely expensive these days, so consider too how much you will save on these services.
House sitters are reviewed by home owners and you will find access to references, and various ID checks on the platforms. It is very well organized and the decision of who to select is always within your control.
So, if you are starting to feel homesick, or in need of a complete change, don't do anything drastic.
At least explore the world of house sitting, house exchange or a rental alternative.
It might save you a lot of time, money and upheaval!
To find out much more about how you can get started as a house sitter, take a look at our website – the link is shown in the bio below.