Are you considering moving abroad? I'm guessing that's why you might be here, browsing the pages of "Expat Focus".
But how do you know you're doing the right thing when buying a home in another country?
How do you figure out if you'll even like living there?There are so many questions and so many doubts. This is a major crossroads in life, and you don't want to find yourself suffering buyer's remorse if you don't like the location you have chosen.
Uprooting from the UK
Back in 2004, while still married, I spent a couple of glorious weeks on holiday in Andalucía close to the geological marvel that is the "El Torcal" mountain range. Our hotel was owned by fellow Brits and they also ran the local estate agency.
It took no more than a few drinks by the hotel pool, a casual intro to a few local expats and a cursory glance at some property brochures, to hook us into the lifestyle dream of living in the Spanish countryside.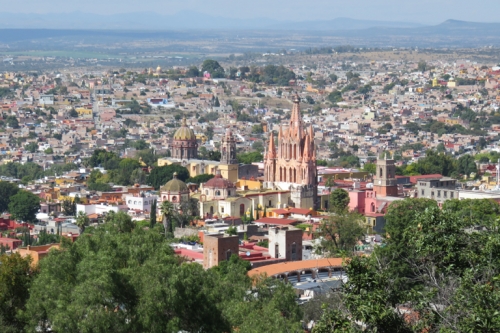 Views across San Miguel de Allende, Mexico
Within a year, we had bought a 100 year old finca on a (fairly unstable) hill top, moved lock stock and barrel from the UK, and begun our new lives immersing ourselves into the local Spanish community. Good internet meant we could continue to run our UK business remotely and so our new lifestyle change was all looking extremely promising.
Living as an expat is very different to holidaying as a tourist
A two week holiday is nothing like the same as uprooting yourself from your native home and relocating to a new country where you have to adjust to a different culture, climate, and language.
The first time our neighbor set fire to his fields, with no apparent regard for what might happen if the wind direction changed, was a little scary. It was even more frightening when he took a match to our land too. It was simply his friendly attempt to educate us in the Spanish method of clearing potentially hazardous vegetation from properties during the hot summer months.
We were of course grateful for his assistance and advice, until he ambled off half an hour later, leaving us wondering how we could prevent this fire spreading up the hill and beyond. But that's for another story – and fortunately we had a pool!
Boundaries were non-existent and we had to quickly get used to the "goat man" sitting, with 3-D glasses atop his hat, outside the kitchen door for an hour or sometimes longer, cracking almonds, while watching his goats graze our land.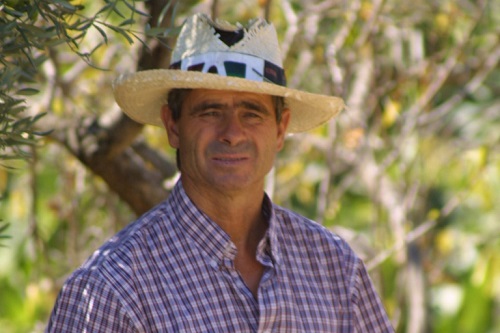 This we quickly grew to love, and were thoroughly dismayed when a new expat arrived and promptly fenced his property. He was preventing access to this local farmer whose family had wandered these hills for generations.
The good, the bad and the ugly
There were many wonderful things about living in Andalucía, but there were many things too, that with more knowledge, might have affected our decision to live quite so remotely.
The hardest thing to come to terms with was the continual sound of barking dogs – both day and night. It disrupted my sleep patterns for the three years we lived in Spain.
The torrential winter rains created large gullies that threatened to undermine the stability of our house. Drainage channels were essential, and we twice witnessed neighboring properties suffer expensive damage as a result of mudslides.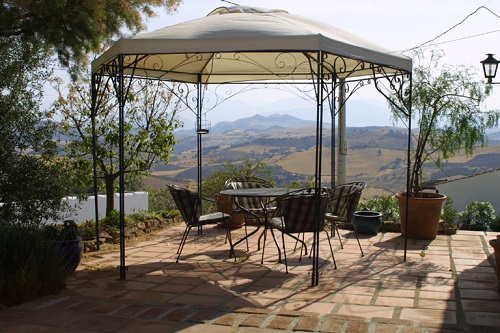 The intense summer heat was too much for me to bear. I so wanted to be out and about in the day, but instead often found myself confined to the cool interior of the house, longing for dusk and the cool of the evening. By contrast, in winter it was actually cold and damp, with thick fog shrouding the hill where we lived. There was no central heating in these old mountain properties.
Of course, it wasn't all bad, and I'm highlighting the negative issues to make a point. The people were kind and generous, and we had wonderful experiences as expats in Spain. But in the end we didn't stay, because it became more about survival than enjoyment, and that wasn't our dream version of an expat lifestyle.
The grass is always greener – but we moved to France anyway!
Nowhere is perfect and I know that now having lived in many different countries around the world. But on this first occasion of moving away from England, I did fall into the trap of seeing a destination through the rosy eyes of a holiday maker.
You would think I might have learned from this experience. But no! My second purchase was in France, on a plateau above a small ravine village in the Languedoc region.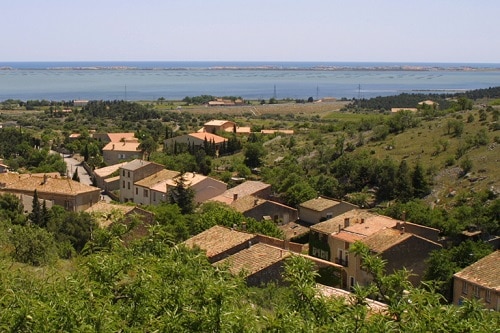 Our deal was sealed on the seafront after viewing the property on a sublime February day. The sun was shining, the sky was bright blue and the views across the land to the sea were outstanding. I have a wonderful photo sat on a wall at the beach shaking hands with the realtor. He had a big smile on his face!
Not surprising, for we hadn't realized we were buying on a plot of land, that would be ravaged by "Le Vent Tramontane", on a continual basis throughout the year.
Similar to the Mistral in Provence, this wind blew relentlessly (and noisily) for at least three days at a time. If it didn't stop, it would blow for a further three days. It affected the whole concept and enjoyment of outside living. The communal pool was deserted – it was just too windy to sit and relax comfortably in the summer sunshine.
We quickly learned why the local inhabitants of Fitou, lived sheltered, deep within the ravine! And, when a wind farm was installed on the edge of the development, it was time to reassess our decision once again.
Try-before-you-buy with house sitting
I vowed never again to buy a property anywhere without first temporarily living in the area. Even if that meant pitching up a tent for a few weeks to discover what could possibly put a damper on my expat living experience.
However, the problem with the traditional "try-before-you-buy" experience, is that it is often expensive. The rental costs eat into the money that you've saved for your property purchase. And, a tent in reality, isn't really that practical!
But many years later, I think my new partner Ian and I have found the perfect solution. We are currently exploring Central America, looking for somewhere to possibly put down roots again during our semi-retirement.
And… we've become house sitters.
We were first introduced to this concept while living in Bocas del Toro, Panama on a small private island. Whenever we went away, we had to use house sitters to look after our dog, the island and our home. It needed to be protected from "active recycling" by the local indigenous Indian folk!
When we sold up, we realized that this could in fact be the perfect solution for us too. We could try any number of different locations, live like locals, and really assess whether a destination suited us and our way of living.
Even better, it wouldn't cost us a penny in accommodation fees or utilities.
So what exactly is house sitting?
In simple terms, house sitting involves looking after someone's home while they're away. Instead of leaving a house vacant, home owners use house sitters to care for their property, possessions and pets.
House sitting has become extremely popular and more mainstream over the last few years. It's an inexpensive way to visit and live temporarily in different countries or locations where you can experience different cultures. It can be for a few days, a couple of weeks, several months, or even longer.
For the potential expat this is an ideal way to "live like a local" in a town or city that's high on your list of possible destinations.
Test out the location in a very realistic way
Many home owners who use the services of house sitters are expats themselves. Often people want to travel back home to visit friends and family at Thanksgiving or Christmas, and maybe don't want to, or can't, take the pets with them. Or perhaps they are going on holiday, enjoying the freedom of their golden years.
We often say that a house sitting arrangement is a "win-win-win" experience, where those on all sides of the equation (the home owners, the house sitters, and the pets) enjoy significant benefits.
For a potential expat considering a life-changing move, there are many benefits.
You get to live in your chosen location in a typical expat property. You can try out the markets, the shops, restaurants and entertainment. You'll meet the neighbours and really get a feel for what it's like to live in this new environment, not just on a quick vacation visit.
Of course you'll also get to know your expat home owner, who has already made the transition. They will be a great source of information, inspiration and possible assistance.
This year we have house sat in four different expat communities in Panama, Nicaragua, Guatemala and Mexico. We fell in love with Lake Atitlan, Guatemala and even put an offer on a property – but that one wasn't to be. Now we are back for a repeat house sit in Mexico.
Finding house sit assignments
There are now many websites that offer to introduce potential house sitters to home owners, and some of these sites have thousands of listings worldwide. Usually there are many more potential house sitters than there are homes available to look after, which does make it a little competitive for the sitters.
For a home owner, they usually get the chance to pick from a wealth of well qualified sitters with references, experience and reassuring background checks.
But don't worry. If you'd like to become a house sitter, it's relatively easy to get started, even without previous experience. And as a potential expat considering moving to the area where the home owner lives, you already have a high degree of credibility.
Try-before-you-buy in Mexico
Let me give you a quick example of a try-before-you-buy possibility from our own experiences as long term house sitters.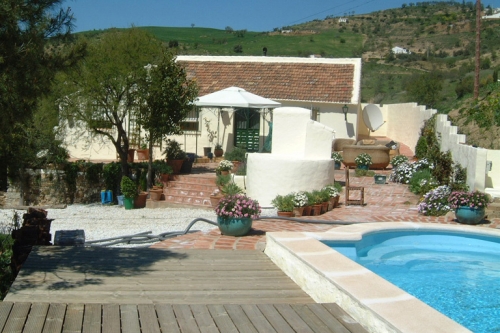 An expat experience in Andalucia, Spain
We are currently living in the beautiful city of San Miguel de Allende in Mexico. It really is quite an expat favorite, and rightly so. The city centre is beautiful, offering a rich mixture of wonderful architecture and modern lifestyle.
But would life here be to your taste?
We have had the opportunity to find out, as we have had two house sit assignments in the same house. We actually return for a third time in March this year. We are looking after a beautiful home in a small gated community just outside town.
Our charges are six cats who are all pretty self-sufficient. This gives us lots of time to wander the city and suburbs.
Our first sit here was for a month in July and August, when we got to experience the heat of summer.
On our second occasion we had a six week assignment from mid-November through to the end of December. We got to see how cold it gets in winter in a house with no central heating. In March and April this year we will also get to experience another season.
We also got to enjoy Christmas and New Year in a city often listed as one of the "Top Ten Places In The World to Enjoy Christmas".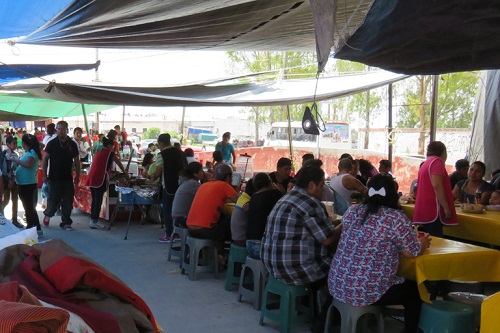 We have shopped at the local markets, found a super-cheap cinema, visited many of the local restaurants, and found a couple of great bars and cafes. We really feel we know just what it would be like to live here, and have a very good idea of the costs to do so.
If we were serious about moving to San Miguel we would have already gathered a wealth of experience and information, and could make a very informed decision.
Wherever you are thinking of moving to, there are probably others who have gone before you. These people quite possibly already use the services of house sitters.
For you this could be the ideal way to try-before-you-buy.
To find out much more about how you can get started as a house sitter, take a look at our website – the link is shown in the bio below.
Happy house hunting!