Who are you?
We are Phil and Katya, the couple that travels and moves from country to country looking for a new experience and exploring our wonderful world. Together we've been to seven countries and some more before we met each other.We decided not to waste hundreds of pictures we bring from our trips and recently created an Instagram account missy_n_mister_abroad, where we share our best moments with other people and try to inspire them to travel.
Where, when and why did you move abroad?
Our last destination has been Croatia. We moved here a month ago.
It was love at the first sight; we fell in love with this country and decided to stick around longer.
What challenges did you face during the move?
The most complicated part when you move abroad is always documents: visas, work permits etc. The rest are little worries that usually bring you only pleasure.
How did you find somewhere to live?
Phil's parents retired in Croatia so we stayed with them temporarily.
Are there many other expats in your area?
There are quite a few expats living in Croatia, although in Sibenik, where we are, not too many of them.
What is your relationship like with the locals?
Local people are very friendly, but they will treat you much better if you speak their language. We already started working on it ☺
What do you like about life where you are?
Life on the coast is always peaceful and leisurely, people don't rush, there's no stress and hustle. You feel life, you notice all the beauty around and enjoy little things.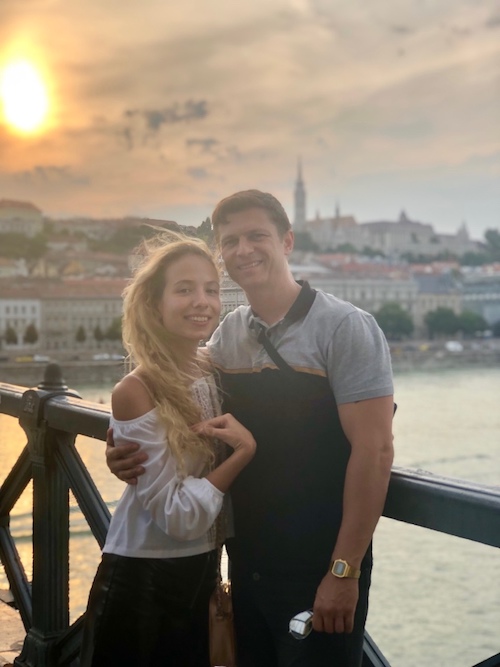 These are the best advantages of living in Croatia.
What do you dislike about your expat life?
I would say we are generally happy with everything because this is our lifestyle; we can't stay at the same place for a long time. The only thing that bothers you is that your family and friends are far away.
What is the biggest cultural difference you have experienced between your new country and life back home?
Croatia is a European country so there are no big differences that shock you. It is just lazier a little bit and there are more traditions from the past that are still alive and very important for locals. People here sing Croatian folk songs at weddings, play them in the bars and even private parties…
What do you think of the food and drink in your new country?
Well, Phil is from Bradford, UK. So he misses his curry and spicy food as local food is very plain ☺
Croatian cuisine is very similar to Russia, where I'm from. But it also has Italian influence so I'm even happier here as I'm a pizza lover!
What are your particular likes or dislikes?
As I mentioned we're both into pizza, pasta, beefsteaks and local baking. Basically, everything that makes you chunky! Dislikes…hmm. We just like food so no dislikes!
What advice would you give to anyone following in your footsteps?
Be brave and don't have any regrets. Experience is priceless whether it's positive or negative. Try to socialize and learn the rules of the place you plan to go to. Show respect to different peoples and their traditions, then you will be accepted.
What are your plans for the future?
So far we don't know exactly. We like being in Croatia, we're even having thoughts of settling here for good but our adventurous spirits can push us into a new journey at any moment!
You can get in touch with Phil and Katya via email or on Instagram.
Would you like to share your experience of life abroad with other readers? Answer the questions here to be featured in an interview!