Who are you?
I am Theresa Khalil from Egypt living in Zagreb with my Croatian husband. I am a documentary filmmaker and founder of Unique Zagreb, which I initiated to create English speaking activities for people in Zagreb.Where, when and why did you move abroad?
I moved abroad in 2012 first to Portugal as I got a scholarship to do my master's in documentary filmmaking. The master's program was between 3 countries Portugal, Hungary and Belgium, so I was living in each capital for about 6 months or more.
What challenges did you face during the move?
It was difficult to have real friends. I met many many people but it was difficult to have that one close friend.
I also had to leave many things behind which I couldn't fit in my bags at that time. And even now after I moved to Croatia and having my own home, it is still difficult to bring everything.
Are there many other expats in your area?
Zagreb is a small city and so there are expats but not a big community like in other capitals.
What do you like about life where you are?
I like the most here my husband 🙂 sometimes a person can be a home.
Other than that I like how small the city is. Peaceful atmosphere, even demonstrations are fun to watch and enjoy. The last demonstration organized was filled with lots of balloons and musical concerts.
I like that there are many cafes, almost one on each corner, and each one has its own style.
Many beautiful parks which you can enjoy during the spring and summer season.
What do you dislike about your expat life?
I actually like and dislike this at the same time. People around me change all the time. Most of my connections are with expats and they come stay for few months and then move on to their home countries or continue their journey. I like to meet new people always but I also like to have stable long time relations. Some people I miss and others I feel glad that they are leaving the city.
What is the biggest cultural difference you have experienced between your new country and life back home?
The biggest cultural difference is how people deal with religion. Egypt and Croatia are religious countries. In Egypt religion is a very serious matter and part of the daily life, it interferes in what you dress, what you eat and how you behave. In Croatia I find people made their own version of religion that matches with their life style. So people are religious but it is ok to get the blessings of the church for marriage after they already have 2 children. Or it is ok not to go to church at all or to claim being an Atheist but this doesn't mean they will not baptize their children when the time comes.
Also priests seems to be very accepting and open minded to whatever people need.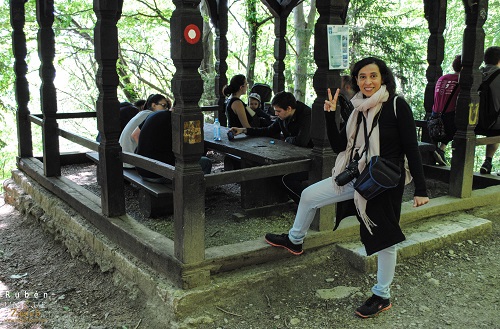 What do you think of the food and drink in your new country? What are your particular likes or dislikes?
I am a pescatarian and the culture of food here is mainly based on meat, so I didn't try many of the traditional Croatian dishes. But I like "Ribice" which is small fish fried or grilled can be served with bread or salad.
As for the drinks, I am not into alcohol much but I discovered a new juice made from a fruit called Aronija (Aronia) it is very popular as a healthy drink to improve the immunity.
What have you learned from living abroad?
I learned that humans have more in common than differences. It is always surprising how in every nation there is a similar proverb or a similar problem to what I thought was only in Egypt.
Also I discovered that Europe is not perfect as I thought. Yes it is developed, but that is the exact term to be used, a developed country or nation. And there is still more work need to be done and more issues need to be solved and developed.
What advice would you give to anyone following in your footsteps?
My advice is to discover something new every day. Meet new people, mix with the locals and take from the culture you are in what you like and skip what you don't like.
What are your plans for the future?
My plan for the future is to find a warm country to spend the winter. It is so painful to spend the winter freezing in Zagreb and I am hoping to be able to change that soon.
Also to continue filming documentaries and encouraging people around the world to film their first documentary through my YouTube channel.
You can keep up to date with Theresa's adventures on her website, Unique Zagreb, and through her YouTube channel, UniqueTV.
Would you like to share your experience of life abroad with other readers? Answer the questions here to be featured in an interview!