Another free library
The free library in Corbigny, which I featured in my August effusion, prompted John's brother, David, to send this picture of the one in his village in the West Country. He wrote:
"I am sure that you remember the Great British red telephone box. Due to the rise of the mobile phone, they were hardly being used and did not warrant the salary of someone to empty the money. With the rise in vandalism of the boxes, they decided to ask Parish Councils to buy them for the princely sum of £1. Our village one became a library. You just take a book to read or donate books and return the book if you do not want to keep it."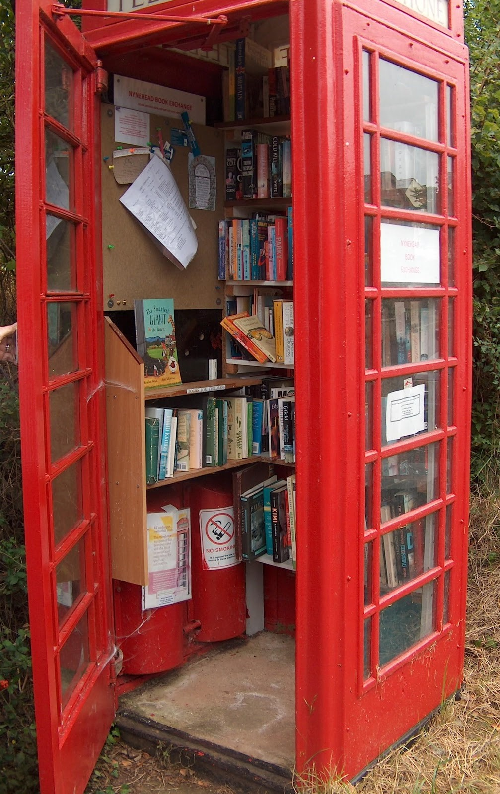 An enthralling piece about the red telephone box can be found on The New York Times website.
"Battered first by the march of technology and lately by the elements in junkyards, the iconic phone boxes are now staging something of a comeback. Repurposed in imaginative ways, many have reappeared on city streets and village greens housing tiny cafes, cell phone repair shops or even defibrillator machines."
The return of the Colissimo
In Gone Missing (my August piece refers), I told the sad tale of our granddaughter's birthday Colissimo, posted in June. 
Well, we filled in a form at La Poste, they tracked it down, and it arrived, battered and tattered, at Maré on 26 August. The carton was torn along one side, but the contents were intact, apart from smears of chocolate on the embroidered t-shirts and handkerchiefs.
Charlotte's American grandmother commented:
"I don't think sending any kind of chocolate or anything that could melt is advisable. It has been exceptionally hot here this summer. The entire country has been suffering. The highest temperature here in Fresno to date is 113. Death Valley 130."  
Those temperatures are of course in Fahrenheit. Blood heat is 98.4 degrees Fahrenheit. 
John showed our mangled Colissimo to the counter clerk at La Poste in Corbigny, who told him that an official message had gone out saying that the US Post Office had been "having issues" – well, we all know about that! 
78 RPM
John has his 78th birthday on 8 September. This inspired me to dig out his collection of 78 rpm records and access a Wikipedia article on their  history. You can find it here.
The mask of the Red Death?
Edgar Allan Poe's short story (1842) The Masque of the Red Death ends, "And Darkness and Decay and the Red Death held illimitable dominion over all."  
Face masks are part of life here, and there is a lot of information online. My favourite website is Cdc.gov, which tells you not to wear a mask:
Around your neck

On your forehead

Under your nose

Only on your nose

On your chin

Dangling from one ear

On your arm

(

Have they forgotten, over your eyes?)
Here in the Morvan, the Chinese Pestilence continues to impose masks on us all. Worse, the prolonged lockdown is keeping Brits away from Charity Cottage. Under British government requirements set on August 15, travellers from France and some other countries to the UK must quarantine for 14 days. We have several Brits waiting for news, while Charity Cottage stands empty.