You might not think of Germans as quirky, but they can be. While we all know that Germans enjoy punctuality (true), paperwork (true), and practicality (true), what you might not know is that Germans also enjoy recycling and experimental mixed drinks. These might not sound like strictly cultural activities but you'll soon find that culture lives in the little things. Throw out your famous German stereotypes, it's time to get cosy with the idiosyncrasies and values that drive everyday life.And there is no better place to start than with recycling. Germans take their rubbish very seriously. So seriously, in fact, that in your house you will be expected to have no fewer than four bins: an organic waste bin (Biomüll), a recyclable packaging bin (Verpackungsmüll), a paper bin (Papiermüll), and what's called Restmüll (which is basically just the stuff that doesn't fit in the the other bins). You might be blasé about sticking to this regimen but be warned, many an expat has been curtly questioned by their neighbours or landlords for disposal missteps. In some parts of Germany, there are even specially sanctioned bags for different types of rubbish.
That being said, life in Germany is not just a quagmire of rules. While sensible, the country can be more easy-going on some fronts. For instance, it won't be long before you encounter Germany's FKK culture. Freikörperkultur, or FKK for short, translates to Free Body Culture (think: bodies free of clothes). Nudity here is not just reserved to allocated resorts but is a common occurrence at bodies of East German water.
Behavioural customs
In English, how you say something is often more important than what you actually say. This is not the case in German. Here, you must state exactly what you mean in a straightforward manner: all the rest is verbal fluff. While this can seem a bit cold or even rude at first, over time it can actually become quite a refreshing mode of interaction. Directness and honesty are great antidotes to the brainless small-talk that is customary in the Anglosphere. As Adam Fletcher puts it, "Germans have rightly realised that sugar coating is best reserved for cakes."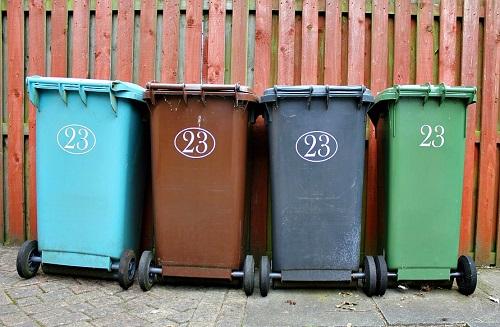 Germans take recycling very seriously
On the topic of coldness, you'll soon notice that Germans' friendliness is directly related to the weather. If you walk into a cafe in summer, you'll most likely be greeted with a cheerful hello. In February though you'll probably just have a menu angrily shoved in your general direction.
While it might run counter to all the courteous bones in your body, the best way to react to the winter rudes is to be equally blunt in return. Many Germans will respect you for it and it usually gets them to change their tune. Grovelling, on the other hand, leads to the inverse effect.
Likewise, Germans don't care much for suck-ups. This will only get you labelled a Schleimer, which is not considered charming in the slightest.
One good thing about meeting people in this country is that Germans aren't into making false friends. For them, friendship is not a PR stunt and they don't feign friendship just for the sake of lubricating interactions. When you make a German friend, you can count on them as a real friend.
The well-known international cliché that Germans have no sense of humour is, in fact, a fallacy. Germans do have an immense capacity for humour but it is dark, very dry, and easily missed by foreigners. Likewise, English speakers' favourite mode of making fun, sarcasm, often fails to translate in Germany.
Germans answer the phone by saying their name, rather than by asking who is speaking. "Hallo, hier ist die/der [your name]" is considered best telephone practice, but it is also common to drop the "hallo" and get straight to the point: a German motto.
Addressing others
Unlike English, German has different modes of address based on formality. Sie is the formal way to address someone and should be used for anyone older than you or of higher status. Du is the familiar mode of address and is used among friends and for children. For English speakers, learning the nuance of when and where to use informal or formal language can be difficult. If in doubt, err on the side of formality.
Likewise, it is fairly common practice here to call people by their surnames, especially in business or formal circles. It's by no means that predominant form of naming, but you'll come across it.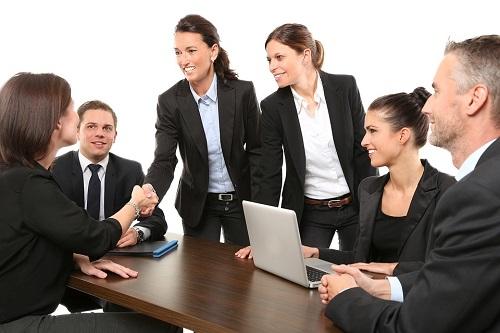 Handshakes are a common method of greeting people
Titles are also a big thing in Germany. If someone has a PhD in any field, they will probably expect you to greet and refer to them using the title Herr/Frau Doktor [surname]. This includes professors and medical doctors.
The rigid distinctions between formal and informal are not unique to the language but are also deeply embedded in the culture. You will quickly notice that many German institutions and workplaces are structured with far more formality than some expats are used to.
Another thing expats will soon notice is that handshakes are a cornerstone of the German greeting. Here, handshakes are not reserved for business meetings. Germans shake hands all the time, even if it is not the first time they have met. If you're inclined to lean in for a kiss (as is common practice among women in English speaking countries) then refrain. Shake hands like a true German.
Office culture
Office culture in Germany is something many expats struggle with. Generally, working relationships here are formal and distant. Many people in Germany like to keep their work life and family life seperate; there is little water-cooler chatter about weekend plans and children.
Crucially, it is not common in Germany to stay at the office beyond the offical working hours. Unlike in English speaking cultures, staying late doesn't demonstrate a stellar work ethic but signifies that you're inefficient. If you want to impress your boss, definitely do not play this card.
Food
Traditional German cuisine is mostly comprised of pork and potatoes cooked in a variety of ways. But what this country lacks in traditional culinary thrills, it makes up for with truly delicious beer. Germans are beer purists, literally. Since the 16th-century the Reinheitsgebot or 'Purity Law' has decreed that beer can only be brewed from barley, hops and water. Anything else doesn't deserve the acclaimed title Bier.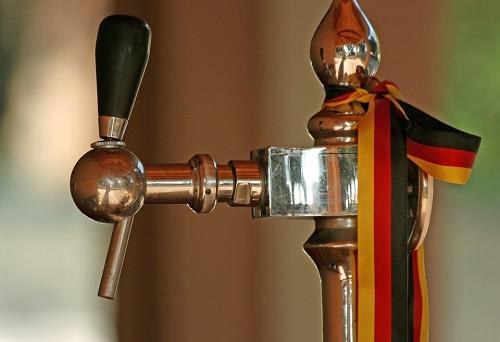 German beer is not to be missed
Luckily for all you foodies out there, Germany has embraced a number of different cultures when it comes to cuisine. And while traditional German restaurants probably won't be the best pick for vegetarians and vegans, living meat-free is actually a very common practice in Germany. In big cities you won't have trouble finding restaurants or cafes that cater to your lifestyle.
Things don't look so hopeful for celiacs, although the situation is improving especially in larger cities. Germans love bread. So, so much bread.
Germans also have a proclivity to eat with the seasons. There is no way that you'll miss the Spargel (asparagus) fever which usually hits from April to June. Likewise, you'll witness huge strawberry stands appearing throughout the city in summer.
And for a country that few would label 'hip,' Germany is massively on board with eating organic. The BIO (organic) stamp is everywhere, from foods to soft drinks.
Finally, we have the phenomenon that is Schorle. 80% carbonated water, 20% juice, Schorle is a distinctly Deutsch invention. Nowhere near as flavoursome as juice but slightly more exciting than water, Germans have applied the principle of Schorle widely and with reckless abandon. They have companies making basically every mixed drink you could ever imagine. Banana and beer? Got it. Coke and Fanta? Got it. Rhubarb and Water? You name it, the Germans have made it.
Dress
You might have thought outdoor shops were reserved for hikers and rouge sportsman. Wrong. Outdoor shops here are the leading fashion retailers. Jack Wolfskin windbreakers and expensive hiking boots are practically a national uniform.
Aside from any inclination to put fashion before functionality, another major German faux pas is to bring outdoor shoes inside. Don't do it. All footwear must be stripped before entering a home.
Celebrations and holidays
Sunday is Ruhetag, end of story. While Germany is becoming less religious, the country has staunchly retained the idea that Sunday is the day of rest. Supermarkets and shops are closed, so you'll be forced to employ good German planning and foresight if you want to eat on Sundays.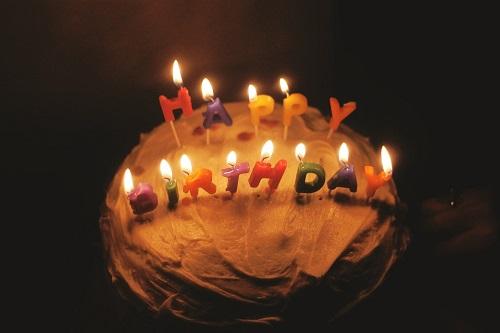 You will be expected to bring your own birthday cake to work
If it's your birthday, you have to bring your own cake to the office. No one else will do it for you, and your colleagues will get upset if they find out it's your birthday and you failed to bring cake.
On Silvester, or New Year's Eve, formerly orderly and law-abiding German cities turn into a terrifying carnival of pyrotechnics. Be warned. People shoot elaborate fireworks sometimes into the sky, sometimes at one another. Enter at your own risk.
Other fun things to look forward to
Double beds in Germany are usually composed of two single mattresses and two separate blankets. (Germans' love for privacy is no joke). If you're planning a romantic trip, check that your 'double' hotel room is not, in fact, simply two single mattresses pushed together (it usually is).
Germans don't baby their children. You'll notice this immediately from the elaborate playgrounds they construct. These playgrounds (Spielplätze) don't waste time with protective layers on every corner. A bumped head is no reason for concern. The German attitude is generally that falling down is part of the natural learning curve, so don't bite your nails as you watch four year olds clambering over 10" high ropes. That's just how it is here.
Tatort: this B cop show is like a religion in Germany. It airs every Sunday night at 8pm and Germans congregate in cafes and bars to watch it. Admitting that you don't watch Tatort (or that you don't think it is very good) is tantamount to social suicide.
Have you lived in Germany? What lighthearted things do you think people should know about the culture before moving there? Share your thoughts in the comments below, or answer the questions here to be featured in an interview!