One very intriguing aspect of living in a place like Hong Kong is that you often find yourself treading niftily between parallel cultures; and never more so than with language. For example, I recently learnt a new Cantonese expression – the above title – while daydreaming on a bus. I kick-started my knowledge of Chinese characters, you may recall, by studying the adverts adhered to all manner of transport, the slogans being short, snappy and thereby not too daunting for the learner.
However, in the advert that day, one character eluded me, and I needed to check a dictionary when getting home. It turned out to mean 'bubble', which, I discovered, if coupled with the transliteration for 'image' or 'reflection', produced the expression 'the shadows of bubbles', or 'paau ying' in Cantonese. How quaint, I thought, so typically whimsical of this ancient language. And the meaning? 'Visionary hope', declared my trusty Concise Oxford Dictionary, while Chinese University of Hong Kong's version claimed 'unreality' or good old 'pie in the sky', as a more colloquial English translation. The idea is clear, though, do bubbles really cast shadows? What do you think?
Incidentally, the 'bubble' character in that particular advert helped describe the alleged rate with which a popular brand of hand sanitiser, all the COVID-rage nowadays, would froth almost immediately – you might say in less time than it takes to say '#Universal Suffrage'.
How apt then, it got me thinking, with our current predicament, in which so many around the world are striving for the unattainable – be it political resolutions or a return to the COVID-free freedom of unrestricted socialising and travel under the situation previously known as normal – that a profound idiom should manifest: the shadows of bubbles.
Indeed, the shadows of bubbles, pie in the sky; here in Hong Kong, we've been trapped in this little idiom for some time now, while trying to battle both issues. The much-desired granting of Universal Suffrage, promised by our eminent management up north, has proved as frothily vacuous as the bubbles emanating from that well-advertised hand sanitiser. And no matter how hard or how many times we press that pump, an evanescent discharge is all we ever get.
Likewise, the eagerly anticipated election of our mini parliament (known as Legco), scheduled for this September, was regrettably postponed. This, announced our dear leader with the assumed gravitas of a hanging judge, would now occur in twelve months' time. The ridiculous excuse offered for this snippet of political theatre was placed squarely on good old COVID-19. My, how we laughed and laughed, unable to decide which was the more incredulous: Carrie Lam keeping a straight face or the good lady believing that we could ever be taken in by such guff.
Such a swell of people flooding streets in the performance of their civic duty, they argued – actually probably no more than those out and about on a typical working day – would surely trigger a massive viral spike; this at a time when new daily infection rates were virtually non-existent compared to elsewhere. A death and destruction scenario of biblical proportions, they asserted, was sure to arise if we all went out and voted. The public's health and safety is our principal concern, they bleated; yeah right! Of course, no one believed a word of it. Postponement was inevitable with current feelings running a tad anti-China to say the least. Pro-Beijing councillors would almost certainly have been chucked in favour of their more democratic counterparts. For the pro-Beijingers at least then, a death and destruction scenario of biblical proportions might not have been too far off the mark. Conclusion: if an election result looks unlikely to go your way, why not cancel it!
This month saw the 71st anniversary of the founding of the Chinese Communist Party, which we celebrated with unbridled gusto – not! Of course, at a fittingly austere ceremony, several fawning toadies and a cluster of clueless commie cadres orated on the value of this milestone, before going on to congratulate themselves on the recent implementation of our new National Security Law. This edict instantly put paid to the civil unrest, a by-product of poor governance you'll remember, which had plagued Hong Kong for much of last year.
Surprisingly, the numerous panjandrums attending seemed none too bothered by the little matter of a pandemic, indulging in careless shoulder rubbing, Champagne-quaffing and close dining with scant regard for limit of gathering (four persons maximum) or any social distancing. Thus, we immediately appreciated how magnificently brave our heroic officialdom is in these testy circumstances, selfless to the party in the face of COVID-19. Nothing happened; maybe COVID-19 also found the event a little too distasteful and thought better of shedding a few spikes here and there. The public, having adhered vigorously to the government's virus precaution measures and instructions for many months now, were more than a little galled by this insensitive display. At least the partygoers all wore masks, the benefit of which doubtless concealed many a self-satisfied commie smirk.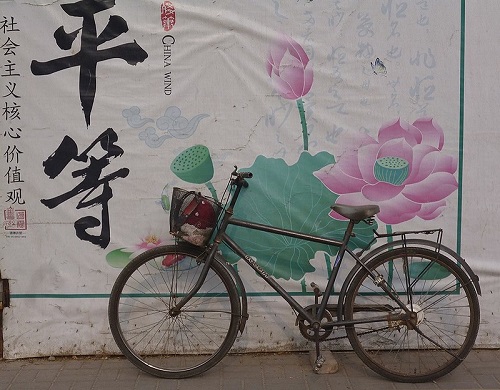 Incidentally, although heralded as the saviour of Hong Kong, I'm not sure the National Security Law will serve as anything other than a simple, short-term Elastoplast. The underlying feeling that we've been, and are being, short-changed continues to fester and is unlikely to dissipate anytime soon. Such feelings could easily be tempered with some timely political initiative. The introduction of, or working towards, Universal Suffrage wouldn't be a bad move, as that at least would partly assuage those calling for Hong Kong independence – the shadows of bubbles – another bugbear of the communist party. Woe betide anybody who mentions the 'i' word, as a lengthy prison term awaits. I'm always amazed the authorities expend endless hot air on this aspect. It seemingly fails to deter. In fact, the more they assert on this matter, the more ears prick up to the challenge. They need to appreciate that government by decree is unlikely to wash here. Hong Kong might be China in principle, but Hong Kongers like to think of themselves as a quite different breed altogether, ta very much!
Still on the political side, there's a curious incident on-going, which may not have been reported much overseas. It concerns the detainment of twelve young Hong Kong activists in China. The story goes that these twelve, who had recently been bailed on alleged charges relating to last year's riots, had organised a speedboat to ferry themselves to refuge in Taiwan, a friendly destination. Unfortunately for them, however, their audacious venture – shadows of bubbles perhaps – suffered an abrupt halt when intercepted by the Chinese authorities out at sea. The twelve were subsequently arrested for unlawfully crossing the border. Conspiracy theories abound as to whether Hong Kong authorities colluded with the Chinese to guarantee this outcome. Authorities say no; others disagree. For now, the twelve languish in a mainland prison without access to families, decent legal representation or government assistance. Nevertheless, they are not forgotten, and several campaigns are in full swing to garner support and facilitate their eventual return. Foreign governments have taken an interest, and even environmental activist Greta Thunberg has joined the global calls for their release and return.
Returning to COVID-19 and yet more shadows of bubbles as regards getting back to any sort of normality soon. In this respect, however, Hong Kong has, as I often reiterate, done, and continues to do, better than most. It's funny how things can change in the space of a year, as we transformed from an advisably risky no-go destination to enviably safe haven! Our COVID guards nevertheless remain very much in place, and consequently new daily infection rates fall generally into single figures.
One groundbreaking scheme the government hoisted upon us was a Universal Testing Programme. The idea of this was to scan the entire population of Hong Kong to flush out those in the community who might be asymptomatic or silent carriers of the virus. The test was free and would be administered at a location of your choice. It failed, however, to rouse public interest, following revelations that mainland concerns were behind the operation and personal data could be whisked up north for future reference of an unwholesome kind. I opted not to take part. Nevertheless, some 1.7 million folk (out of 7.5 million) did, of whom quite a few, presumably those sad and lonely souls with nothing better to do, attended more than once. For information, at a cost of HK$520 million (£52 million), the programme discovered only 42 confirmed cases. Government insists it was worth the cost and effort; everybody else is not so convinced.
All well and good, however, as with much of the world, virus-fatigue is telling, and people are desperate to resume previously halted activities with a particular desire to take off travelling again. But, shadows of bubbles, I'm not convinced that will happen any time soon, with the virus remaining prevalent and winter fast approaching.
There are lessons to be learnt from how the USA and Europe, particularly England, recently tried to talk their way out of the problem too soon. The worst's over, the UK government eagerly proffered to an easily convinced public, while casualty numbers were actually increasing exponentially. 'So let's open up,' they said. 'Get back to work and holiday as per.' Not likely, methinks, as lockdown calls again. Now Hong Kong is weighing up the idea of travel bubbles with several other cities in the region, but whether these bubbles work cleanly or go on to cast ominous shadows is anyone's guess.
As a result of the UK's current spike, the country has recently been added to our list of high-risk destinations, which means that any arrivals from there, including Hong Kong residents, must be in possession of an accredited health certificate, as well as a two-week hotel booking for quarantine purposes. So, landing here could be quite a costly exercise!
Despite our generally good performance at battling the virus, the economic fallout continues to take its toll. Hong Kong has so far avoided a full lockdown scenario, even though we are well into our third wave. Consequently, many businesses have limped along on a limited income, but have survived nonetheless. It is a struggle, particularly for the decimated tourist industry, on which Hong Kong's economy is quite dependent. While undoubtedly necessary, the precautionary measures adopted don't exactly help. Starkly, no visitors equals no tourists. The loss of revenue is staggering, but of course most places are in the same boat.
I recently ventured into the Hong Kong Tourism Board office in Tsim Sha Tsui, a favourite habit of mine, even in the good times, to say hello and pick up any interesting information, especially a copy of the well-put together City Life magazine. It's probably the loneliest job in the world right now, more so with staff levels reduced to one. As I entered, my heart sank at the sight of this poor solitary advisor. Although briefly animated by my appearance, he soon realised, quite disappointedly, that I was not an overseas visitor. I offered some words of encouragement, while he keenly wielded a temperature gun, cocked and ready to shoot. There was little else for him to do. A vision of Custer's Last Stand sprang readily to mind.
Not surprisingly, our national carrier Cathay Pacific Airlines has also struggled. After parking most of the fleet up on vacant aprons at the airport, in the hope of a travel resurgence which has thus far failed to materialise, the decision was taken to mothball a considerable number of redundant aircraft. To this end, and in an unprecedented move, aircraft are being conveyed one-by-one down to Alice Springs, apparently the perfect environment for storage of these delicate fliers. Other carriers are also in on the act, so I imagine it's getting fairly congested down there.
And that's the current situation in Hong Kong. One piece of good news, however, unusual I know in today's global climate of doom and gloom, I have deliberately left until last. With the sudden downturn in trade and travel, the endangered Indo-Pacific humpback dolphin – sousa chinensis to those of you with a strong zoological bent – appears to be making a comeback. Virtually lost to the ravages of human progress via rapidly diminishing habitat, pollution and increased marine traffic, the famously pink-hued swimmers are reportedly increasing in number. So, if that's not a bit of long overdue good news, I don't know what is, and not a shadow of a bubble to be seen!