The boot-shaped peninsula is famous all around the world for its distinctive culture, especially its cuisine. Italian food has become extremely popular worldwide, and signature Italian dishes are now available in major global cities.However, there is lot more to the culinary range of this European destination than pizza and pasta. Not many outsiders are aware of the fact that all 20 provinces in Italy have their own specialties. Brought together, Italian food from each of these places can create the most delightful gastronomical experience. Below is a brief guide to some of the most interesting and noteworthy regional delicacies of this peninsula.
Abruzzo
One of the little known treasures of the country, Abruzzo does not get many tourists compared to the other regions. The cuisine of this region draws on the traditions of its pastoral and mountainous areas, as well as its coastline. In most local homes you'll find the regular fare like bread, pasta, meat, cheese and wine. Lamb and mutton are the key ingredients in many preparations. Don't be surprised if you are served the intestines of a sheep or pig. A number of dishes are made from truffles, mushrooms, lentils, grass peas and artichokes. The most popular regional dishes include:
• Arrosticini – skewered chunks of castrated sheep's meat – cooked over hot coals (on a brazier)
• Maccheroni (or spaghetti) alla chitarra: thin pasta in tomato sauce
• Scrippelle, a rustic pancake-like preparation filled with sauce, meat, eggs and cheese
Other local delicacies include porchetta abruzzes, timballo abruzzes, le virtu, mazzerella, angel love cacio e ova and pecora al cuttoro.
Basilicata
Because of the background of its people, the cuisine of this province is primarily based on inexpensive ingredients and deeply etched traditions. The locals use large amounts of pork in most of their cooking, but wild boar and lamb are also quite popular. Often, meats and vegetables form the base of their pasta sauces. Basilicata is famous for troccoli (spaghetti-like pasta) and capunti (thick pasta shaped like a pea pod). Dishes that are most recommended by locals include:
• Lagane e ceci or piatto del brigante, pasta made from peeled tomatoes and chickpeas
• Rafanata, a variation of omelet, made with horseradish
• Ciaudedda, a vegetable stew that contains artichoke, pancetta, broad beans and potatoes
• Baccala alla lucana, one of the few specialties with fish
Apart from the items mentioned above, this region has an excellent variety of mineral waters, wines and desserts.
Calabria
French and Spanish influences are evident in the cuisine of the "toe of Italy's boot", thanks to its colourful history. The seafood and produce in Calabria are usually enjoyed with wine. The most commonly used ingredients are swordfish, lobster, shrimp, squid and sea urchin. Hot peppers and cipolla rosa di tropea (a type of onion) are used to add heat and flavor to local dishes. Many of the regional preparations have a macaroni-like pasta, served with a hot meat sauce and salty ricotta. The most highly recommended specialties are:
• Nduja, a spicy, spreadable sausage
• Ciambotta, a hot stew made with eggplant, peppers, onions, tomatoes and herbs
• Pignolata, fried balls of honey
Calabria's licorice is among the best in the world. Not only is the treat great in taste, it is also good for the digestive system.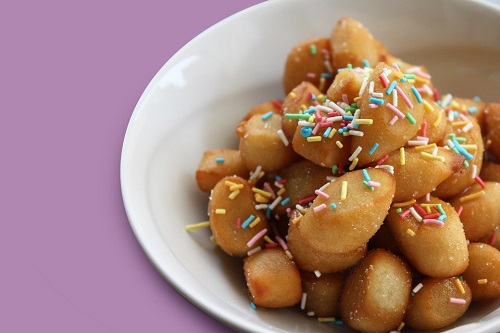 In Calabria, fried honey sweets are popular
Campania
A lot of tomatoes, spring onions, peppers, artichokes, potatoes, oranges, lemons and fennel are produced in Campania, which is also the largest manufacturer and consumer of pasta in the country. Moreover, the region gets a fair amount of seafood from the Gulf of Naples. The delicacies specific to this province are:
• Spaghetti alla puttanesca, a pasta with garlic, olives, capers, anchovies, chilli peppers and tomatoes
• Parmigiana, shallow fried eggplant slices layered with tomato sauce and cheese, before being baked
• The traditional Neapolitan pizza and all its variants
The region is also known for its production of mozzarella, especially from the milk of water buffaloes. This ingredient is found in a number of local dishes.
Emilia Romagna
Some of the most interesting kinds of pasta like cappalletti, strozzapreti, garganelli, tortelli alla lastra and sfoglia lorda are widely available in Emilia Romagna, the "bread basket" of Italy. Many people believe that its capital, Bologna, is the gastronomical and culinary heart of Europe. While there are too many local delicacies to list, these are favorites with locals and visitors alike:
• Sugo alla Bulognese, meat and tomato sauce served over tagliatelle pasta
• Pasticcio di maccheroni, or macaroni pie
• Zuppa Inglese, a desert made of soft, sweet, liquor-dipped lady fingers topped with custard
• Torta barozzi, an intense chocolate cake with coffee, cocoa, almonds and peanuts
Emilia Romagna is home to Parma, the birthplace of prosciutto. Many Italian dishes have been customized to include this delicious pork product.
Friuli Venezia Giulia
Bordering Austria, Slovenia and the Adriatic Sea along the northeast part of Italy, Friuli Venezia Giulia is home to some of the most renowned vineyards producing white wine. Its capital, Trieste, was once a part of the Astro-Hungarian empire, evidence of which can be seen in the region's cuisine even today. Typical delicacies that you will find in this province include:
• Istrain stew, a thick soup that contains sauerkraut, beans, potatoes, spare ribs and bacon
• Gubana, a rich rolled cake with jelly filling
• Muset e bruada, sausage made from pork rind, salt pork, garlic and onions
Also make sure that you don't miss the jota, frico, polenta concia, cjarsons, and fagiano ripieno. Many of the traditional Italian dishes are given an unconventional twist when served in this region. For example, lasagna sheets are usually layered with poppy seeds and gnocchi are prepared with potato.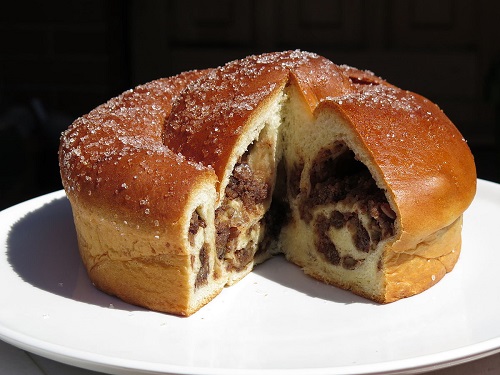 Gubana is a popular Italian cake
© Petar43 on Wikipedia
Liguria
If you are fond of breads and savoury pies, Liguria is the region you should head to. Since the local land isn't suitable for the production of wheat, the locals use high amounts of chickpeas and polenta in their cooking. Other delicacies that are a must-try include:
• Mes ciua, a classic soup made from blended beans with olive oil and faro
• Aggiadda, a zesty condiment that is prepared with fresh garlic and vinegar
• Ciuppin, a soup in which all types of seafood are mixed
The more casual dishes available in this region mainly consist of skewers of meat, artichokes, mushrooms and cheese. These are often dipped in batter and fried in olive oil.
Lazio
You will often come across pasta dishes containing guanciale (unsmoked bacon from the jowls or cheeks of the pig), like pasta alla carbonara or pasta all'amatriciana, all across this region. Offal is widely used in much of the local cooking. Here are some of the dishes you definitely shouldn't miss:
• Spaghetti alla carbonara, a creamy pasta dish with egg, black peppercorns and cheese
• Porchetta, tender and juicy whole roast pig
• Gnocchi alla romana, dumplings made from polenta, instead of potato or flour
A specific kind of cheese which is made from ewe's milk has become a specialty across the area. Make sure you try the pecorino romano the next time you visit Lazio.
Lombardy
The people of Lombardy heavily rely on ingredients like rice, maize, pork, beef, lard and butter when cooking. Rice is used in a number of preparations, including certain soups. The specialties of this region include:
• Risotto alla milanese, a creamy rice-based dish with saffron
• Cassoeula, a traditional Milanese dish made from cabbage and pork
• Cremona Mostarda, a heavy condiment prepared with candied fruit and mustard-flavored syrup
It is hard to mention the delicacies of Lombardy without talking about its cheeses, like grana padano, gorgonzola, taleggio, crescenza and robiola.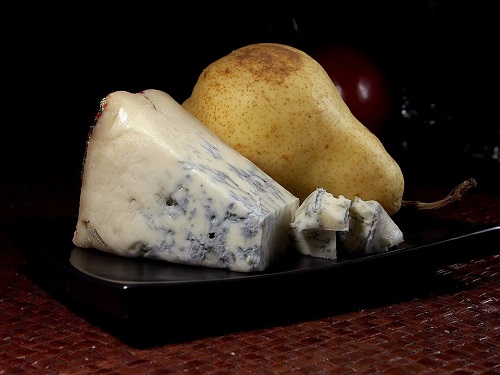 Lombardy is famous for its cheeses
Marche
Meat lovers will feel right at home in this region. wide varieties of fish and seafood are available on its coast, while inland pigs are reared to produce sausage and ham. Signature dishes of this region include:
• Olive all'ascolana, olives stuffed with minced meat, egg and cheese, before being fried
• Maccheroncini di Campofilone, a thinly sliced hand-made pasta of hard grain flour and eggs
In several parts of Marche suckling pig, fish and chicken are stuffed with garlic, rosemary, fennel fronds and other herbs before being roasted on a pig.
Molise
The cuisine of Molise is quite similar to that of Abruzzo, though the local specialities may vary to some extent. One of the regional delicacies worth a try is Cavatelli, a long handmade pasta made of semolina, flour and water, served with meat sauce, mushrooms and broccoli. If you have a sweet tooth, don't miss the pizzelle cookies, especially during Christmas.
Piedmont
Those looking for a refined but varied culinary experience should head to this region of Italy. Since olives don't grow too well, the locals use high amounts of butter and lard in their cooking, along with truffles, mushrooms, nuts, rice, cheese and seasonal vegetables. Make sure that you sample:
• Agnolotti, egg pasta parcels filled with seasoned meat, served with butter-sautéed sage leaves
• Fritto misto, a main that comprises mushrooms, veal, lamb, offal, and fruit
• Vitello tonnato, veal in a tuna sauce
The tradition of eating raw meat seasoned with salt, vinegar and garlic oil is quite a range in this region. You will find some of the best quality carpaccio (beef, fish or venison) in Piedmont.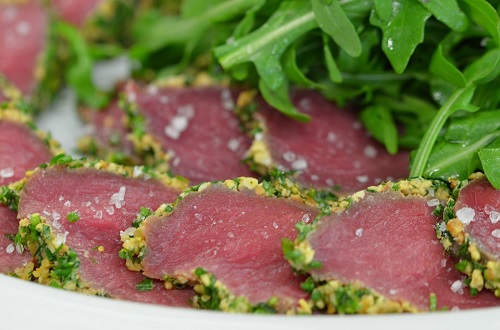 Some of the best carpaccio can be found in Piedmont
Puglia
Puglia is a massive producer of olive oil as well as wheat, tomatoes, broccoli, zucchini, potatoes, bell peppers, eggplant, spinach, fennel, cauliflower, lentils, beans and chickpeas. At the same time, the sea offers an abundance of fish and seafood like oysters and mussels. The most famous dishes of this region include:
• Orechiette (ear-shaped pasta) served with broccoli, garlic, fresh tomatoes and ricotta cheese
• Frisella, a dry, crunchy bread that is baked in a stone oven with a drop of olive oil
• Sott'olio, vinegar and olive oil pickled vegetables such as eggplant, peppers, artichokes and onions
The local delicacies also include a number of savoury snacks that can be eaten on the go, such as taralli, pizzette and puccia.
Sardinia
The second largest island in the Mediterranean is known for its coastline, which offers a good variety of seafood to the locals. In addition, Sardinian cooking makes use of all types of beans, leeks, cabbage, onions, spinach and beetroot. Popular delicacies include:
• Pane carasau, a flatbread made of think disks that have been stacked in piles
• Malloreddus, dumplings (like cavatelli), served with butter and cheese , a tomato sauce or lamb ragù
A favorite with the Sardinians is suckling pig or wild boar, roasted on a spit, or cooked in stews with beans and vegetables.
Sicily
In spite of its predominantly Italian base, Sicilian cuisine shows distinct Spanish, Greek and Arabic influences. Iconic dishes of this region include pasta alla norma, arancini, caponata and pani ca meusa.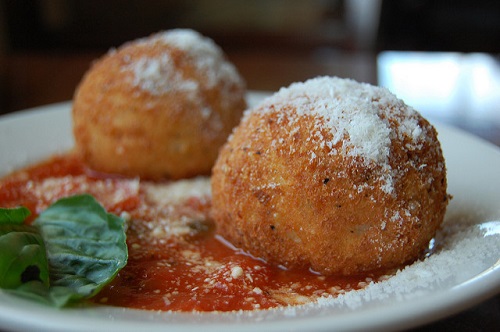 Arancini are popular in Sicily
© stuart_spivack on Flickr
Trentino Alto Adige
Known for its simplicity of its peasant cuisine, the cuisine of this region shows traces of Venice and the Austrian Habsburg empire. Trentino produces a huge variety of sausages, yogurt, polenta, cheese and potato cakes. In certain areas goulash, strudels, knodel, krapfen, spätzle and rosti have become local favorites.
Tuscany
Contrary to what many outsiders believe, the cuisine of Tuscany is characterised by its simplicity and the menu usually includes bread, cheese, legumes, mushrooms, vegetables and fresh fruits. At the same time, the region has an abundance of fresh meat. Some of the signature dishes of this region include:
• Finocchiona, a classic salami
• Panzanella, a salad made of crumbled bread, basil, onions and tomatoes
• Ribolita, a notable soup, which when literally translated, means 'reboiled'
You will also come across a wide variety of regional desserts and wines in Tuscany.
Umbria
Much of Umbrian cooking involves boiling or roasting the main ingredients in olive oil and herbs. Dishes are flavorsome, without being fancy. Make sure that you sample:
• Minestra di farro, spelt soup
• Fagiano all'uva, pheasant cooked along with grapes
• Spaghetti alla norcina, pasta with creamy sauce, sausage and truffles
For all its taste and flavor, Umbrian cooking is quite easy and can easily be tried at home.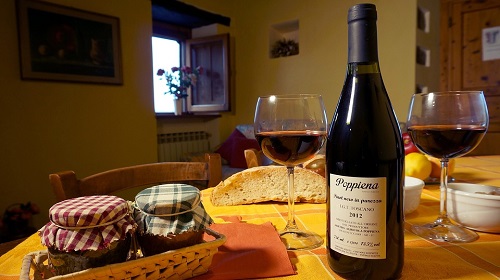 Tuscany is famous for its wines
Valle D'Aosta
The Aosta valley is best known for its hearty dishes, such as cheese fondues and bread thickened soups. The most highly recommended dishes include:
• Seupa di gri, barley soup with vegetables, potatoes, onions and pork
• Minestra di castagne e riso, a thick porridge made from rice and chestnuts
Pasta is not as popular here as it is in the rest of the country.
Veneto
Venice and many of the surrounding parts of Veneto are famous for risotto, and numerous variants of this popular delicacy are available all across the region. The locals also consume high amounts of polenta-based dishes.
Have you made any of the dishes in this article? Share your recipes in the comments below, or on our Facebook group for expats in Italy! What's your favourite Italian delicacy?