Who are you?
I am a 27 year old new mom married to an Italian Special Forces helicopter pilot. I started blogging as a way to communicate with my family and friends and over the years it turned into my source of release and creativity. I started out teaching English which is the common path of an expat in Italy, but as of last year I have been working towards starting up my own online business selling handcrafted home decor that mixes crochet with the modern world.Where, when and why did you move abroad?
I moved to Italy in December of 2011 two weeks after graduating college. I had been in a long distance relationship with my Italian beau for two years already, so he came to the States to pick me up and bring me over. I moved straight to Casarano, Italy which is a little town south of Lecce in the heel of Italy. I knew about 6 months prior to graduating that I would be making this huge life change and I was ready for it because I had visited the area several times before.
What challenges did you face during the move?
During the move itself it was tricky trying to figure out a way to transfer all my books to Italy… I didn't want to leave anything behind and those are heavy. I also wanted to bring things that I knew were hard to find in Italy but that was impossible to know without experience. After that the next most tricky thing was getting my Italian "green card" called the permesso.
Are there many other expats in your area?
No. I feel like a lone wolf. People have told me where I live that they've never met an American before. When I gave birth in the local hospital the nurses referred to me as the "americana!"
What do you like about life where you are?
I live in the real Italy, an area secluded way deep in the South. There are no tourists, no one speaks English, I get to see how people really live in southern Italy. Due to living in the boonies of Italy I've been forced to create work for myself, and a life completely independent from my surroundings. For example everything closes from 1-5 every day, and the gym doesn't open until almost 10am for most gyms. I hate that I can't wake up and go to the gym at 7am, or at 3! So I now do home workouts solely. Internet is my life. I watch yoga classes online, take part in workout video programs and even go to church online being that all churches nearby are Catholic. So, living in the boonies has probably taught me a lot about myself and has pulled creativity out of me that otherwise would have never been.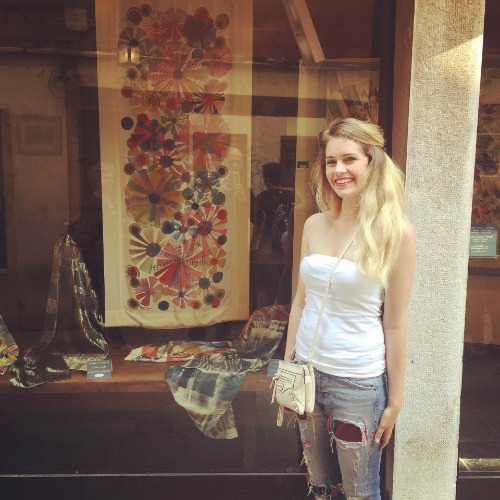 What do you dislike about your expat life?
I dislike that I can't partake in so many family events throughout the year. I miss the birthday parties for my nephew, throwing my sister's baby shower, being at my grandparents' anniversary party, or at my cousin's wedding. Those are unforseen things that you just don't think about, or think you care about so much until you're not able to physically be there. And the second biggest thing I dislike is that I have no sense of my culture here. The Italians are familiar with Italian culture and that's it. I miss all of the American holidays and crazy parties that we create like ugly sweater parties or DIY parties… those are all American things and I never knew that until I came here and saw the lack of fun and spunk.
What is the biggest cultural difference you have experienced between your new country and life back home?
The first thing that sticks out in my mind is food and that's because it's a noticeable difference every day. I have a blog post on the difference between Americans and Italians when it comes to food and lifestyle. Overall Italians make food a top priority in their lives and Americans make their careers the top priority… that should tell you enough about mentality.
What advice would you give to anyone following in your footsteps?
My real, deep piece of advice is to be 100% sure of your decision, to be at TOTAL peace with what you're doing. If you don't have total peace, don't do it because when you get here that other 20% of doubt will send you packing. Italy is a hard place to live.
What are your plans for the future?
My plans are ever changing as my husband is in the military so we never know where we are moving next, or if he's going to continue in his career or look for something else when his contract is up. So the short term plan is to move to Sicily in September for a year. There I'll be working from home, probably sending the baby to daycare, and in my free time looking for a kitchen for our house that's being built.
You can keep up to date with Jessica's adventures on her blog, Hott Italian Life.