Who are you?
My name is Neta Galeen-Malcolm. I am 30 years old and was born in Israel. I relocated to Jamaica almost four years ago, and I am an Operations Manager in Diamonds International Jamaica. I also have a travel vlog about Jamaica called 'Why Jamaica'.
Where, when and why did you move abroad?
I relocated to Jamaica after several long trips to the island. What made me move was the culture and the music. My story with Jamaica started when I was 15 and heard about this amazing island for the first time from a friend who relocated here with her family for her parents' work opportunity.
Since my first visit here, I knew would like to live here, but it took me some time and planning to make the move, which I did four years ago.
What challenges did you face during the move?
The main challenge when moving was to find employment in Jamaica. It's not easy, mainly because of the lack of options of high paid jobs. Tip: personal networking is super important. In Jamaica, if you know the right people, you can definitely make your way to the right companies. The cost of living here is very high, and taxes are also the same, so ensure your pay is decent.
In Jamaica, most foreigners that are on a work permit paid by the company will get a management position and sometimes also accommodation, a car, and, of course, higher pay than locals. The work permit process in Jamaica can take a few months and is also costly, so for the company to sponsor permits and living expenses, you should be a very good candidate.
If you are an entrepreneur, it is of course possible to also run your business here, but it's important to know your market and make your checks to see if your business will profit in Jamaica.
Did you need to obtain a visa, residency permit or work permit? What was the process like?
My husband is a Jamaican citizen, so I had to apply for marriage exemption, which is like a work permit. It was a bit challenging to get information about the process, so I kind of learned as I went a long, but in the end it wasn't hard at all. However, it did take time and patience.
How does the cost of living compare with your previous country?
Well, Israel and Jamaica are different, but in both countries the cost of living is pretty high. Jamaica's cost of living is high mainly because it's an island and many things have to be imported here, and in Israel the high cost of living is mainly down to the fact that it is much more commercialized (so the spending power is very strong).
Surprisingly, purchasing a home or land in Jamaica is significantly more affordable then in Israel.
Is it easy to open and use an account with a local bank?
Opening a bank account in Jamaica can be a bit frustrating, because the process is pretty slow and sometimes can take a whole day. In addition, the process will require you to present many different types of formal proofs to the bank – so be ready to get your paperwork together.
I would recommend getting the list of documentation requirements and visiting the bank only when you are ready with everything. Using the bank is pretty simple, and all the banks offer online accounts as well.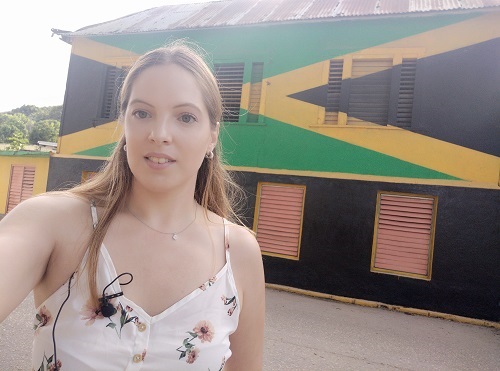 How did you find somewhere to live?
Once you have decided which area you want to live in, I suggest you check online on local real estate websites for options, and also ask around for realtors that might show you places you won't find online. There is a lot of development in the real estate in Jamaica now, so if you are planning to move for long period of time, I would suggest you consider purchasing property as a future investment.
Are there many other expats in your area?
There are a lot of expats in Jamaica in the north coast – a lot work in the tourism industry – but there are many that also live in the capital, Kingston.
Communities of: Indians, Chinese, Mexicans, Spanish, Canadians and Americans are common on the island.
What is your relationship like with the locals?
Great, as my husband is Jamaican, and I myself love and appreciate the people and the culture. I enjoy living in Jamaica also because of the people and the different vibe here.
What do you like about life where you are?
I love the chilled and peaceful life in Jamaica, the nature, the music and the freedom I feel I have here.
What do you dislike about your expat life?
Being far from my family.
What is the biggest cultural difference you have experienced between your new country and life back home?
Actually, Jamaicans and Israelis have many similarities, but I would say that Jamaicans are much more polite than Israelis.
What advice would you give to anyone following in your footsteps?
It can be very challenging to relocate to Jamaica without a plan, so it's super important to do your research before you go. Also, travel to the island for at least a few months before you make that huge decision.
Relocation to anywhere in the world is not easy, so I always recommend making a plan for where you will live and how you will provide for yourself. But at the same time, it's necessary to be flexible, because in life things don't always happen according to plan, and you might have to make changes.
What are your plans for the future?
I wish to live in both Israel and Jamaica and to have my future kids know both cultures.
If you'd like to follow Neta on social media, you can do so via the following links:
Link Tree
Why Jamaica Instagram
Neta Galeen Instagram
YouTube Channel – all videos are about Jamaica
Blog Website
Pinterest
Tik-Tok