Who are you?
My name is Sally Hurst and I'm an American chef and food blogger living in Beirut, Lebanon.
Where, when and why did you move abroad?
I've actually been living abroad on and off since I was six.We moved to then Soviet Moscow for my father's job as a journalist. We moved around, spending time in Turkey and the UK until I went to University back in the US. I am now married to a journalist and joined him in London back in 2008 and we've been moving around ever since.
What challenges did you face during the move?
For me living abroad is almost more natural that living in America. Really it was the logistics like getting proper visas and moving my things (and my cats) which have always been more stressful. For me moving to a new country is like a grand adventure and I can't wait each and every time.
Are there many other expats in your area?
There are many expats here in Beirut, lots of NGO workers because of the conflict in Syria and lots of kids from Europe exploring the "Paris of the Middle East." Not many Americans though as the American embassy has isolated itself here (for security reasons) and the US State Department warnings about visiting Lebanon are quite dire (and quite outdated).
What do you like about life where you are?
I love living in a very cosmopolitan and vibrant city right on the Mediterranean. I can go to the beach for six months a year and in the winter I can drive 45 minutes and ski!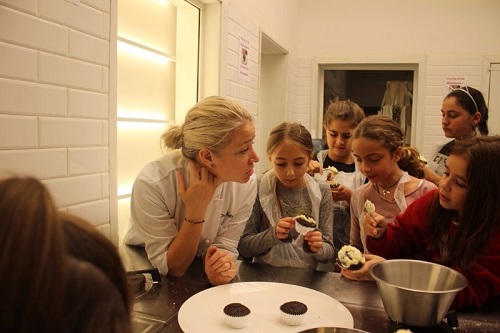 Sally teaching a cooking class for kids in Beirut
The Lebanese people are incredibly warm and eager for new trends which works well for me as a chef bringing new ideas to the restaurant scene here.
What do you dislike about your expat life?
The only drawback for me is being so far from my family in the US. However, with FaceTime I do feel much more connected than back when I was a kid and even telephoning grandparents back home was a rare treat. The internet has made life much easier!
What is the biggest cultural difference you have experienced between your new country and life back home?
Probably the pace of life. Things here take time and there is a certain way of doing things which can be hard to get used to. Fortunately my husband is Jordanian and familiar with the customs of this region and so he makes my life here much easier. But even ordering a cup of coffee has a certain protocol and as an American my brusqueness can come off as rude. I have to be careful!
What do you think of the food and drink in your new country? What are your particular likes or dislikes?
I love the food here in Lebanon. They are famous for it and if you look around restaurants in Europe and America you can see that the flavors of this region are taking off in popular restaurants. I love the freshness of the produce here and the length of the growing season.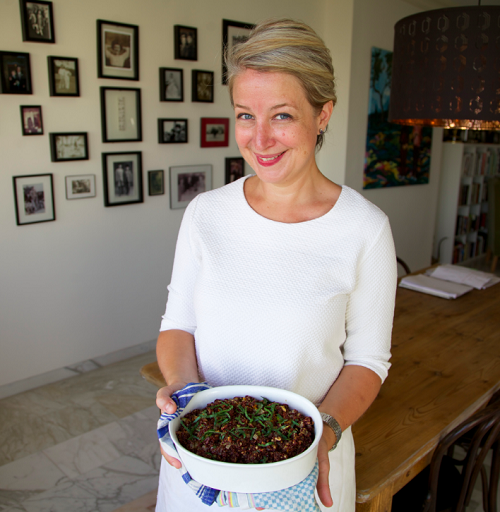 Sally with one of her creations
The wine here in Lebanon is delicious and we often visit the wineries in the Bekaa Valley on the weekends. Mezze or small plates is my favorite way to eat and they've perfected it here. Really a rich and old food culture here.
What advice would you give to anyone following in your footsteps?
Do your research and always visit a place before you go. What might suit one person might not suit you and so go and really try to get a feel for the country before you move. Also, and I have to remind myself of this all of the time, there are pluses and minuses to living ANYWHERE. No city is perfect, so count your blessings where ever you end up, soak up the atmosphere, and try hard to overlook your gripes.
What are your plans for the future?
It depends a lot on my husband's job, but for now we are really happy in Beirut. We love the climate, the people, the cost of living, the quality of life. We can't imagine going back to London, for instance, and paying huge sums to live in small apartments in that difficult climate. I think it's sort of the not knowing where life will take us that is part of the fun!
You can keep up to date with Sally's adventures on her website and on Instagram.
Would you like to share your experience of life abroad with other readers? Answer the questions here to be featured in an interview!