Who are you?
I'm Tricia, an American freelance writer, trainer and explorer.I've been abroad for about 16 years, living in Heidelberg, Germany, and most recently, Valletta, Malta.
Where, when and why did you move abroad?
As a child, my parents instilled in me an appreciation of all things international. Whether traveling to Europe to see friends, hosting exchange students from France, Germany, and Hungary, or having a Czech piano teacher, I came to appreciate intercultural exchange.
A few years after finishing college, I set out to move overseas. For about a decade, I lived in Germany solo, working as a trainer and education manager. When I met my husband, Shawn, we left Germany and embarked on a voyage through Southeast Asia and India. Sixty+ countries later, we're still overseas.
What challenges did you face during the move?
Now that I've moved a few times, I've noticed that a few themes appear. Mostly, I've felt homesick and missed family and friends – especially when you can't share special moments with loved ones, such as a wedding. It can also be tricky trying to navigate day-to-day tasks in a foreign language – especially when it comes to translating official documents.
Are there many other expats in your area?
There have generally been expats wherever we've lived, but so much of the joy of living and traveling abroad is mingling with the locals!
Heidelberg, my German home for 10 years, had many Americans, as well as university students from around the world. In Malta, we mingled more with the Maltese, however, there were a good number of people from the UK there. Since Malta is a hub for English-language schools, we'd often meet students from as far away as Asia, too.
What do you like about life where you are?
We've recently left Malta, but what I most enjoyed (and now miss) was the perpetual sunshine, the sea, the fascinating history, and the colorful festivals and architecture.
What do you dislike about your expat life?
Of course, there are pros and cons everywhere, even back "home". Perhaps one of the biggest challenges of expat life is the feeling that many places in the world now feel like "home" but that you're not officially grounded in one community anymore.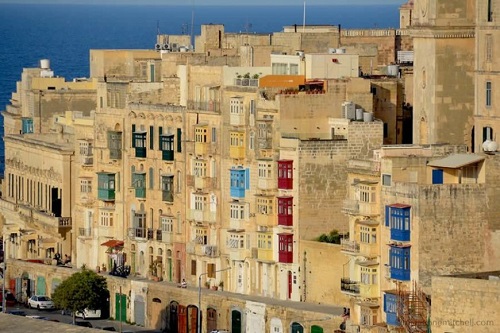 Valletta, Malta
What is the biggest cultural difference you have experienced between your new country and life back home?
In Malta, it was a bit of a shift getting used to what people jokingly refer to as "Mediterranean time". We'd be promised an appointment to fix the washing machine, for example, and one or two days later, the repairman still hadn't come – or called to reschedule.
What do you think of the food and drink in your new country? What are your particular likes or dislikes?
We loved Malta's festivals focused upon seasonal produce – everything from oranges and strawberries to olives. While we found some foods to be too sweet or rich (the pastizzi in particular!) we enjoyed sharing freshly-caught fish at the home of Maltese friends. It was also fun getting to participate in olive and orange harvests.
What advice would you give to anyone following in your footsteps?
Whether moving to Malta or somewhere else, try to learn as much of the host country's language as possible. Though English is one of the official languages in Malta, we found that the locals still greatly appreciated our linguistic efforts, however bad our Maltese pronunciation was.
What are your plans for the future?
We recently left Malta, and are plotting our next move. At present, we're exploring Croatia, a country we seem to keep coming back to. I also have dreams of someday living in France, since I studied the language. The future is not yet certain, but it's fun to keep our options open.
You can keep up to date with Tricia's adventures on her website, or via Facebook, Instagram, and Twitter.
Would you like to share your experience of life abroad with other readers? Answer the questions here to be featured in an interview!