Who are you?
My name is Heather and I am a 20-something Scottish girl living in Muscat, the capital city of Oman. Four years ago myself and my new husband packed up two suitcases each and waved 'cheerio' to Bonnie Scotland and began our new life in the Arab world. Since then we have now welcomed a baby boy into the family and Spencer is now 3 years old.Where, when and why did you move abroad?
Back in 2012 my husband was working on a rotation basis splitting his time between the Middle East and travelling back to the UK for time off, gradually the demands of work meant that he was away for longer periods of time and rarely home at all. The opportunity came up for him to take up a permanent residency in Muscat, Oman and for myself to join him. At the time we weighed up all our options but decided to take the gamble and move and we haven't looked back ever since.
What challenges did you face during the move?
Personally for me the biggest challenge I faced was when the whirlwind of packing, passports, visas, flights etc finished and I had arrived, suddenly finding myself as an "Expat Wife" with no job, little money of my own and feeling like I had no purpose in life. My husband was great, he still is, at encouraging me to get out to meet people and have fun with my new life rather than letting it consume me.
To help me regain a feeling of purpose in life I started writing my blog page as a place to express feelings and creativity. For some it may seem like just a hobby but for me it is what helped me through what could have been a very lonely time in life.
Are there many other expats in your area?
Muscat has a huge expat population due to the oil industry and they come from all over the world. We live in a neighbourhood that has a good mix of both expats and local people, I feel extremely comfortable with this as it opens your mind to other cultures without being too overbearing.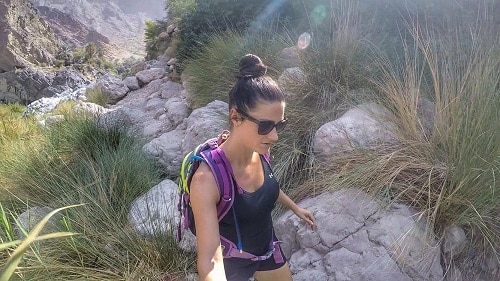 What do you like about life where you are?
People expect the Middle East to be a volatile, unstable area but life in Oman couldn't be further from that. It is an extremely safe, happy and warm country to live and bring up your children. Personally for me the most enjoyable thing about living in Oman is the outdoors lifestyle, in the winter months there are so many activities and opportunities to see and do some amazing things like climb mountains, explore Wadi's, swim with turtles, roll through the desert in a 4×4 and camp under the stars in a desert camp.
What do you dislike about your expat life?
Expat life can be both a blessing and a curse, with all the amazing perks to life there comes some harsh realities and when that bubble bursts you find yourself disorientated and lost. The main thing I struggle with is when I travel back to Scotland to visit friends and family it's very obvious that we have less in common with every year that passes. I love them all so dearly and they feel like my warmth and safety in life but our day to day lives are so different it can be hard to find a connection again.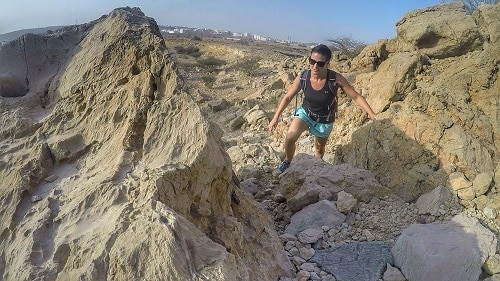 What is the biggest cultural difference you have experienced between your new country and life back home?
The biggest cultural difference that I have experienced living in a Muslim country is adapting to the way women should dress in public. Oman is the 6th hottest country in the world, the summer here is blisteringly hot and humid and I find it hard to still cover my body in a conservative way whilst trying not to sweat through your clothes. Learning what to wear in what situation comes with time and experience, many times I've got it wrong but eventually you get the hang of what to wear and how to express your personal style whilst still adhering to dress codes.
What advice would you give to anyone following in your footsteps?
If anyone was to follow in my footsteps I would advise them to arrive with an open mind ready for a new culture, new experiences, new foods, new friends. Get out and create scenarios to meet people, say yes to invitations and put yourself out there – no one will come looking for you.
What are your plans for the future?
The expat life is so transient, we have given up planning for the short term because things always change. Instead we just go with the flow and take what life throws at us.
Long term, I hope to return to life in Scotland by the time by son is a teenager, now 3 years old, to get him out of the expat bubble and give him the similar kind of teenage years that both my husband and myself had in the UK.
You can keep up to date with Heather's life on her blog, The Duncan Adventures.