No matter where you live in the world, you may find yourself comparing your home country to your new destination each time you travel. After all, it can be fun to compare the differences between places as a way to see what's unique; and whilst you can't ultimately judge a destination by an initial list of perceived positives and negatives, this can be a natural part of acclimatisation.With more than 10 million inhabitants, Portugal is fairly small, but this hasn't stopped the country from developing a fascinating cultural identity which causes many people to head out there. The Internations 2018 Expat Insider Report stated that Portugal attracts an above-average percent of retirees, and with a good quality of life which means that eight out of ten migrants feel at home in the country.
Portugal's Social Scene
More than 82% of expats stated that they found it easy to settle in and feel at home in Portugal's local culture, which is pretty impressive compared to the global average of 59%!
These high statistics are the result of a welcoming population who have positive attitudes towards international residents. You'll find the majority of Portugal's population based in the northern parts of the west coast, around larger cities such as Porto and Lisbon. It's no surprise that the social scene tends to be more active in the more densely populated areas.
Restaurants and bars are available at each turn and you'll be able to find incredible seafood, grilled meats and the famous pasteis de nata (cream pastries) in abundance. You'll also find that the cities tend to have a livelier atmosphere, with busier streets, more options available for eateries and attractions as well as longer opening hours. However, there is also a charm that comes from the slower pace of life you'll find along Portugal's coastline.
Once you've decided whereabouts you'd like to be based in Portugal, it's important to take the time to learn the language. Having said this, the majority of Portuguese nationals can speak English, meaning a lack of language skills won't stop you being able to socialise. It's reported that 78% of expats have a mixed group of friends, socialising with both local people and other expats, a result that's perhaps unsurprising when you consider that nine out of ten expats feel the local population is friendly and welcoming.
Weather In Portugal
It's no secret that Europe is not the warmest continent. With temperatures constantly fluctuating depending upon location and time of year, it can be hard to predict what the weather will be like until you get there. However, Portugal is one the warmest countries in Europe.
The weather will change considerably depending on where you're based, thanks to a mixture of proximity to the sea, altitude and time of year. However, it's unlikely that temperatures in the Algarve will fall below double digits. The heat in the southern and eastern regions tends to feel more oppressive, while averages even out at around 24°C.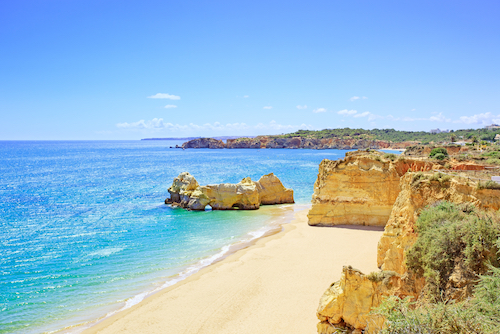 Weather in the Algarve tends to be sunny
Most seasons will see an abundance of warm weather, but that's not to say that the wet season doesn't exist – because when it rains, it pours! Winter will typically see the most amount of rainfall, and it's advisable that you don't leave the house without an umbrella during this time. But every rain cloud has a silver lining. When wet weather strikes, this is the perfect day to go sightseeing, thanks to the reduced crowds.
Career Opportunities In Portugal
Portugal's job market is still recovering from the recession and years of austerity that followed, meaning that career prospects and job security often rank poorly in the country. However, that's not to say that opportunities don't exist.
The government are continuously working on ways to reinvest into the country, with the most recent programme being the Programa Regressar. This is a programme designed to help Portuguese emigrants repatriate, by offering unique investment opportunities and tax relief in a bid to create a more stable economy.
Interestingly, a large percentage of the Expat Insider Report respondents in Portugal are retirees, which would explain why the average age of expats (48.9) in Portugal is higher than the global average of 44 years. Outside of this, just 39% reported being satisfied with their career prospects, a figure which is low compared to the 55% global average.
However, Portugal is a country rife with opportunity and over the past decade, it has become established amongst remote workers, with freelancers accounting for 11% of the country's workforce. This is disproportionately high compared to the global 5%. In addition, Portugal has been dubbed as one of the best places for women in tech to build their careers, thanks to the vibrant start-up scene and one of the smallest gender pay gaps.
Thanks to the country embracing diversity, both in its residents and support for emerging start-ups, Portugal's unemployment rates have fallen to less than 10% – meaning that the 2019 expat report could look a whole lot different.
Raising A Family In Portugal
One of the aspects that expats consider first and foremost prior to moving is the country's safety; and Portugal is incredibly safe. The country has an ease of security, and you'll find that residents often help with queries unreservedly. Given the peaceful nature, friendly local people and knowledge that there are high standards of healthcare readily available, residents feel relaxed whilst living in Portugal.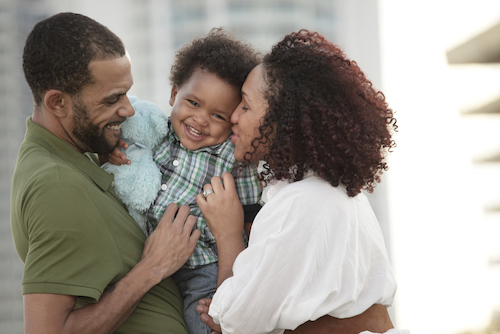 Many expats report that Portugal is a great place to raise a family.
Expats often say that Portugal is a great place to raise a family and have a high quality of life, thanks to the diverse outdoor areas, favourable weather conditions and friendly attitudes. This is backed up by the fact that when it comes to family life, Portugal ranks incredibly high: 9th place on the family life index and 11th place for family well-being. These rankings were awarded due to the country's safety, educational standards and work/life balance.
Childcare options are abundant and affordable in Portugal, ensuring that those who are looking to balance a career alongside their family can do so. In addition, the country is child-friendly, with play parks and leisure activities available in abundance, meaning there's plenty of spaces for children to safely roam free.
Cost Of Living
More than 60% of expats in Portugal are comfortable with their financial situations, with around three-quarters stating that their disposable income is suitable to cover their living expenses.
A large percentage of expats in Portugal are retirees, but thanks to the aforementioned freelancer and start-up scene, the average age is falling. Larger cities have a higher cost of living, with expats stating that food, transport and activities remain affordable but the cost of accommodation has spiked, especially in areas such as Lisbon where a two-bedroom apartment rental can set you back €1250 per month, almost double what it would have cost a decade ago. However, despite rising accommodation costs, the majority still rate the cost of living positively, with Portugal remaining one of the most affordable places to live in Western Europe.
Have you lived in Portugal? Share your thoughts in the comments below, or answer the questions here to be featured in an interview!