What motivated you to move from New Zealand to live and work in Vietnam?
Ursula: Ronald and I had always said we'd love to work in Vietnam, and especially in Ho Chi Minh City. We visited the city during a period of travelling, and both commented on how it would make a great city to teach and live in.
Ron: The vibe, food, and culture of Vietnam and South East Asia is unbeatable!The travelling opportunities are also fantastic, and much cheaper than in New Zealand. It was a natural first choice for us and we jumped at the chance when we saw teaching jobs advertised in the city.
What challenges did you face when you first moved to the country?
Ron: It was challenging to learn how everything worked. It's always tricky figuring out new bank systems, how to get around, and where to buy the type of food you like in a new country.
Ursula: ABC International School were so helpful though. They had an excellent induction programme where people took us to the local supermarkets and showed us around the area. I'm aware not all schools are like this though. We were very lucky!
What teaching skills have you gained from working at an international school?
Ursula: The biggest skill we've gained (so far!) has been learning to teach with a new curriculum; the National Curriculum of England. In New Zealand we use a different curriculum so it's great to get experience teaching another.
Ron: It also means we will be much more desirable to other international schools in the future, many of which want you to have experience of teaching the National Curriculum of England.
What aspect of teaching at an international school do you most enjoy?
Ursula: We love being able to teach and spend time with students and teachers from different cultures. This gives us a real insight into the ways in which people from different countries live, learn and celebrate!
Ron: In New Zealand we have a lot of different ethnicities, but it's not the same as immersing yourself in another country's way of life. Experiencing other cultures is one of the most important aspects of teaching overseas. We've met so many people from all over the world, and have made lots of friends.
What do you enjoy most about living in Vietnam?
Ron: We both like the pace of Vietnam, and especially of Ho Chi Minh City. There are so many people and things to do. You could never be bored living here!
Ursula: One of the highlights is definitely the Vietnamese food – I don't think I'll ever get sick of it! It's unlike any other food I've tried before. My favourite is the local Vietnamese dish, Pho.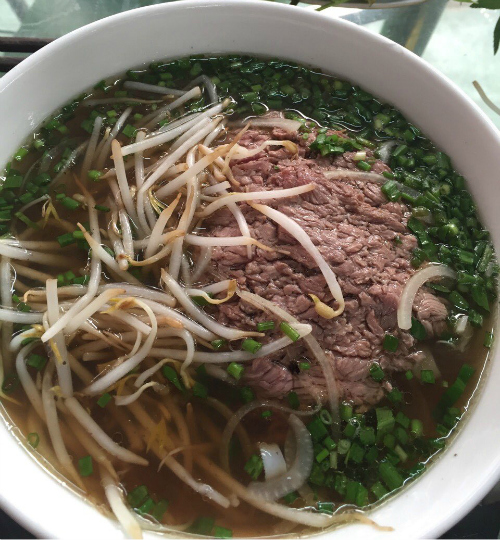 Ursula's favourite local dish – Pho
What is your relationship like with the locals?
Ursula: Vietnamese people are, in my opinion, one of the nicest cultures in the world. They are always so helpful and willing to give advice!
Ron: We work with Vietnamese people a lot as most of the teaching assistants are locals. They are very generous and friendly people. Most locals outside the school only speak a little bit of English, but it's fairly easy to pick up a few Vietnamese words to help you.
Have you had a chance to travel within Vietnam?
Ursula: We've had the chance to travel within Vietnam and also Asia quite a bit already. Travel is so much cheaper here. We were very isolated in New Zealand and it was expensive to fly anywhere. Not here! We recently went on a holiday with teachers from school to Hoi An, which is an amazing place in Vietnam.
Ron: We've also been to Cambodia and are about to go to a little island off Vietnam called Phu Quoc, again with teachers from school. We plan to go to Hong Kong too at some point. There's so much opportunity for travel here.
Ursula: We've been to 19 countries since we started teaching overseas and have still managed to save money on top of that!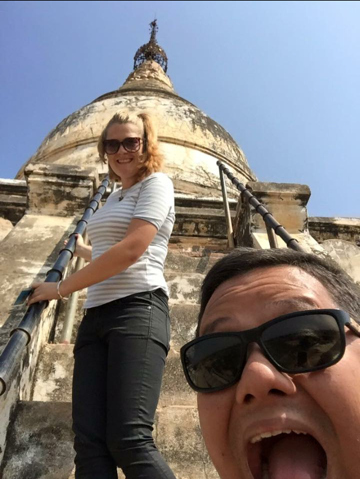 A selfie of us when we travelled to Myanmar
What do you dislike about your expat life?
Ron: The hardest thing for me is being away from family and friends!
Ursula: Me too. It's always hard when your friends are getting married and having babies and you can't just pop back home to see them. Sometimes I also worry about something bad happening to a family member, because I'm so far away and it would take ages to get back home.
What are your future plans?
Ron: Currently our plans are to stay in Vietnam for the near future, we love it here and are really enjoying working at our current school. We have made lots of friends and spend a lot of time travelling.
Ursula: We have lots of family and friends visit us, and they are very jealous of our lifestyle! We are certainly not ready to give that up. No matter what, Vietnam will forever hold a special place in our hearts.
What advice would you give to other teachers considering teaching internationally?
Ron: Make sure you research recruitment agencies in depth. It's so important to find a recruitment company that will support you through the process of applying for jobs. We used TIC, and even now the staff contact us to check how everything is going. Watch out for recruitment companies that charge you fees – there are lots of good ones that don't.
Ursula: Also make sure you thoroughly research any potential schools. Normally a school's website is a very good indicator of what the school is like. Visit the country first if at all possible or at least talk to people who have visited that country and get their honest opinion. Make sure you know what you want from the experience, the country and school.
Ron and Ursula found their jobs in Vietnam through Teachers International Consultancy (TIC). TIC specialises in providing personalised, professional teacher and leadership recruitment for international schools. All support for candidates is free of charge. For more information and to get more advice about teaching overseas visit ticrecruitment.com