Landlocked between France and Spain, and consisting of a cluster of mountain valleys, streams and rivers, Andorra is one of the smallest countries in the world, measuring just 468km². One-tenth of the country is covered by the Great Valira River, which flows through the capital city, Andorra la Vella. As Andorra does not have its own airport, the easiest way to get there is to fly to either Barcelona Airport in Spain, or Toulouse-Blagnac Airport in France. Once there, there are several bus routes and car services that can take you straight to Andorra. A bus ticket will cost you around €15.
A valid passport or EU identity card must be shown upon entering the country, but you will not need an entry visa to visit for less than 90 days. Although a visa may not be needed to enter, one will be required to exit Andorra and cross back into France or Spain, since the country is not, as yet, part of The Schengen Agreement.
The Schengen Agreement
The Schengen Agreement is an intergovernmental agreement signed in June 1985, promoting the relaxation of border controls between participating European countries, and leading to the creation of Europe's Schengen Area. To date, 26 European countries have signed the Schengen Agreement, covering a population of over 400 million people and an area of 4,312,099 km². Andorra began Schengen negotiations in 2015.
At external borders of the Schengen Area, non-EU nationals must present their travel document and visa, or a relevant residence permit, along with any supporting documentation for their visit. When applying to become a resident of Andorra, it is suggested that a multiple-entry Schengen visa be acquired before submitting the appropriate residential visa application.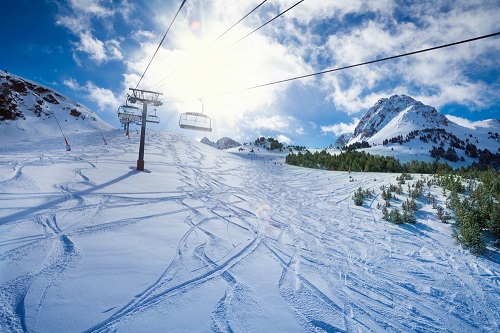 If you are applying to become a resident of Andorra, you may want to acquire a multiple-entry Schengen visa before you submit the appropriate residential visa application.
The multiple-entry Schengen visa
The multiple-entry Schengen visa allows the holder to travel to or through Schengen Areas multiple times using the same visa, for up to 90 days at a time in any given 180-day period.
With its balanced economy, inviting tax incentives, and sporty culture, Andorra is overall a healthy place to live and is actively attracting new citizens and foreign investors. However, none of this matters if you don't have a residential visa.
The process to acquire residency is straightforward, but one thing you must know is that all official documentation is in Catalan, and you'll need to fill out several forms to apply for residency. As this can be a very tricky process, it would be advantageous to be accompanied by a competent Andorran who's willing to help.
All residency visas must be applied for in person, with any dependants aged over 18 years old at the time of the application. An immigration quota system, based on the analysis of the needs of the country's economy and society, is in place so that social cohesion and job balance is maintained.
The quota system
The number of visas available to applicants each year is set by the Andorran immigration government quota system. Places are limited and decisions are made based on what an applicant has to offer in the way of qualifications, employment, investments and collateral.
As a general rule, seasonal visas, passive residence visas and highly qualified job visas usually have higher quota percentages than other forms of visa, because they are considered of high interest to the country.
Seasonal visa
Applicants wishing to obtain a job in the skiing and tourism industry in Andorra are typically offered a seasonal work permit or tourist visa, which is valid for a maximum of three months, between November and May. After this period expires, you have seven days to leave the country.
If you wish to apply for a residency-only visa, you can apply for a passive residency visa; however, if you will be working locally then you should apply for an active residency visa.
The passive residence visa
Andorra's passive residence visas are for individuals that wish to only live in the country, for more than 90 days, while performing most of their economic activities outside of it.
Applicants of the passive residence visa must prove that their income will be at least 300% the average Andorran annual minimum salary of €12,604.80, while each family member must prove that their income will be at least 100% of the annual minimum salary. A mandatory investment may also be required.
The active residence visa
Those with an active residence visa are expected to live in the country for at least 193 days a year. They may work locally, having the same rights as other Andorran citizens, automatically becoming a fiscal resident.
The active visa holder is required to pay into the social security program CASS and to make a deposit of €15,000 with INAF. As a self-employed active residency visa holder, you are required to make a mandatory investment deposit of €3000 share capital with an Andorran bank. This amount then belongs to your company.
The documentation required to accompany visa applications differs depending on the type being applied for, but is likely to include a passport, EU identity card, birth certificate, criminal history, medical certificate, job offer letter and a tenancy agreement or proof of purchase of accommodation in Andorra. If any of the documentation is originally from outside of the UK, Spain, France or Portugal, it will have to carry an apostille, according to the convention of The Hague.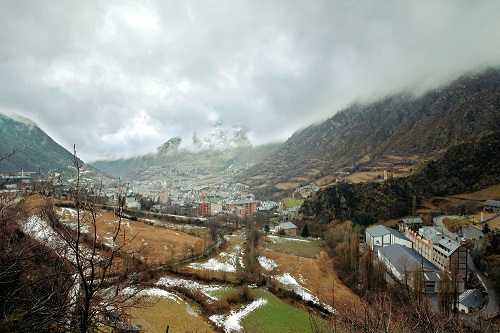 Depending on which type of visa you are applying for, you will need to provide a number of supporting documents.
The first residential visa issued is valid for a period of one year and can be renewed three times for periods of two years, after which a ten-year visa may be granted. For a complete and up-to-date list of the required documentation, investments and information, please visit the government website on immigration.
When it comes to buying a property, floor space in Andorra ranges from €2,500 to €15,000 per m2. The desirability of certain property types (especially chalets on large plots) makes them a very secure investment for the future, so owners are keen to hold on to these properties.
Rental contracts are legally five years in length and are heavily in favour of tenants. Deposits are typically two months' rent (that will be refunded), as well as the first month's rent in advance. A one or two bedroom apartment can cost anywhere between €350 and €800 per month, while a Chalet or terrace house is going to set you back between €1,500 and €4,000 per month.
If you require further assistance or have any questions, either contact your local government office or contact the Andorran Ministry of Foreign Affairs. Please see contact details below:
Obac Services Building Address:
Carrer de les Boïgues, 2, ground floor
AD700 Escaldes-Engordany
Telephone: +376 872 072
E-mail: Servicio.immigracio@govern.ad
Website: https://www.govern.ad