The world has changed quite drastically from what it was even a decade or two ago, becoming smaller and more interconnected. Regardless of all the recent upheavals and attempts at undoing these changes to go back to a more insular, disconnected time, the global economy is likely to persist. This may have both positive and negative outcomes for most people, but for expats in particular, the situation is mostly positive. Nowadays, relocating for work, family or even just a change of scenery has become a common occurrence. It is estimated that over 5.5 million British nationals live abroad permanently. According to extensive research and surveys, it has been found that most Britons move to Australia, but other popular places on the list include Spain, the United States, Canada, Ireland, New Zealand, South Africa and France.One of the main reasons why people relocate is to experience a better quality of life. People also travel in search of a good work-life balance, or a chance for better opportunities in terms of work. In some cases, living overseas offers a lower cost of living and the opportunity to save money. Of course, there are those who travel simply for adventure, or to try new things and engage with different cultures.
No matter what the reason for travelling overseas, the journey isn't always a smooth one. It could take a while to get used to the differences in culture and the different ways of living.
If you're a British expat going overseas, then here are a few surprises you can expect when you're living abroad.
Cost of living
The cost of living can vary greatly depending on where you choose to live. Every country has its own history, economy and culture that contribute to its daily functioning. Australia is known for its high cost of living, and it can be quite a shock to discover that buying groceries or having a meal out can cost a few hundred dollars. Concessions are available to students and pensioners, but, for the most part, everything from travel to food, and renting a house to movie tickets, is quite expensive in Australia.
Some European countries offer a lower cost of living, which is why they are becoming an increasingly popular choice for British expats. In Portugal, a couple can have a good standard of living and survive on as little as $1700 a month. This includes rent, utilities, groceries and much more. In Spain, you could rent a two-bedroom apartment for as little as $500 a month, and could probably even afford to buy your own home.
If you travel to the Middle East, you will notice that food and appliances are expensive while petrol is very cheap. This is because most fruits and vegetables have to be imported as they are not grown locally.
The English language
Whilst you might imagine that having a command over English is a plus, even when you're travelling to certain English-speaking countries, you might find they may use different words, or have different ways in which they express things. Most people are aware that American English, for example, is quite different from UK English—Americans use words like 'trunk' instead of 'boot', fill 'gas' in their tanks instead of 'petrol', and so on.
When you travel through Australia however, you might question whether you truly know English or not. Australians have a tendency to shorten almost everything, so afternoon becomes 'arvo', McDonald's is known as 'Maccas', and so on. India and many other Asian countries also put their own spin on the language, and along with the difference in accents, this can be tricky to get used to.
For some expats however, the biggest surprise when they travel is the extent to which English is a universal language. Most people, almost anywhere in the world, will know at least a few words in English. If not, you could of course always use gestures and common actions for things like eating, driving and so on to have your queries resolved. You might even end up picking up a few words, or learning a new language.
Travelling and getting around
When you're in a new place, it can take some time to get acquainted with the area, and figure out how to get from point A to point B. Some places are easier to navigate than others and commuting times may also vary. For example, America is about 43 times larger than the UK, and a 50-mile commute would be considered to be quite routine.
If you prefer driving to taking public transport and have an internationally valid driver's licence, don't be surprised when you find out that not everyone drives on the left like you do back home—the US isn't the only place that has a different convention. About two-thirds of the population in the world is known to drive on the right side of the road. You will only find left-hand driving in places like Southeast Asia, New Zealand, Australia, Nepal, Indonesia, and Japan.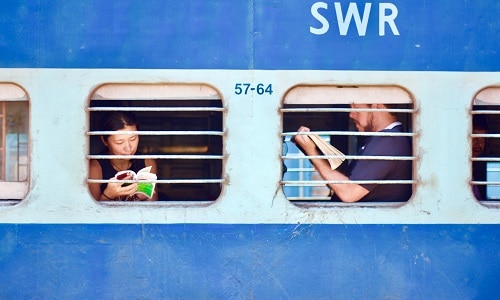 © Rathish Gandhi on Unsplash
One other surprising fact about travelling in Japan is that children, as young as 10 years old, travel by public transport without chaperones. Japanese society encourages children to be independent from a very young age, and public transport in Japan is considered to be extremely safe. These children travel to school by themselves, or run errands for their parents, either in small groups or by themselves. There is a very popular television show called 'Hajimete no Otsukai' or 'My First Errand' that shows children as young as two or three years old being sent out to run errands on their own.
Work culture
The work culture in a country is often tied into other traditions that might be unique to the region. Some places enforce a strict work ethic, while others might prefer a more laid-back approach. Workplace etiquette and expectations may differ considerably from what you are used to. For example, in Germany, it is still not uncommon for people to smoke at their desks, and to take impromptu breaks to hand out cigarettes to each other. However, it is considered rude to eat at your desk.
In places like Tokyo and India, the work weeks are extremely stressful and can consist of 50-70 hours. However, on the other hand, in India it is not uncommon for employees to saunter in well past the office start time, or to show up late to meetings. Spain too has a more relaxed approach to time and schedules, with long lunch breaks and often afternoon siestas as well (although the latter are not as common in cities as they used to be).
Weather and Environment
British expats are used to cold, wet weather and wildly fluctuating temperatures, and often find it hard to deal with warmer, more humid climates, or the unpredictable climates in Australia and New Zealand. Houses in Australia and New Zealand aren't insulated enough to cope with constantly changing weather, and so you are likely to feel either too cold or too warm when inside. Additionally, New Zealand is situated on the Pacific Ring of Fire and experiences thousands of earthquakes a year. Most residents here are prepared for earthquakes and have an emergency kit ready in their garage. An emergency kit usually contains water, food and medical supplies, and is a crucial safety precaution in the event that tragedy strikes.
Visitors travelling through South Africa are often surprised by how much the weather conditions vary across the country. Since it is such a vast country, the weather might be warm and wet in Cape Town, while being hot and dry in Kruger, to just pleasant and sunny in Johannesburg. When travelling through South Africa, it is best to pack for all weather conditions and keep checking the weather reports, to stay updated on what kind of weather to expect.
Food Culture
Most expats want to experience the local foods and cuisines that their new home has to offer. Food culture can vary greatly even when visiting neighboring cities. When living overseas, be prepared to come across some foods that might challenge your taste buds.
If you have a fear of creepy crawlies, you might want to be extra careful when ordering your meal in Thailand, Cambodia or the Philippines. Fried spiders are a delicacy in Skuon in Cambodia and are sometimes the size of a human palm.
You may have heard of La Tomatina, or the tomato festival in Italy, but in the town of Valls in Spain, you could check out the Festival of Onions. One does not throw the onions, but instead gorges on them. The onions are called Calçots and are a variety of spring onion. If you prefer radish to spring onion, then you will be happy to learn that Mexico has a food festival called 'Noche de Rabanos', or Night of the Radishes. The festival takes place a few days before Christmas and features giant radishes, that are carved into nativity scenes.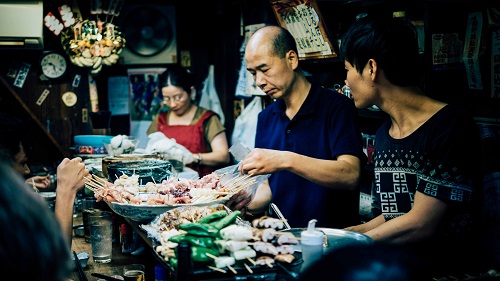 © Lan Pham on Unsplash
In Iceland, Hákarl, or fermented shark, is a local delicacy. The shark is cured for months by being buried under sand. After the meat has fermented, it is dried for a few months, before it is ready for consumption.
In America, the land of relatively safe and familiar burgers, steaks, oversized fries and corn, you can still find meals that might be outside your comfort zone. At the Testicle Festival or 'Testy Festy' in Montana, you can try some deep-fried bull's balls—the festival includes wet t-shirt contests, lots of beer and ball-eating! Alternatively, in Texas, you might come across the Bug Eating Festival, featuring crispy grasshoppers the size of rabbits. The festival is also meant to educate people on the benefits of eating bugs and how to cook them properly.
Overall Culture Shock
There are so many things to take into consideration before travelling to a new country or continent. No matter how much research you might do to be prepared, there are certain cultural differences that you can only understand when you are directly faced with them. Even when you move to an English-speaking country, there are still quite a few things that might come as a culture shock, whether it's understanding the local slang or getting used to different customs and traditions. America is often considered to offer a fairly smooth transition when you're coming from the UK, but it still has a lot of differences that must be adjusted to. For example, a lot of British expats often remark about how everything is so much bigger in America, from large SUVs and Jeeps to larger portions served in restaurants, and small backyards that are still much larger than any you might see back home. Another surprise for most Brits is how quickly everyone moves—Americans do not waste time with long lunches and meals, or hanging around cafés and pubs. Life is fast-paced here, the buildings are tall, streets are well-lit, and you're sure to spot quite a few glossy billboards towering above you.
While a lot of Brits believe that travelling to Australia might be an easier fit, the country offers its own challenges. The locals are fairly easy-going and there is often a tendency to strike up conversations with strangers, and enjoy some light banter. Most people greet each other on a first-name basis and it is very common to acknowledge people you pass on the street. This can sometimes feel confrontational to expats who are not used to this style of life.
In a country like China, personal space and privacy are practically non-existent. It can be quite unnerving to be faced with large crowds when you go out. It is also common to find locals in China using umbrellas on sunny days to stop themselves from getting tanned.
Europe too, in spite of being right next door to the UK, offers a number of cultural surprises. One facet of European life that Brits sometimes struggle to get used to is the level of openness and acceptance for nudism in places like Amsterdam, Spain, Germany and many other places. It is normal in these places and considered to be just another part of regular life.
What did you find confusing or surprising when you moved abroad? Let us know in the comments!