Happy World Toilet Day! Yes, it is a real event, organised every year by the World Toilet Organization to promote awareness of sanitation issues worldwide. In honour of World Toilet Day, we bring you what are, in our opinion, the most unusual toilets in the world.
As an expat, you have likely come across many an unusual toilet in your travels – from squat toilets in China to toilets in the woods in rural areas.We even heard from one expat about a hut toilet on a remote island that came with its very own stick in place of toilet roll. What was the stick for? For pushing away the pig who lived nearby and liked to investigate the toilet habits of anyone who visited this particular loo!
These seven toilets, however, top our list of the most unusual toilets we've ever seen.
See-through WC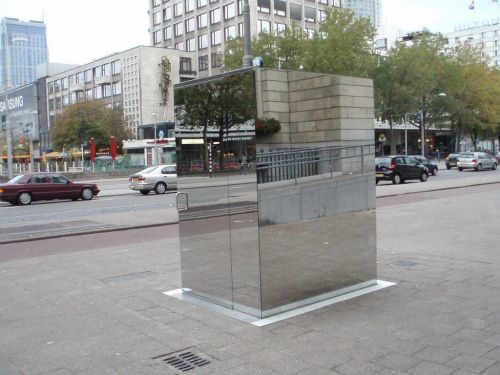 © FaceMePlz on Flickr
Created as part of an art installation outside London's Tate Britain Museum by conceptual artist Monica Bonvicini and entitled "Don't Miss A Sec", we're pretty sure this toilet is the stuff of nightmares. You know those ones where you really need to use the loo, but you can't find one, and then when you finally do, you discover all the stall doors and walls are missing?
This toilet is a play of sorts on these bad dreams, except that the toilet's users can see out, whilst those passing by can't see in. We're still pretty sure it would be frightening to use this loo and be able to observe cars passing by mere meters away!
Side-by-side toilets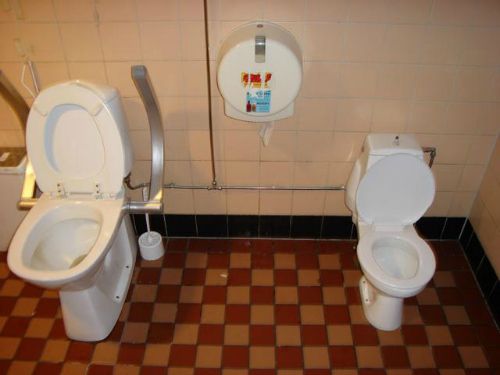 © Starbug on Flickr
A picture of two side-by-side toilets at the Sochi Winter Olympics in Russia in 2014 went viral, but having looked through a lot of toilet pictures, we've discovered that the "twin toilet" phenomenon is surprisingly common around the world.
Why? Who are these people who are so engrossed in conversation that they can't speak through a stall divider? Luckily this is one toilet specimen we haven't come across in our travels.
Floating loo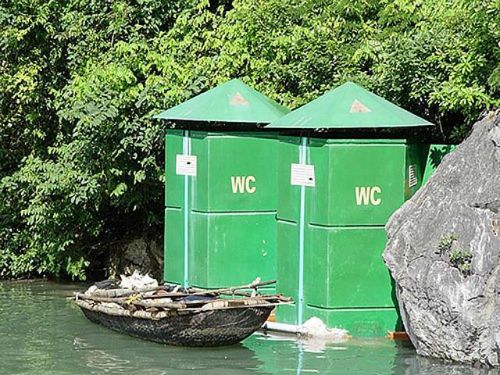 © Zabara on Flickr
If you're ever sailing the Halong Bay in Vietnam, don't worry about needing to use the facilities. No need to find a place to dock your boat and then disembark in order to find a toilet on land – you can simply pull up alongside these floating toilets and use the loo without ever leaving the water!
Mouth-shaped urinals © Elsie on Flickr
We have no words. We've heard of "targets" that are sometimes used in men's urinals to give men something to aim for, and thereby reduce the chance of spillage by those who've imbibed a bit too much, but these mouth-shaped urinals take the unusual to a whole new, very weird level. These particular specimens are from a gay club in Brighton, England, but apparently similar mouth-shaped urinals also exist in Copenhagen.
Toilet video games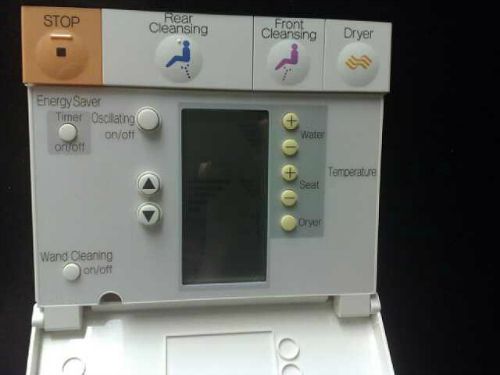 © Secretlondon on Flickr
Japan is known for its high-tech toilets, with features ranging from heated seats, to cleansing water streams, dryers and even music (in case you fancy listening to tunes whilst you use the loo). Now, Sega have taken Japanese toilets a step further with a urinal video game [1]. A sensor measures volume and pressure of urine which then controls the videogame, which shows on a screen. Activities include squirting milk out of a man's nose, filling up coffee tins and, disturbingly, blowing air up an animated girl's skirt.
Loo with a view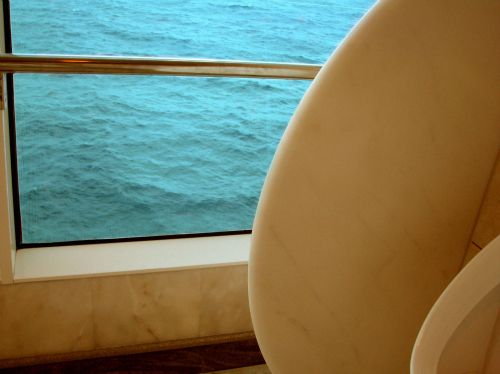 © Tomsaint on Flickr
You know how the sound of running water makes you need to use the loo? Well, you can look out at endless water spreading towards the distant horizon from this urinal on a Royal Caribbean cruise ship. Of course, should anyone be in the ocean below (or if the ship is docked in port) they would likewise have an unobstructed view of the toilet.
The $5 million toilet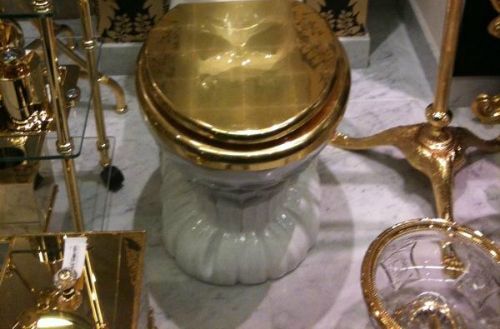 © Redrocket on Flickr
The most expensive toilet in the world (not in the picture) is the $5 million gold toilet at the Hong Kong showroom of the Hang Fung Gold Technology Group [http://www.bathroomreader.com/2014/07/3-worlds-most-expensive-toilets/]. Built as part of a gold bathroom display in 2001, the toilet has received widespread attention as the most expensive in the world (unless of course you count the toilet on the International Space Station, which reportedly cost $19 million [http://indianexpress.com/article/lifestyle/life-style/top-6-worlds-most-expensive-toilets/]).
Visitors are asked to wear plastic covers over their shoes to avoid damaging the gold-inlaid floor. It has apparently been a success for the company, with some visitors asking for their old gold bathroom pieces after viewing it.
No toilet
You might not have a gold, multi-million dollar toilet, but chances are if you are reading this article, then you have a working toilet in your home. However, 2.4 billion people worldwide (around 1/3 of the world's population) still lack access to proper toilets [2].
As expats we often complain about differing toilet standards in our new homes, such as having to deal with squat toilets or outhouses. However, we can count ourselves among the lucky ones for simply having access to proper sanitation.
According to a UNICEF report, we are falling short U.N. targets outlined in their Millennium Development Goals, which set a goal of 77% having access to proper toilets [3]. Many of those who lack access to adequate standards of sanitation, and instead have to defecate in the open, live in sub-Saharan Africa and South Asia.
According to the World Toilet Organization, a 2015 goal to halve the number of people globally living without proper sanitation is running 150 years behind schedule. [4]
More phones than toilets
Shockingly, according to a U.N. report in 2013, more of the global population had access to mobile phones than toilets: 6 billion vs. 4.5 billion, respectively (out of a world population of approximately 7 billion people). [5]
W.H.O. officials state that we cannot guarantee water standards because of this issue and until everyone has access to proper sanitation, people will continue to die of water-borne diseases [6]. Diarrhoeal diseases kill 700,000 children every year, and most of these could be prevented with adequate sanitation [7].
The U.N. has set a new goal of eliminating open defecation by 2025. [8]
Open defecation
Open defecation, or the practice of defecating in forests, bodies of water, fields or elsewhere outside, is prevalent in India, with 1 in 2 people in India practising open defecation. India accounts for 90 percent of South Asia and 59 percent of the global population who practice open defecation. Around 65,000 tonnes of excrement are released into the environment in India daily.
Children who suffer from diarrhoea are more susceptible to malnutrition, and 43 percent of children in India suffer some form of malnutrition. Worldwide, India has the highest rate of diarrhoea-related deaths of children under the age of five, with 188,000 deaths each year. A single gram of faeces contains 1 million bacteria, 10 million viruses and 1,000 parasite cysts. Children's faeces contains more germs than adults'.
According to UNICEF, there is a culture of open defecation in India, with people being taught from a young age that it is acceptable to defecate outside. The problem is compounded by people not viewing owning a toilet as something to aspire to, and viewing it as a governmental rather than personal responsibility. Around 12 percent of urban dwellers practice open defecation, with 65 percent of the rural population practising it.
Thankfully, we've seen some improvement in recent years. A 2010 JMP report showed that 54 percent of the population in India were still engaging in the practice of open defectation. An update in April 2014 showed, after adjusting for population growth, that this number had decreased to 48 percent. [9]
How you can help
Help spread the world about Toilet Day! World Toilet Day, which takes place annually on the 19th of November, was founded by the World Toilet Organization in 2001 and has been an official U.N. day since 2013.
The World Toilet Organization has a number of suggestions of how you can help this Toilet Day:
– Share this post or others on social media or with your friends to help raise awareness of the issue
– Join the global Urgent Run and run or walk to raise awareness
– Download the Raise a Stink advocacy pack
– Donate to help the World Toilet Organization invest in proper sanitation
– Help the World Toilet Organization fundraise for their efforts (you can download a fundraising pack from their website)
– Schools can download an information pack on how to teach and talk about sanitation issues
– Raise awareness by posting about the issue to social media, using the hashtag #WorldToiletDay
– Have a conversation with your friends or family about the issue
– Share what you're doing with @worldtoilet
More information can be found here and on the U.N. site.