If you are planning an international move, or you are a frequent traveler or perpetual expat, you will experience voltage compatibility issues at some point. World voltage systems range from 100­‐240 volts. Each country has its own dynamic voltage (V) standards. For example, Germany and Spain operate at 230 volts; United Arab Emirates at 220 volts; Costa Rica and the U.S. at 120 volts; Ecuador 110 volts; and Japan at 100 volts.Hz references Hertz (frequency or cycles per second.) In the map on page 1, notice that a large portion of the world generates electricity at 220­‐240 volts at 50 hertz, alternating cur­rent.
Modern office electronics and home theater systems, for example, should not be affected by a difference in Hertz.
First, assess the voltage and hertz of the electronics, tools and appliances you plan to carry or ship abroad. This information is included in the product specifications section in the owner's manual. Or you can find it on the manufacturer's label attached to the product. The label is generally found on the back or bottom of appliances and electronics.
3 Simple Devices That Can Save Your Electronics Abroad
Every frequent traveler and expat should consider these three devices to eliminate frustra­tion and avoid ruining your electronics, tools and appliances.
1. Voltage Converter
A voltage converter (transformer or power converter) is designed to change the electrical output of a power source — up or down. For example, a converter can change 220-volt appliances and electronics down to 110 volts. Or, it can change 110-volt output to 220 volts. This device is a common necessity for frequent travelers, expats and global workers.
A quality step­‐down voltage converter enables a 110­‐volt appliance to operate in 220 volt, 230 volt and 240 volt countries. A quality step­‐up voltage converter will allow any 220­‐volt appliance to be used in any 110 volt or 120 volt country.
To accommodate both step­‐up and step­‐down power conversion, you can purchase a 2­‐way voltage converter.
2. Voltage Stabilizer
In certain countries, it is common to experience voltage fluctuation from the power supply, sometimes fluctuating many volts and causing brownouts. The severe drop in voltage causes lights to flicker or severely dim. The drastic surge back to normal power is often so strong it can damage or destroy your electronics and appliances. The very best voltage converters come with voltage stabilizers designed to maintain a stable output. If power surges are ex­treme, the stabilizer will automatically shut down to prevent damaging conditions.
3. Foreign Plug Adapter
A power plug adapter allows the plug on your electronic devices or appliances to connect with a foreign country's native electrical outlets. Native outlets vary country to country. A plug adapter may be needed for your voltage converter as well. Check you converter to see what type plug it has and whether it came with any plug adapters.
Dual­‐voltage electronics and appliances (110­‐220 volts) do not require a voltage convert­er. However, they will require a plug adapter to be used overseas. To accommodate all outlet types worldwide, you should consider purchasing a foreign plug adapter set. The set comes with adapters suitable for all countries.
Global Voltage Guide By Country
This guide details the voltage standards by country. Find your destination country here.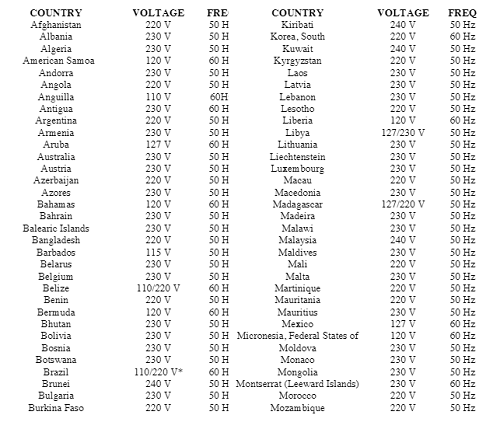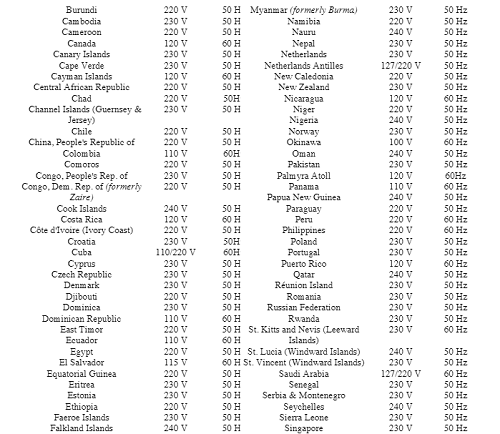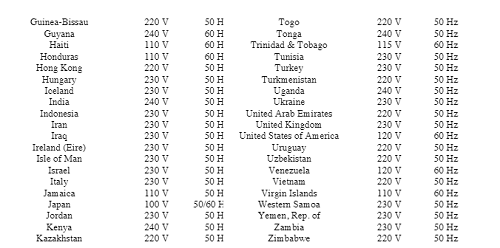 If you still have questions, be sure to seek a free consultation with an electronics relocation specialist.
Presented by International Video 220-Electronics.com
Written by Pam Houser, Content Specialist
Planning a move to Costa Rica? pamhouser@me.com