Did you know that 40% of people cite moving house as one of the most stressful experiences of their lives?
At Sirelo, we often get asked the same question by our customers: what exactly do I need to plan for my move? Planning your move effectively is the first and most important step in having a stress-free experience. But how do you pack up and move your whole life to somewhere new abroad? Luckily, that's where we step in. In this article, our international moving experts tell you how you can plan your move effectively so that you avoid the stress and panic of moving.
Step 1: Start Early
One of the most important steps that people overlook is to start early. Too many people make the mistake of leaving everything to the last minute – if something goes wrong, this gives you no time to fix it.
Did you know, for example, that if you are moving a pet with you, they may need a jab three months before the move? We recommend at least 2-3 months of planning time for your move.
Step 2: Figure out the volume of your move
Movers need to know what size lorry they should bring for your move, as well as how many removal people. You will therefore need to know how much stuff you want to move.
Go through all your belongings and make a list of what you want to take with you. Is there stuff you don't need anymore? Sell your unwanted belongings at a car boot sale or on websites such as Gumtree – or give them away for free to a charity shop! Once you know what you want to move, use our free moving volume calculator to figure out how big your move will be.
Step 3: Get moving quotes
To move, you need to book a mover – but the types of services they offer, the quality and above all, the price, can vary from company to company. In order to get the best deal, we recommend that you compare moving quotes: this allows you to decide which moving company is best for your move.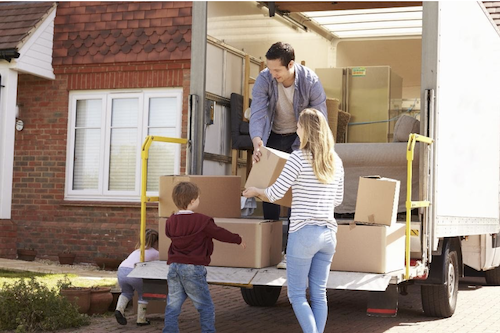 Step 4: Prepare all your documentation
Admin is never fun to do, but it's important to do in advance. You need to make sure that important documents such as passports, birth certificates and wedding certificates are in an easy accessible place.
If you're moving abroad and need to apply for visas, you need to give yourself plenty of time to do that too. Don't forget to speak to your doctor, your utilities supplier, your local government and your children's school to inform them of your move – it will make transitioning into your new home easier.
It's often advisable to double-check with your moving company if there are any important documents you need for your move; for example, if you need to go through customs.
Step 5: Buy packing materials
Before you can start packing your household, you need to buy all your packing supplies. You will need:
• Moving boxes
• Tape
• Markers
• Labels
• Newspaper
• Stretch wrap
• Bubble wrap
You can easily find moving boxes for free at your local supermarket or book store, but you can also buy them online at stores such as Argos, B&Q and Staples. Alternatively, you can speak to your mover to see if they can provide you with any moving boxes, as they can also recommend how many you will need. You'll also need newspaper and bubble wrap to protect your belongings when you pack them. The stretch wrap is also a must if you're moving furniture.
Tip: Label each of your boxes so it's easier to unpack in your new home.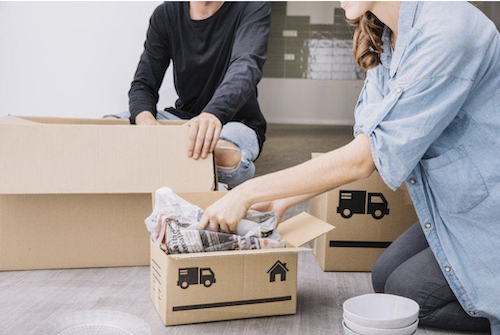 Step 6: Prepare for moving day
The week before your move, you should confirm all the details with your removal company to ensure that your move goes smoothly. Check with them whether you can pack a few personal items yourself, and have a clear idea of when they will arrive. A few tips in preparation of moving day are:
• Leave a clear space where the movers can easily access your belongings
• Take pictures of your old house before you leave
• Take readings from the gas and electricity meters
• Pack an emergency bag with you, including your important documents, snacks and other essentials
Step 7: Moving day
Moving day is finally here! Make sure to wake up early so that you are ready for when the movers arrive. If possible, get friends and family to help with the final packing on moving day, as well as with loading and unloading the moving truck. Don't forget, a few bacon sandwiches will be a nice thank you!
When you leave your old house for the last time, make sure to look in each room to check you have left nothing behind, and take your emergency bag with you.
Tip: When you arrive in your new home, make the beds first when you start unpacking – moving day can be more exhausting than you realise.
What Next?
We hope you're ready for your exciting move abroad! Moving house can be a stressful experience, but if you plan your move effectively and sensibly, you can save yourself a lot of stress, time and money. Don't forget to fill out our quote form so you can already start comparing offers and find yourself the best deal for your move.
Looking for more moving tips? Read more of our articles on Sirelo!