Richard, you're Director for International Schools at the International School Consultancy. Tell us a bit about your role – what does your day-to-day routine look like?
Every day is different for me. Sometimes I am presenting at conferences around the world about what is happening within the international schools market. Oftentimes this is to headteachers and senior leaders but sometimes it is to developers and investors, or independent school leaders considering opening up a school overseas.I spend many other days meeting with senior leaders at international schools, particularly those in Asia, to help them with the market intelligence and research that they need in order to develop their school in the right way.
The international schools market is a vastly expanding market and, in some locations, very competitive. The best schools are always looking for ways to remain as the first choice for parents and students, particularly in the standard of their learning and teaching, also in their learning resources and facilities. I also advise education suppliers who are wishing to work with international schools; it's important for them to understand the needs of these schools. Sometimes I talk with journalists about how the international schools market is expanding; the global media is very interested in why more and more local families (as well as expatriates) are choosing to send their children to English-medium international schools rather than to their local state school.
Tell us a bit about the International School Consultancy – what services do you provide?
The International School Consultancy has been tracking and researching the world's international schools market for 25 years. It's the only company in the world that has collected detailed information on this market for so many years. We produce a range of market intelligence reports and an online data tool for schools, developers, education suppliers, higher education institutions, and relocation and mobility professionals wishing to be fully informed on the international schools market.
Mobility professionals supporting relocating families obviously want to have details of all international school options to suit the different needs of children. For example, most big cities now have American schools, British schools, International Baccalaureate schools, some very large schools, and others that are much smaller, so there is often a wide choice for expatriate parents, which means they can find the right school for their child.
What should be the main considerations for independent schools that are thinking about expanding into international options?
Government regulations for international schools vary in each country. In a few countries, for example, local children are unable to attend international schools, or there is a cap on the number of local children who can attend. In other countries, there are very specific requirements for hiring of teachers, and in other countries there are rules regarding the teaching of certain subjects. So knowing these regulations is important, along with knowing the market opportunities and if the demand is right for a new school development. Local partnerships are often necessary to ensure a successful project. Most independent schools that have expanded overseas say that working with experts, and allocating sufficient time and resources to in the initial stages of a new school development, are crucial for success.
In your opinion, what is the most challenging aspect for expats who are looking for a new school for their children, and how does ISC help to address this?
The most challenging aspect for expats who are looking for a new school for their children is knowing about the school options available to them and then getting a place at the school of their choice. In some cities where demand is very high, particularly in the premium international schools, this can be a problem. My advice to expats preparing for a move is that, as soon as you know your new destination and relocation date, prioritise your child's schooling. Many people leave this too late and then wonder why they cannot get into the school of their choice. Expatriates need to know that there is huge demand for international schools now, not just from other expats but from local families too, and so thorough long-term planning is important.
ISC has an online database that is available to mobility and relocation professionals who can then identify every international school within a locality, including all the details about the curriculum, examinations, school size, etc. If you're planning a move, ask your mobility professional if they have ISC Online and that will give you the best range of school options to consider.
Which are the easiest locations to find English-speaking schools for expat families? Conversely, which are the most difficult?
The vast majority of centres of commerce in the world now have a good selection of English-medium international schools. These are schools that deliver all or most of the learning in the language of English and generally offer respected curricula like the National Curriculum of England, an American curriculum or International Baccalaureate, and such globally recognised examinations as A levels, IB Diploma or Advanced Placement. There are over 20 cities in the world that have at least 50 English-medium international schools. These include Dubai (which has a staggering 255 international schools), Abu Dhabi, Doha, Beijing, Shanghai, Bangkok, Tokyo, Singapore, Riyadh, Madrid, Istanbul and others.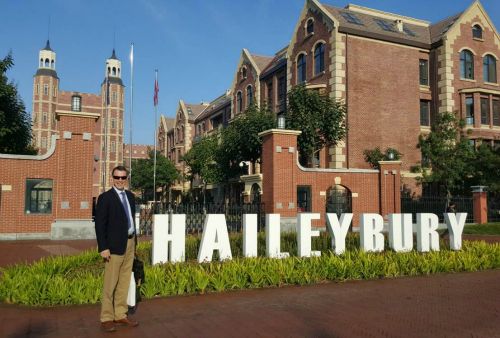 Richard Gaskell visiting Haileybury International School
in Tianjin, China
You will find the least choice of international schools in countries where the language of learning in the national schools is English and where the curriculum and examinations are of a good standard. For example, there are very few international schools in the US, New Zealand or Australia.
Do you have any general words of advice for expat families who are moving abroad for the first time?
My advice for families who are moving overseas for the first time is do your research into the schooling options as soon as you can. Try to arrange a selection of school visits during a trip to your new location. Think about the education needs of your child and try and find a school that best meets their needs. Don't just be influenced by impressive facilities, also take into consideration the curriculum, the class sizes, the orientation and ethos of the school, the examinations, and the extra-curricular activities that are available to meet your child's passions such as sport or the arts.
Most of the best international schools around the world are members of respected international school groups and are accredited. These are two helpful ways to identify schools of high standard.
What can we expect to see from the ISC over the next few months?
You'll of course see regular updates on the international schools market as it continues to develop – this information is often mentioned in national and international press. All our market intelligence reports are produced to order, with latest data at the time of order. We are constantly busy producing these. There is a huge amount of interest in the developing market in China but also interesting moves in South America and continued developments in South East and Western Asia so we're always busy!
Finally, when you're not working, what do you do in your spare time?
If I'm not spending time with my family and our two Jack Russells, then you'll probably find me on the golf course or at the beach!
Richard Gaskell is the Director for International Schools at The International School Consultancy where he has worked since 2008. He is based in Bangkok and travels the world working directly with international schools.