When real life starts to drag, give yourself over to the silver screen and let the magic of the movies sweep you away. It's easy to go from desk-bound drudgery to swashbuckling adventure, from mopping the kitchen floor to being swept off your feet by a dashing hero. All you need is a little imagination.
But what if the movie never ended? What if you could step into the celluloid world on screen and into the action?That may not be possible, but what about moving to your favourite movie location?
When making movies, Hollywood uses a little know-how to transform real world locations into cinematic settings. Ordinary streets are given a makeover to look become dystopian megacities, real castles become fairy-tale hideaways and sleepy villages turn into blasted battlefields. Once the director calls "Cut", the set is returned to normal and the residents move back in… but a little movie magic remains.
So if your current life is lacking a little glamour and excitement, consider packing your bags and moving to wherever your favourite movie was made.
Middle Earth: New Zealand – Lord of the Rings
Director Peter Jackson transformed his home country of New Zealand into the epic landscapes of Middle Earth for his Lord of the Rings trilogy. The fiery, volcanic vistas of Mordor, the idyllic Rivendell and the sleepy Shire are all depicted by real locations in the Kiwi countryside. New Zealand's highest mountain even makes a cameo appearance, as ominous Mt Doom.
Many of the scenes involved a hefty amount of computer wizardry to achieve the right look, adding smoke and flames to the landscape, not to mention hoards of berserking orcs. Some physical evidence remains of the filming, with Bilbo's Hobbiton home still set into the picturesque hillsides. Even without the special effects, New Zealand has some spectacular scenery.
The pace of life in New Zealand can be slower than a sleepy hobbit, with a big emphasis put on play over work. That said, Kiwi kids are world leaders in the education stakes thanks to the nation's excellent school system.
Residency visas can be tough to get, but IT experts, engineers and healthcare workers can find themselves as sought after as that famous One Ring.
Tatooine: Tunisia – Star Wars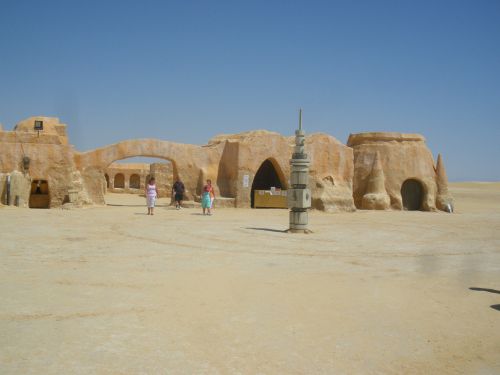 © Bel Adone
Before Luke Skywalker was a galaxy-saving Jedi knight, he was a humble farmhand on the desert world of Tatooine. You don't need to board the Millennium Falcon to visit his sandy homestead; it can be found in Tunisia.
Preserved since the 1976 filming, Luke's farm has been turned into a hotel open to paying guests. Other relics of the original filming stand in the sand, with entire sets still in one piece from later additions to the saga. Organised tours will take visitors out to Mos Espa spaceport or to chase droids up giant sand dunes.
Sitting on the Mediterranean cost of North Africa, Tunisia has a rich history and unruly neighbours. Sadly the country has suffered its own terrorist attacks so seek consular advice about areas to avoid.
Budding Jedis should be aware that preference for jobs will always go to Tunisians, but foreign-owned companies may be more offer roles more liberally.
Skopelos: Greece – Mamma Mia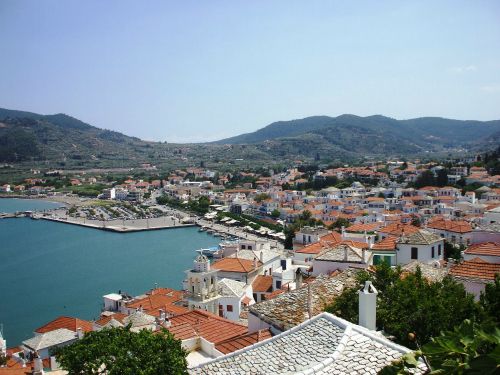 © Ant83
It's blissfully sunny, the wine is delicious, waves lap gently on the soft white sand… it's enough to make you burst into song. At least that's what Mamma Mia would have us believe. The serenity of one Greek island will forever echo with Swedish disco-pop.
Mamma Mia's energetic, Abba-inspired musical extravaganza takes place amid the whitewashed walls of a sleepy seaside village. The star-studded cast set about solving a complex paternity case with choreographed dance routines and some very questionable vocal performances.
The island that hosts Mamma Mia's musical madness is Skopelos. Nestling in the Aegean sea, the remote island is administered from a port town with the same town. The rest of the island consists of forests, beaches and isolated farms.
Greece, being part of the EU, is open to residents of other union countries with minimal paperwork needed. Of course, the country's economic woes mean jobs are limited, and speakers of Modern Greek have a distinct advantage. Opportunities are advertised for English language teachers and in the tourism industry.
So if you're an Abba-mad Dancing Queen looking for fun in the sun, Skopelos could be for you.
The Beach: Ko Phi Phi Leh, Thailand – The Beach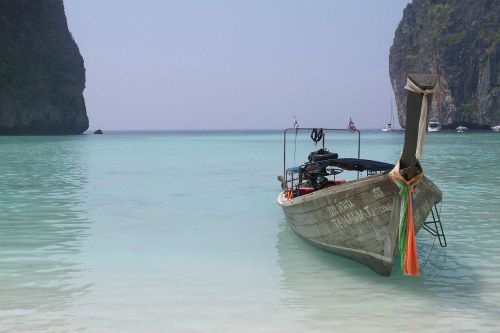 © Vyacheslav Argenberg
An exclusive tropical Eden: lush, bountiful and kept secret from the tourist hordes, The Beach is a hedonistic destination truly off the beaten track. That is until the secret leaks out and unwelcome backpackers invade, swiftly followed by angry drug dealers and deadly sharks.
Alex Garland's novel is a Rough Guide to the truly rough and gruff side of human nature, with the film version being just as gritty. In between the brutal existential crises, there is a chance to admire the truly spectacular beauty of this Thai island.
The azure water is enclosed by the headlands of Maya bay, making the sea especially calm and perfect for scuba diving.
Ko Phi Phi Leh is enclosed in a national park, protecting it from overdevelopment. Facilities are basic but sufficient for most visitors.
Thailand already has a vivid and varied expat community, with cheap living, a relaxed lifestyle and a spectacular landscape appealing to many. A large proportion of the population speak English, though some may insist on calling you 'farang' (foreigner) even after learning your name.
Life's a beach.
Various locations: Germany – The Grand Budapest Hotel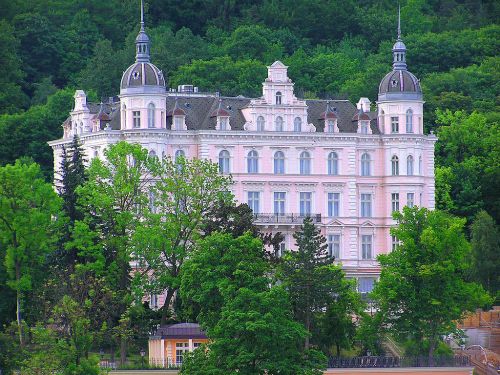 © Richard Schubert
The Grand Budapest hotel is the last word in luxury. Guests staying in her splendid suites will instantly be elevated to glamour and status. The Grand Budapest Hotel is the best hotel in the world.
At least, it would be if it existed. Wes Anderson's colourful caper about an overly committed concierge may feature a cast of stars, but the fictional hotel, in the equally fictional country of Zubrowka, steals the show.
A pastiche of several buildings across Germany, the exterior of the legendary Grand is the Palace Bristol Hotel in Carlsbad, whilst the interior is a disused department store in Görlitz.
Görlitz itself was also used as the exteriors for many of the film's exciting chase sequences and can make a strong case for being the real Zubrowka. Close to the Polish border, the quiet medieval town is a celebrated cultural centre with a growing tourism industry.
The German economy is the powerhouse of the EU, meaning a rich mix of jobs and a high standard of living, although high taxation will take a bite out of even the most luxurious of incomes.
Port Royal / Wallilabou: St Vincent & The Grenadines – Pirates of the Caribbean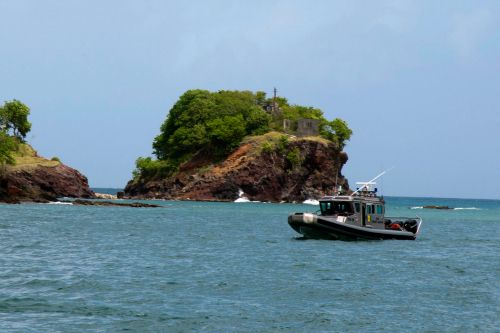 © US Department of Defence
Avast me hearties! Join bumbling pirate Jack Sparrow in raiding the town of Port Royal… or simply sip a rum on the beach of this Caribbean hideaway.
Disney's swashbuckling adventures used many locations around the Caribbean, but Wallilabou featured in all the films in the franchise.
The secluded bay is a popular anchorage for yachts exploring the Grenadines and the restaurants on the shore are famous for their fresh seafood. Hotels in the area have kept costumes and props, allowing guests to dress up and live out their pirate fantasies.
Brits visiting St Vincent don't need a visa but will need to apply for residency and work permits for longer stays. As a former British colony, English is the official language although Creole is spoken by most Vincentians.
The country has no direct taxation so is used by some modern pirates to bury their treasure.
King's Landing: Dubrovnik, Croatia – Game of Thrones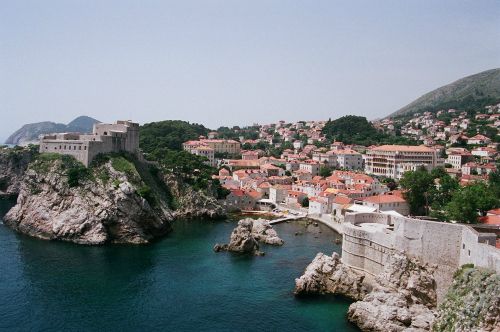 © Raime
Technically not a movie, but TV's gory tale of kings and dragons uses such stunning settings that we'll include it anyway… there's a chance of us being beheaded if we don't.
The show's wandering warriors have been from one end of Westeros to the other and over the Narrow Sea, but all the locations depicted exist in the real world. Luckily dragons do not.
Much of the intrigue takes place in the capital of King's Landing, as usurpers attempt to overthrow the crown while the malignant King Joffrey torments those under his control.
King's Landing is portrayed on screen by Dubrovnik, a walled city on Croatia's Adriatic coast with historic building that date back to the 7th Century. In the years since the port trades with the Ottoman world as well as the European powers have forged a unique culture mixing many international influences
Croatia has a growing expat community, especially around the universities in Zagreb and Split. Whilst the cost of living is low, salaries are also far lower than average. Visas can be difficult for non-EU citizens and residence permits apply to all.
If you're a fan of the swords and sorcery show, Dubrovnik could be your fantasy home.
Amity Island: Martha's Vineyard – Jaws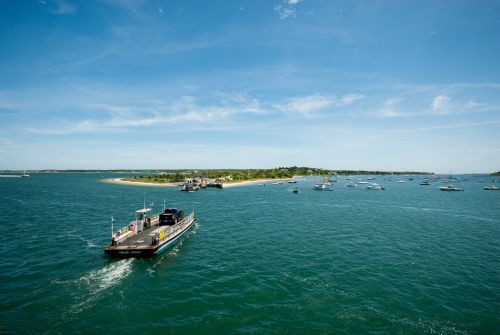 © Arwcheek
Steven Spielberg's classic horror movie made an entire generation too terrified to dip a toe in the water. The residents of Amity Island are frightened of the giant man-eating shark, but they're even more terrified of it scaring off the tourists upon whom the town's economy depends.
Martha's Vineyard, Massachusetts was the perfect location for the wealthy, middle class holiday haven, with real residents acting as extras in the film. The small population includes a surprising number of celebrities and statesmen holidaying in the area.
Due to the seasonal nature of work most permanent residents will work several jobs during the busy summer months, then pursue creative projects in the winter cold begins to bite.
Fallujah: Rabat, Morocco – American Sniper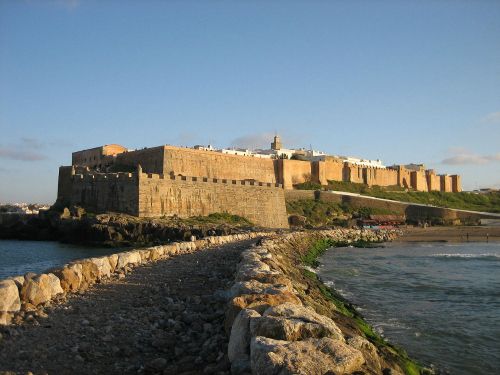 © Ben Javelina
The bruising violence of war-torn Iraq is played out on the historic streets of the Moroccan capital in Clint Eastwood's gritty American Sniper.
Bradley Cooper's marksman took lethal aim at the bad guys on a battlefield set that was actually a UNESCO World Heritage Site with global reputation for art and music and a thriving surf scene.
Rabat sits on the Mediterranean coast, where it has stood as a crossroads between the Arab and European worlds. Ornate mosques and palaces sit in the old city of Medina, whilst the suburbs boast a vibrant café culture and shopping malls.
An easy-going and safe city, Rabat's mix of culture and history means the city regularly tops 'must visit' polls.
Morocco advertises for language teachers and engineers as well as business leaders. With English being the third most common language, knowledge of French or Moroccan Arabic would be an advantage. Expats report a maze of red tape to gain residency but a warm welcome from locals.
Too many films to list: New York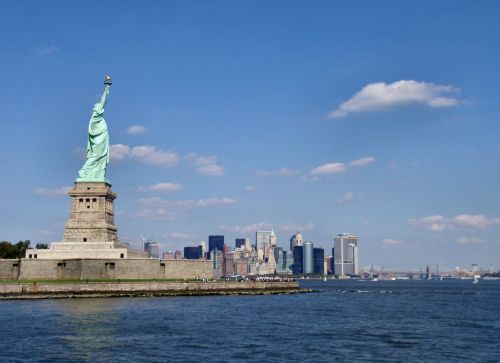 © Derek Jensen
New York, New York. A city so good they named it twice… and made hundreds of films about it.
The Big Apple is a larger than life character, starring in more films than we can list here. Dramas, horror, action, rom-coms and musicals have all played out on the streets from Staten Island to the Bronx. Will Smith has battled aliens on her rooftops and Dan Ackroyd swam in ghostly goo in her sewers. It's where Harry met Sally and King Kong had his reign of terror.
New York can be a terrifying place to live, with the city's brisk pace resembling rudeness, but expats recommend joining clubs and signing up for classes as good ways to meet friendly neighbours. The expensive city is a good place to work and socialise, but many expats prefer to live in the cheaper and greener suburbs.
It's important to have a job offer to qualify for a visa, but agencies and recruiters are often able to guide you through the process.
If you're hungry for a new challenge, try taking a bite out of the big apple.
What's your favourite movie? Have you been inspired to move abroad by something you watched or read? Let us know in the comments!
Article by Andy Scofield