Amidst an increasingly invasive urban landscape, there are fewer places one can go to get away from it all. Fortunately, the European continent still has some carefully preserved rural areas that are ideal for those who prefer more peaceful and remote destinations. These places probably won't have the best high-speed internet or public transport facilities, but have much to offer in the way of natural beauty and picturesque scenery.From forested mountains to isolated beaches and wine country, there are a variety of regions to choose from, each with their unique rustic charms. They are all sparsely populated, with vast open spaces largely free of habitation. Many have long stretches you can travel without seeing another human being. Whether you want to spend time alone or with your family, these places let you get close to nature and experience the slower pace of countryside life.
Here are eight of Europe's best rural destinations for expats to explore.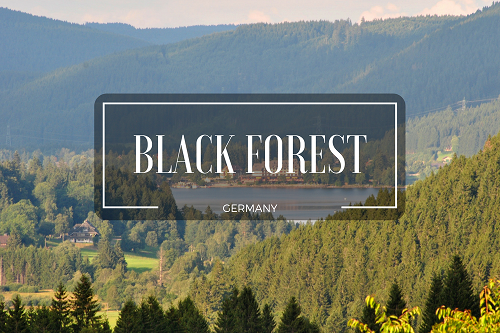 © Ignaz Wiradi on Wikipedia
This stunning mountain range in southwest Germany should be near or at the top of the list for any introverted traveller. The Black Forest (Schwarzwald in German) got its name because the sheer density of evergreen cover leaves little room for sunlight to peek through. It provides an almost eerie backdrop that became the setting for many of the Grimm Brothers' fairy tales. The vast area (over 6,000 square kilometres) features gorgeous natural landscapes that include the many hills, valleys, rustic villages, thick forests, parks, rivers and lakes that it's home to.
Even in the more populated areas, you are never more than a short walk or bike ride away from an isolated stretch of natural beauty. Hiking, biking and fishing are popular activities, but the possibilities really are endless. The lakes Titisee and Schluchsee are frequented by tourists and offer a variety of watersports; Baden-Baden and other spa towns offer thermal baths and resorts; and the highest peak (the Feldberg) provides excellent slopes for skiing. Amongst the many other rural attractions to explore are the numerous vineyards, nature parks, museums and the cuckoo-clock industry.
To cap it all off, the region is renowned for its gourmet cuisine (most famously the Black Forest cake and ham), and is home to an extraordinary 17 Michelin starred restaurants. Whatever your taste, the Black Forest is sure to deliver an amazing experience.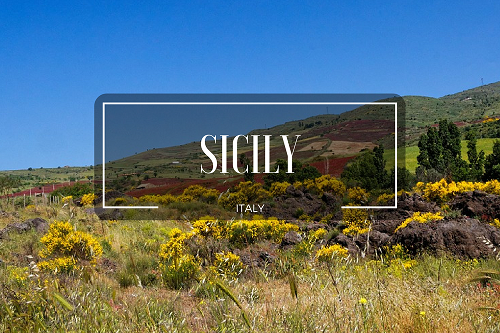 This beautiful Mediterranean island off the southern coast of Italy has a variety of sparsely populated areas that make for a perfect rural getaway. Secluded beaches, rustic towns, forests, farms, vineyards and a captivating mountain region all beckon the nature-loving traveller. The exquisite scenery here is probably enough reason to visit, but there is so much more to appreciate.
The rich Sicilian culture and history form an integral part of one's experience of the island, with many examples of ancient Greek and Roman design to be found. The numerous castles, churches and villas make for interesting visits, including seven UNESCO World Heritage Sites that are found here. One of them is the Mount Etna, Europe's largest active volcano located on the eastern coast, which creates a unique landscape in the region.
There are several quaint villages and municipalities that allow you to immerse yourself in the rural Sicillian way of life, such as Castelmola, Savoca (which famously featured in The Godfather film), Novara di Sicilia, and Montalbano Elicon amongst many others. This is all without mentioning the local Mediterranean cuisine, which is probably the freshest and most delicious to be found anywhere in the world, from the shellfish and citrus to the wines and cannoli.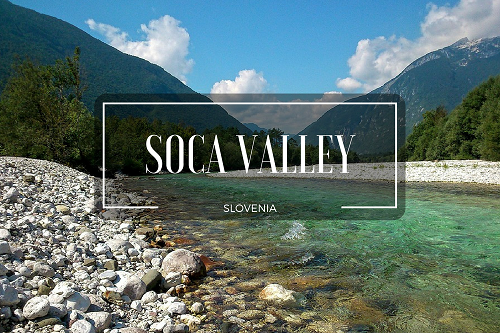 Tucked away in North-West Slovenia's Julian Alps, the Soča Valley provides a scenic landscape that's ideal for some quiet introspection. The mountainous region features the stunning emerald-green river Soča with its captivating hues and waterfalls. The small towns, villages and farms in the area offer peace and tranquillity, some amazing nature trails for walking and cycling, as well as an exciting selection of water and adventure sports such as rafting, paragliding and zip lining over the intimidating canyons. So enchanting is the area around the town of Bovec, that it was used as a location for the 2008 fantasy film The Chronicles of Narnia: Prince Caspian.
Kobarid is another charming settlement in Soča Valley that is a must-visit and a possible place of residence for expats. A museum is dedicated to the historical significance of the region as a battlefront in World War I, and there are numerous sites in the Valley that pertain to it. It's also home to some of Slovenia's finest restaurants and a good base from which to explore the photogenic area. Tolmin is a nearby town with beautiful hiking trails that lead to the colourful Tolminka gorge. There's also the vast Triglav National Park (Slovenia's only one) which extends around the country's highest peak, the Triglav. There are sights aplenty to explore in the rural wonderland that is Soča Valley.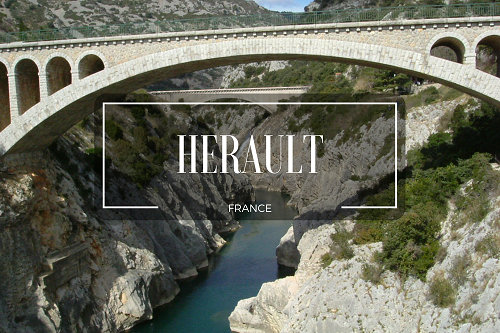 © Stefan Fink on Wikipedia
Located in the South of France, the department of Hérault is perhaps better known for its Mediterranean beaches, but a short distance away from the coastline emerges a mountainous rural paradise. The interior countryside is dotted with quaint, historical villages and makes for some of the best hiking and cycling routes to be found anywhere. Much of the area is yet undiscovered by tourists, so you can often have the scenic, unspoiled landscapes all to yourself.
One such rural gem worth exploring in Hérault is the small village of Villeneuvette, originally built in the 17th century as a royal cloth-making factory for King Louis XIV and to house the workers there. It's an almost completely pedestrianised village with gorgeous sights and hiking trails in every direction. Not too far away is the uniquely beautiful Cirque de Mourèze, a vast expanse of free-standing dolomites and sights dating back to prehistoric times; and the Lac du Salagou, a stunning lake with vivid orange and red colours that permeate its surroundings. Hérault's many lakes and rivers offer a variety of fishing, boating, and water-based activities to choose from too.
The area is a popular destination within the expat community, and is surprisingly well connected by public transport. A big part of the experience is also the fresh Mediterranean cuisine that is found here. It is certainly worth travelling the region to discover the many rustic jewels it has hidden away.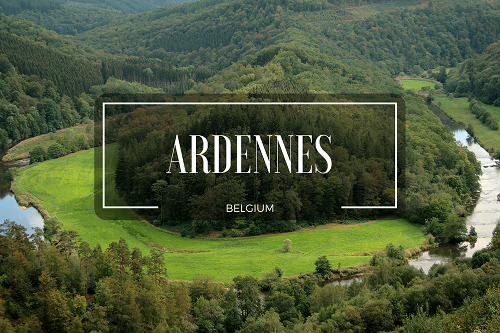 © Jean-Pol GRANDMONT on Wikipedia
The southeastern corner of Belgium has one of the lowest population densities in Europe, and features this undulating region of spectacular forest hills, river valleys, medieval villages and underground cave systems. The fresh air and picture-perfect wild, green landscapes make it an excellent location for a variety of outdoor activities like hiking, climbing, cycling, fishing and hunting. In winter months the Ardennes becomes an ideal spot for skiing, tobogganing and other winter sports.
Nestled in the valleys of the Ardennes are some of the most beautiful medieval villages that need to be explored not just for their traditional folklore, but also the many ancient castles, citadels, monasteries and churches to be found here. The Meuse, Ourthe and Lesse valleys are home to some dramatic cave systems that were formed by underground rivers through centuries of cutting through and dissolving the limestone hills in the region.
If relaxation is high on the agenda, there is the town of Spa (from which the English word originates) with its many healing natural springs to visit. There are delicious things to eat here in the Ardennes, especially the locally farmed pork products like ham and pâté.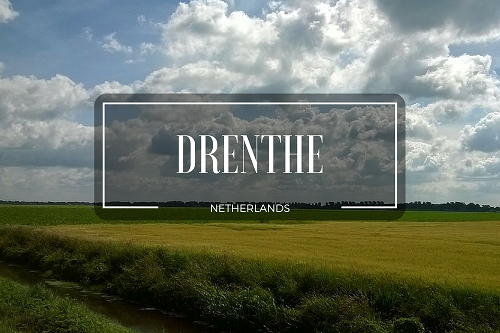 The northeast of the Netherlands has some particularly scenic rural areas, but the province of Drenthe is perhaps the most sparsely populated and isolated of them all. The more introverted of us are sure to appreciate the sheer quietude of this pristine countryside, whose history dates back to prehistoric times. Most of the land in Drenthe is used for agriculture, and the vast, flat heathlands make for the longest and most beautiful dedicated cycling paths in the world. If you are keen on cycling for long stretches and being alone with your thoughts, look no further than the 'Cycling Province' of the Netherlands. The paths weave their way through the marvellous ancient landscape of forests, canals, saxon farms and peat moors. Along the way you'll find small towns and villages for refreshment, each with their own historic sites and stories. Part of the region is the Dwingelderveld National Park, Western Europe's largest wet heathland, which creates a magnificent purple carpet when in late summer bloom.
For history buffs, the remote town of Hooghalen is located near World War II deportation camp Westerbork, where Anne Frank and thousands of other Jews were put on trains to be transported to Auschwitz. Several memorials and a museum are dedicated to the prisoners who were held here.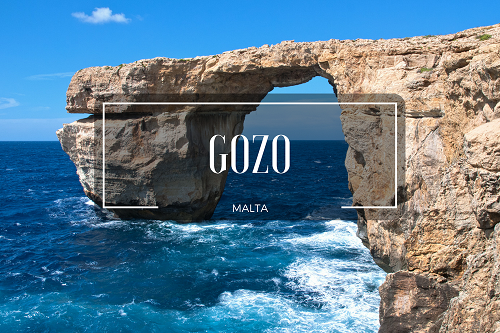 The second-largest island of the Maltese archipelago in the Mediterranean Sea, Gozo is more rural than its sister islands and renowned for its lush greenery, scenic hills, breathtaking coastlines and historic structures. The numerous villages on the island have preserved their traditional way of life that revolves around farm work, and it's soothing to immerse oneself in the timeless culture of its 30,000 inhabitants.
Believed to be the mythical island Ogygia in Homer's Odyssey, Gozo roughly covers the same area as New York's Manhattan island (67 square kilometres), and much of it is navigable by foot. The paths here are quiet and pleasant so walking is sure to be a popular activity for introverts to spend some time alone. There are a few points of interest to visit here, amongst them the neolithic Ġgantija temples which date back over 5,500 years and are one of the planet's oldest standing structures.
The Mediterranean coastline is perfect for deep sea diving, with a few popular dive sites on the island. If that's something you fancy, there is much to learn and appreciate about the sea life and underwater geography of the area. Above ground, there are many impressive hiking trails to choose from, and a high concentration of churches and citadels to visit. The island is also known for its fresh local seafood and artisanal cheeselets, a delight for most palates.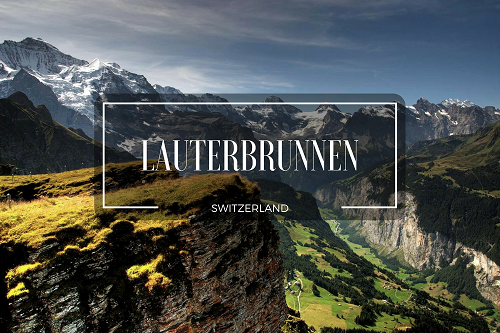 The name of this gorgeous Swiss Alpine valley "Lauter Brunnen" literally translates as "many fountains" and it certainly lives up to its billing, with no fewer than 72 waterfalls roaring all year round. The valley is sandwiched between enormous rock faces and mountain peaks on either side, creating a magical rural countryside. Small settlements in the valley like Wengen, Mürren and Gimmelwald are only accessible by a gondola lift or by foot. Upon reaching these heights on clear days, you get the most spectacular views of the entire landscape. The Schilthorn peak, 10,000 feet high, rises above the town of Mürren and was the setting for the 1969 James Bond movie, On Her Majesty's Secret Service. In the vicinity is also the highest peak of the region, the Jungfrau, whose summit provides far-reaching views of the breathtaking mountain scenery.
The largest of the valley's 72 waterfalls, Staubbach Falls, is located just outside the village of Lauterbrunnen and its magnificence is visible from a great distance. With a steep 300-metre drop from an overhanging valley, it is one of Europe's highest unbroken waterfalls and is said to have inspired Johann Wolfgang von Goethe to write one of his famous eighteenth century poems, Spirit Song over the Waters.
Needless to say, there are boundless opportunities here for walking, hiking, mountain biking, camping, and a plethora of other outdoor activities. The pristine, seemingly untouched rural environment is also perfect if you just want some space in the middle of nature for silent contemplation.
Sources: [1], [2], [3], [4], [5], [6], [7], [8], [9], [10], [11], [12], [13], [14], [15]