At the end of a long working day, there's nothing better than turning down the lights, pouring yourself a glass and settling down to watch a movie.
Chances are you spent most of that working day wishing you were somewhere else: somewhere more interesting, more exotic, and with people more interesting than Colin from accounts.
Film lovers can globetrot from the couch, visiting all the world's wonders with a bowl of popcorn in hand and experiencing new cultures whilst slobbing in cosy pyjamas.As comfortable as this may be, it's no substitute for the real thing.
Perhaps your silver screen travel fantasies are more than just temporary escapism. Maybe you're telling yourself to get up off that comfy couch and onto a camel, or a motorbike, or a train going to who-knows-where?
Maybe, thanks to your adventures in celluloid, what you're really craving is swapping that popcorn for your passport and setting off on an adventure all of your own.
We've watched more than our fair share of travel movies: films that have given us itchy feet and had us reaching for our luggage. Be inspired to get off the couch and hit the road by these movies that will give you wanderlust.
1. Secret Life of Walter Mitty (2013)
Inspired by James Thurber's 1939 short story of the same name, the film updates the story and character. Ben Stiller's Mitty is a shy, awkward photo editor at Life magazine who livens up his dull days with vivid daydreams. These sequences liven up a depressing tale of a man cruising aimlessly through life; that is until his job is threatened.
The digital age catches up to Life and Mitty is facing redundancy. He takes it upon himself to track down a missing negative from photographer Sean O'Connell (Sean Penn). Mitty becomes obsessed with recovering the lost image, which he believes will be iconic and thus give meaning to his secluded life.
Instead Mitty sets off on a mad chase around the world, tracking down O'Connell and thus living the life he always dreamed of, doing daredevil stunts and visiting exotic locations.
As Mitty gets more and more into his new lifestyle he takes more risks and relaxes into an outgoing, more confident person. To underscore his change in personality, the daydreams become less frequent throughout the film.
The film has its ridiculous moments but a light touch and some genuinely moving moments make it an inspiration for desk-bound nomads everywhere.
2. Motorcycle Diaries (2004)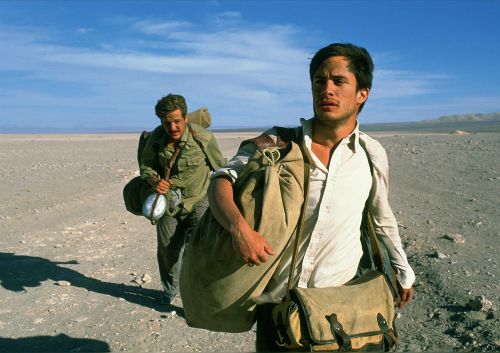 © Buena Vista
Based on the diaries of Argentinian revolutionary Che Guevara, this film follows Guevara's adventures with best friend Alberto Granado (Rodrigo de la Serna) on rickety motorbike La Poderosa (The Mighty One).
Guevara is a controversial figure, but is skilfully depicted by actor Gael García Bernal, and this film paints a picture of a young Guevara before his involvement in the communist revolution.
Guevara and Granado set out from their middle-class lives in a Buenos Aires medical school for four months of misadventure, drinking and girl-chasing across South America.
When Poderosa, now more noble steed than motorbike, finally gives out in a surprisingly heart-rending scene, the two are forced to walk across the barren landscape.
Their trek helps them meet the local peasants they'd previously sped past on the bike. Now the two young doctors get a first-hand look at the suffering caused by poverty and the brutal treatment of workers by ruthless bosses.
Eventually they reach a leper colony in Peru, refusing to stay with the privileged medics, preferring to live and work with their patients.
Any political subtext can be absorbed in this epic adventure of two friends flirting their way through some of the most spectacular landscapes ever seen on film.
3. Up (2009)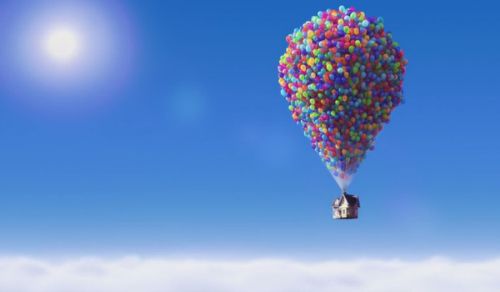 © Disney
For an animated kids' film, Up gives a philosophical look at old age. The film's star is a cantankerous old man whose bitterness leaves him isolated.
The pre-title sequence explains that Carl was once a shy but adventurous little boy, with dreams of adventure. The tear-jerking intro shows a life of love, tragic loss and unrealised dreams. Carl's grumpiness extends from knowing that he missed his chance at an action-packed life of exploration.
At least, that's how it seems until he straps several thousand balloons to his house and accidentally kidnaps a young boy (we did mention this is a cartoon right?).
Carl's planned solo mission goes awry and he quickly learns to embrace his new friends and to be open to new experiences: valuable lessons for any true explorer.
If we learned one lesson from this film, other than how cool talking dogs are, it's that it's never too late. As Carl says, 'adventure is out there' and it's never too late to go find it.
4. Lost in Translation (2003)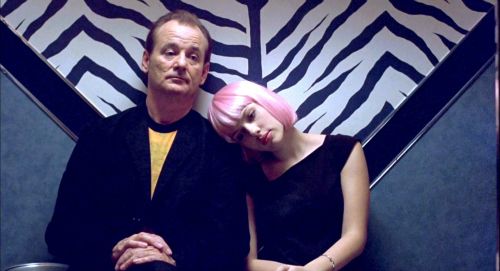 © Focus Features
An unlikely friendship sparks between aging actor Bob (Bill Murray) and unfulfilled graduate Charlotte (Scarlett Johansson) when the pair meet in a Tokyo hotel.
Bob's career is in a downward spiral, as is his 25-year marriage. He arrives in Tokyo to shoot a whisky commercial in a depressed funk.
Charlotte is in Japan with her photographer husband but is stuck at the hotel as he excitedly shoots glamorous models, leaving her to wonder what she's going to do with her life.
Through various encounters in the hotel bar and eventually exploring the bright lights of Tokyo, the pair bond and begin to lighten each other's lives.
Whilst Tokyo is used primarily as a metaphor for loneliness, there are spectacular uses of the city's landmarks and a fun trip to a karaoke bar. Less of an exploration of any one city, this is an exploration of friendships made on the road.
5. In Bruges (2008)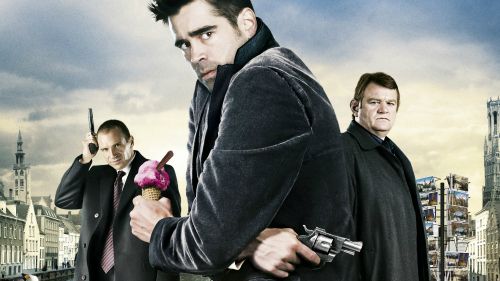 © Focus Features
The black-comedy tale of two hopeless hitmen hiding out in a Belgian town after a botched job, the city is as much a character as hilarious Ray (Colin Farrell) and Ken (Brendan Gleeson).
Many jokes are made at the expense of the mediaeval town, with Ray exasperated by Ken's insistence on 'seeing the sights' whilst the pair lie low from the law.
With the help of the local lager, a large amount of cocaine and a racist dwarf, the pair start to enjoy the city and Ray begins to recover from the trauma of his fouled shooting. He even feels well enough to begin dating beautiful drug-dealer-to-the-stars Chloe (Clémence Poésy).
Things take a desperate turn when mob boss Harry (Ralph Fiennes) turns up in town to kill Ray. After the funniest gun battle ever filmed, In Bruges masterfully uses the city landmarks in a dream-like climax in which Ken and Ray show the strength of their friendship and Harry's warped morality is tested.
Despite continually poking fun at Bruges and the Belgians, the city has seen an uptick in tourism since this film's release.
6. Y Tu Mamá También (2001)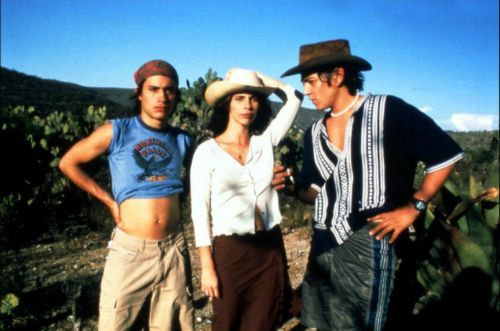 © Anhelo Producciones
Two teenagers are joined by an older woman as they set out on a journey to a mythical beach.
Best friends Julio (Gael García Bernal) and Tenoch (Diego Luna) are sex-mad teenagers whose girlfriends have gone travelling to Italy, leaving the boys to behave like desperate bachelors.
The pair meet beautiful older woman Luisa (Maribel Verdú). They invite her to join them on a road trip to a secluded beauty spot, without revealing they only made it up to impress her.
Of course it's only a matter of time before hormones get involved and complicate this glorious tour of rural Mexico and the spectacular coast. The love-triangle-on-wheels gathers speed until one drunken night of passion changes the boys' friendship forever and Luisa leaves them for good.
Part epic travel movie, part teenage fantasy, the film is gritty in its delivery and pulls no punches with its sex and violence. This true road movie is far from a smooth ride.
7. Im Juli (2000)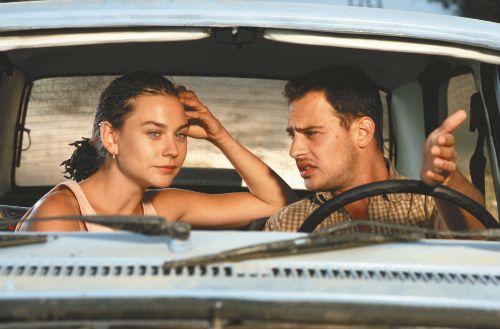 © Quality Pictures
Daniel (Moritz Bleibtreu) is a naïve, shy and boring school teacher. Juli (Christiane Paul) is an artist who sells jewellery on the streets of Hamburg.
Juli has already fallen in love with the oblivious Daniel and concocts a plan to win him by selling him a 'magic' ring. Emblazoned with a fiery sun, Juli tells Daniel that he will one day see his one true love wearing the same symbol. She invites him to a party that night, intending to show him her own, matching ring.
Before she arrives at the party, Daniel meets a Turkish woman wearing a t-shirt featuring a similar design and Daniel falls for her.
The coincidences compound the next morning when the Turkish woman returns to Istanbul and Daniel decides to drive across Eatern Europe to be with her, inadvertently picking up Juli as a hitchhiker.
The farce accelerates as the pair bumble their way to the Bosporus and Daniel slowly matures. By the time they reach Istanbul he's a new man with different ideas about love.
8. The Darjeeling Limited (2007)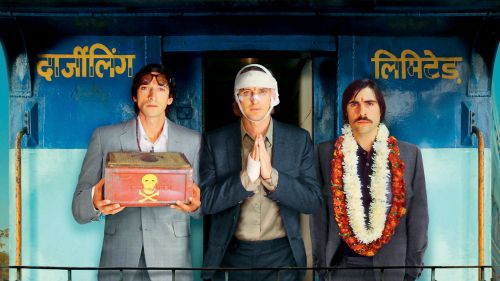 © Fox Searchlight
This film may feature an all-star cast, but the real stars are the eponymous train and India herself. Three estranged and deeply depressed brothers (Adrien Brody, Owen Wilson and Jason Schwartzman) board the train on a journey of self-discovery through spectacular scenery.
Wes Anderson's wacky adventure is both hilarious and troubling as each of the brothers battles his own demons, struggling to rebuild connections with his family amid bickering and drug abuse.
There are close encounters with Hindu spirituality, a beautiful stewardess, brutal fistfights and an escaped cobra to contend with. Ultimately though, the brothers are converted from selfish, childish brats to supportive and even heroic men.
The film may be about the dysfunctional family, but India is more than just a backdrop to the action. The Darjeeling Limited, inspired by the real-life Darjeeling Himalayan Railway, steams across the country allowing the brothers to explore the towns along the route.
9. Into The Wild (2007)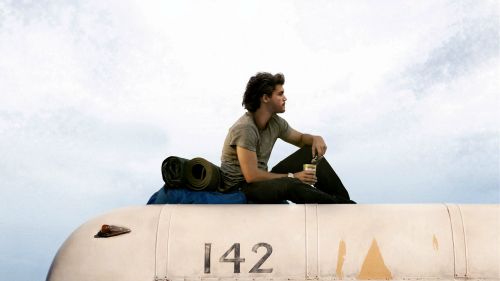 © Paramount Vantage
Based on a true story, Christopher McCandless (Emile Hirsch) graduates with honours and looks set for a high-flying career. Instead he gives away his life's savings and destroys all identifying documents.
Reinventing himself as the world's ultimate traveller, Alexander Supertramp, he sets out to explore North America. Based on a book of the same name, the film pieces together scraps of what is known of Supertramp's wanderings from Arizona to Mexico and back to California.
Inspired by Jack London's adventure novels, Supertramp rejects modern life for what he believes is a pure life in nature, travelling solo through harsh environments.
Supertramp's freedom and adventures come to a tragic end in the freezing snows of Alaska. He sets out with minimal supplies and a 22. hunting rifle with the intention of living off the land. As his health wanes, Supertramp analyses the philosophy of his adventures reflecting a need for human companionship.
Directed by Sean Penn, Into The Wild masterfully depicts the poetic relationship a solo traveller can have with a virgin landscape, but also captures the crushing loneliness of Supertramp's travels.
10. The Way (2010)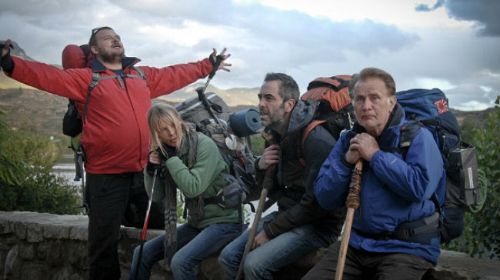 © Filmax
Directed by his son Emilio Estevez, Martin Sheen plays Tom, an American doctor who travels to France in order to collect his adult son's ashes.
Daniel, also played by Estevez, has quit his career in order to travel the world, against Tom's wishes. Tragically Daniel dies whilst walking the Camino de Santiago, a pilgrimage route that runs from Southern France to the Atlantic Coast of Spain.
Tom decides to honour his son's journey by walking the route himself with Daniel's rucksack. Along the way the gruff old man meets others walking the route for their own reasons.
Flashbacks along the walk paint a picture of Tom's relationship with his son, painfully illustrating how he alienated Daniel and underscoring this current grief.
By the end of the route Tom has learned to lighten up and to open himself to new experiences, having made an eclectic group friends along the way.
The conclusion of the movie is wonderfully open ended, leaving viewers to conclude for themselves how each character has grown.
What are your favourite films about moving abroad? Were you inspired to move to a new country after seeing it in a film or book? Let us know in the comments!
Article by Andy Scofield