Living overseas makes even the simplest task just that little bit more complicated.
Keeping in touch with family, ordering a meal, managing your money; it can all become confusing. Different bureaucracies, language barriers and time differences mean that you can become lost when doing tasks in your new home, and cut off from dealing with issues at home. It can be difficult to balance the budget, eat well and communicate effectively. All these small inconveniences can quickly add up to make even the easiest errands a troublesome task.Luckily there is a wide range of high-tech help out there to keep expats from exploding with frustrations. Supercomputer accounting software, real-time translators and etiquette advisors can all be carried with you in the form of assisting apps.
Initially, expats using these apps may find themselves glued to their handheld helpers, rarely pausing to look up to take in the scenery. As much as it is a shame to walk through an exciting new culture in a tech-bubble, these apps can help new arrivals find their feet. Once the worrisome work is done, you can take a relaxed, enjoyable walk around your new neighbourhood.
We've identified the top 10 digital tools designed to help the stressed-out traveller. If you are heading overseas anytime soon, install these apps and take the time to get familiar with them. You will be surprised just how helpful they can be.
Wi-Fi Finder
The first thing your phone will need to run any of these apps is an internet connection.
Getting online can be easier said than done in some parts of the world. Expats who are used to hopping from one public hotspot to another may feel like they've travelled back in time, to an age when before universal connectivity.
Rather than wandering around the street, looking for 'we have Wi-Fi' stickers in café windows, Wi-Fi Finder brings up a map. The app uses an easy-to-navigate interface for the city you're in, connecting you with the worldwide web.
Google Translate
Learning the lingo is all well and good, but there will be many occasions each day in which no textbook in the world can help you.
Trying to read signs, error messages on computers or leaflets through your door can be tricky unless you already have a grasp of the language.
Google's smart little app is designed to put a fluent-speaking interpreter in your pocket. Expats can scan troublesome texts with the camera, getting instant translations. The app can be the third person in a conversation, translating back and forth to a friend despite you have having no words in common.
WhatsApp
This is a pretty useful app for everyone, saving money on text tariffs. Making use of internet connectivity, the app can send messages direct to phones anywhere in the world for free.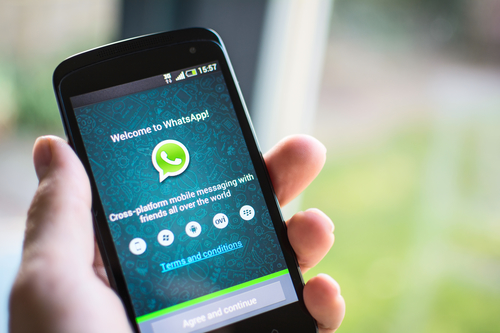 WhatsApp is a handy way of keeping in touch.
WhatsApp allows users to send messages and videos to individual recipients or groups, making it easy to chat privately or update a family group with all your latest news. With a reliable connection, WhatsApp can be used to make voice or video calls, which are also free of charge.
pCloud
Keeping a safe store of documents is essential for expats, but isn't always easy. With stacks of papers for passports, visas, employment contracts and payslips, half your luggage may be filled with important paperwork.
But what about a backup for this vital information? Keeping a digital copy, stored securely online can make it easy to reference, or even share files with other users. This online filing system makes it easy to set up new folder and send links to whoever needs the information. They won't be able to see anything you don't want them to or alter the originals.
Moovit
Public transport can be complicated enough in a city you already know, when you can read the map. Moovit is there to take you by the hand and guide you through 2,000 cities in 80 countries. The app talks to bus, train, subway and tram companies to find the fastest way from A to Z, avoiding pesky delays at B and C.
Moovit's tech-wizards are constantly analysing the journey the users make in order to continually update their travel advice.
OpenTable
Hungry for culture? This is the app for you! OpenTable connects hungry diners with delicious dinners. Scroll through the app and find free reservations in the best local restaurants, exploring by the type of cuisine that whets your appetite.
Flush
Wherever you are in the world, there are always certain things that need to be done. And when you got to go…
Especially useful with those who need specialist facilities, this app uses location data to quickly guide you to the nearest appropriate public toilets. The app interfaces with mapping apps to let you know walking, driving or public transport directions.
Duolingo
One of the world's most popular language-learning apps. Broken down into bite-sized chunks, the curriculum is easy to follow and builds up to quickly give you useful phrases.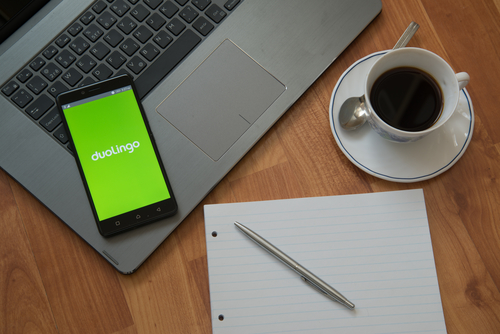 Duolingo can help you brush up on your language skills wherever you are
Offering 23 languages, the app has 200 million students – although they could just as easily be called gamers. The lessons are structured as games, with points awarded for correct answers, making the app educational and addictive.
Yolt
This app is still preparing to roll out across Europe. It will be a powerful budgeting tool when it does!
Not only does the app watch your bank balances but it spots trends in your spending habits, shopping around for deals and offers that may help you manage your money better.
Doctoralia
There is almost nothing worse than being lost in a new culture and falling sick. Finding a doctor that can understand your complaints and treat you in a way that you find comfortable can be a daunting task.
Doctoralia lets expats shop around for local physicians in over 20 countries. Find addresses for specialist clinics, read reviews from previous patients and call directly to book an appointment. All this is quick, easy and free; and could be a life-saver.

Are there any other apps you'd recommend for expats? Let us know in the comments!