The possibility that Britain might exit the EU without a deal on the table is currently looming large in everyone's mind, not least for British students planning to go abroad to study.Much obviously depends on the nature of the actual exit; a 'Norway' style departure probably wouldn't have a major effect on studying abroad, but a 'hard' Brexit could lead to British students being treated as third party nationals once they cross the Channel (and possibly the Irish Sea too), which would have a knock-on effect on tuition fees and residency requirements.
What Are The Possible Consequences Of No Deal?
In the event of no deal at all, therefore, it is possible that UK students will have to pay full international fees for their education in the EU with immediate effect, which could also lead to the cancellation of existing grants and loans. If student fees are negotiated as part of a wider trade agreement, this might not happen, but it remains a possibility.
Where you study will also make a difference. There are low cost options in France, Spain, Italy and Germany, where tuition fees remain low for everyone. Courses taught in English at Bachelor's level, however, do tend to come with higher fees.
Who Will It Affect?
UNESCO estimates that in 2018, around 33,000 British students studied abroad, and of those, some 13,000 studied in EU countries. This is a decrease of at least 2,000 people from 2014-15, and a recent British Council survey of 1,000 UK undergraduates found that the numbers of UK students wanting to study abroad has plummeted in recent years.
According to the report, this is due to several factors, of which Brexit is only one:
"Living costs abroad and tuition fees were the biggest turn-off for more than half of those who said they did not want to study abroad. This was followed by difficulty leaving loved ones, being happy in their life in the UK and a lack of confidence in foreign languages."
A third of the students interviewed said that they believed that the UK was the best place to study their chosen subject. However, concerns over Brexit were cited as a contributory factor to their anxieties. Zainab Malik, research director for the British Council's research service Education Intelligence, said:
"Today's students face a quickly transforming world and have to contend with instability on a number of fronts… The UK's place in an unpredictable global environment remains undefined, the pound sterling remains weak, and political and economic shifts have left young people feeling lost and uncertain about their future."
Quite aside from Brexit, funding issues appear to be the biggest concern among British students, with 70 percent of those interviewed saying that they would consider studying abroad if grants were more freely available.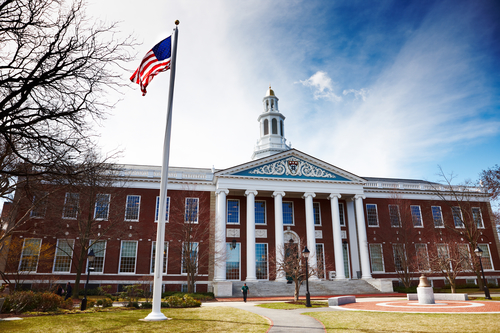 The USA remains the most popular location for British students
The British Council says that America remains the most popular destination among British students, followed by Canada, and then Germany and France. Obviously, study in the latter two countries could be affected by the lack of a deal.
How Will Brexit Affect The Erasmus Programme?
Many UK students have studied in the EU under the European Community Action Scheme for the Mobility of University Students (ERASMUS), an initiative run by the EU which provides opportunities for students to study or gain work experience in a different European country to their own while completing their degree. Currently, it isn't clear how Brexit might affect British students studying in Europe. Unless specific agreements are put in place, UK students will be subject to different regulations and increased tuition fees – which also applies to EU students coming into the UK to study. It isn't clear whether UK students will continue to be eligible for the Erasmus student exchange scholarships. The Erasmus programme had its 30th anniversary in the UK in 2017 and has dealt with thousands of people in Britain across its existing remit.
It is still premature to panic. With a deal, it's likely that the programme will continue until its scheduled end date. However, no deal could have serious consequences for Erasmus. After voters in Switzerland decided via referendum to re-introduce quotas for EU immigrants in 2014, the country found itself locked out of Erasmus+ eligibility by the EU; not as a punishment, Brussels said, but as a legal consequence of the decision. Not only Erasmus+, but also Horizon 2020, the EU research and innovation programme, could be adversely affected by the lack of a deal.
Jo Johnson, when Minister of State for Education, had a positive outlook, saying that the government will continue to: "underwrite successful bids for Erasmus+ which are submitted while the UK is still a member state, even if they are not approved until after we leave, and/or payments continue beyond the point of exit".
While that is encouraging, Vivienne Stern, writing in the Guardian in 2017, pointed out that:
"The new underwrite still does not go far enough. Universities still can't tell students who are applying for 2018 entry to university how their year abroad will be funded or organised. Without a clear line for students and parents, many universities are simply taking a punt that they will be able to find a way, with or without Erasmus+. This is far from ideal."
Could There Be Any Advantages?
The Study in Holland blog suggests that tuition fees negotiated as part of a trade agreement might experience some unexpected and positive consequences:
"… it is possible but not guaranteed that student loans would be made portable, meaning that the UK government would support you financially for the first time. This support would be available to students going to countries where a trade agreement is in place and would not necessarily be restricted to just EU countries. It could potentially include US, Australia, Canada, Japan and so on."
As always, therefore, it is critical to keep an eye on the situation as it unfolds.
Are you a British student living abroad? Share your thoughts in the comments below, or answer the questions here to be featured in an interview!