If you're concerned about stabling your horse in Barbados, then congratulations – this is a great problem to have! It's not always easy to find livery yards on the island, but in fact there are quite a few options.This shouldn't surprise us. Barbados has long been associated with matters equestrian, primarily polo and racing, but also dressage and show jumping. Its history in world class horse racing is indicated by the number of racehorse owners and trainers making their homes on the island. Flat trainer Michael Stoute, a repeated winner of the British Racehorse Trainers Championship and the US Breeders' Cup, is a native Bajan.
Champion trainer Bill Marshall, having moved to Barbados from the UK, also made a name for himself in equestrian circles on the island, saddling seven winners of the Caribbean's most prestigious race, the Sandy Lane Barbados Gold Cup, and nine Barbados Derby winners. Marshall was awarded the Silver Crown of Merit for his services to Barbados racing in 2003. Promising Cheltenham runner Black Jack Ketchum was retired to his owner Derrick Smith's farm in Barbados in the mid 2000s. The Garrison Savannah is one of the oldest horse racing tracks in the Americas, and racing itself in Barbados dates back to 1845 when British officers would race against rich merchants and plantation owners. So the island has a high profile history of services to both racing and riding, and if you're a horse owner, you're in good company.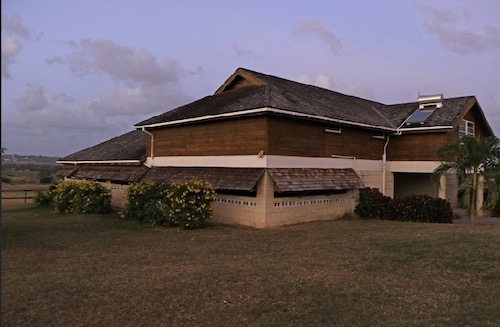 So if you're fortunate enough to own horses on the island, but don't have stabling of your own, where should you turn? The good news is that the island is home to a number of livery stables who will be happy to assist you. Some of these are riding stables as well as providing livery services. You can find out more on the 'livery stables' list provided by the Barbados Equestrian Association, which was formed in the 1970s and which promotes show jumping and dressage at an international level. The BEA is a member of the Caribbean Equestrian Association (CEA), formed in 1998, and should be your first port of call for all horse-related enquiries.
One option is Yorkshire Stables, which also offers a wide range of services, including boarding horses and rehabilitation and physiotherapy. The stables runs a breeding program in show jumping as well as thoroughbred racing, and they can provide lessons and training in show jumping for all levels. They're home to the 2014 Central American and Caribbean Games (CACs) and the 2015 Pan American Games Show Jumper, Emily Kinch. They tell us that Emily trained and competed at the international level in North America with one of Canada's best (and 10 time Olympian), Ian Millar.
"She is very passionate about her horses and works with a handpicked team of healthcare professionals to offer the best care to our equine athletes."
The Cleland Equestrian Club, established 20 years ago, offers full livery, featuring 2 full size schools on an all-weather surface. It has turn-out in paddocks along with trails right down to the beach and offers lessons and schooling of horses as well. Chief instructor Akoele Roachford-Shorey was trained in Germany in dressage and jumping, and has competed worldwide: she was the first female athlete of any discipline to have the Barbadian flag raised and the national anthem played, in Germany in 2004. This earned her the prestigious award, "Most Outstanding Female Athlete", presented by the National Sports Council in 2004.

Allison Cox, of Beau Geste stables, tells us that "there are many options on the island." Her own stable is located fairly centrally in St. George and she offers livery services.
Another option is the Congo Road Equestrian Centre, who represent the Barbados Equestrian Association. Dressage in Barbados is centred on the Congo Road arena, which is set in beautiful rural countryside close to Six Roads in Christ Church.
If you're into polo, you might alternatively like to contact Apes Hill Polo Club, part of the entire Apes Hill Club sports entity. Located on the West Coast of Barbados, this offers a full-sized field, and second practice field for polo matches, club chukkas, and lessons, but it also provides livery and horse care. The club has extensive facilities with stabling for over 100 horses as well as further acres of paddocks (contact their livery manager via the link below for details).
All the stables have email/phone and are quick to respond to enquiries, so your best plan, if you're seeking boarding for your horse, is to contact the stables directly or enquire with the BEA.
Find out more:
Barbados Equestrian
Yorkshire Stables
Cleland Equestrian Club
Apeshill Polo
Have you lived in Barbados? Share your thoughts in the comments below, or answer the questions here to be featured in an interview!