Belgium's cosmopolitan capital is undoubtedly one of the most beautiful, interesting and vibrant places across the globe. Famous for its chocolate, diamonds, beer, waffles and frites (avoid calling them French Fries or you may offend the locals), Brussels has become the center of political, cultural and international activities in Europe.
This dynamic city has a lot to offer, in terms of things to learn about, see and do, for people of all ages and nationalities. It is home to more than 90 EU institutions, UNESCO World Heritage sites, museums, architectural spots, and recreational parks. You will also find a huge variety of bars, clubs, cafes and restaurants all over town.Moving around in Brussels is quite safe and easy, thanks to its well-developed, yet affordable public transport network, which consists of a Metro system, trams and buses. Other factors that make this city a great place include high quality of life, mild weather, healthcare benefits, world-class education and the liberal mindset of the people.
Many diplomats and skilled expats from all over the world are therefore seriously considering Brussels as the next destination that they would like to settle down in. Today, around 27% of this country's population is made up of immigrants.
Few new arrivals are aware of the fact that the Belgian capital is a city of neighbourhoods. In fact, this place is often compared to Paris, which has districts divided into "arrondisments". Brussels is made up of 19 neighbourhoods, which are more commonly referred to as communes. Each of them has their own name, four-digit post code, and bilingual signs (French and Flemish). Moreover, every commune is represented by government officials, similar to a city hall or a mayor. These are the first authority for all the citizens as well as foreign residents, when it comes to local policies and civic issues.
Like in any other city, certain neighbourhoods are more desirable than others, especially for expats. However, most people choose their commune based on the size of their family and the location where they will work or study. While each of the 19 communities has something for everyone, below are some of the most popular choices of neighbourhoods in for expats.
Bruxelles Ville
Often referred to as the pentagon, Brussels City lies among the boulevards that envelop the historic and commercial center or "the ring" of the capital. A majority of visitors are asked to visit this area, so that they can soak in the sights of the Royal Palace, Grand Place and Brussels Stock Exchange.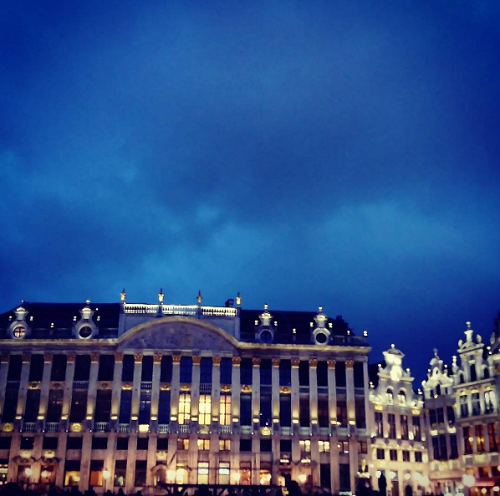 © jeviscachee.com
Recent renovations have increased its charms for the residents too. A majority of the urban expats working or studying in the capital prefer to rent an apartment in Brussels City, not just because of its proximity to the business and educational centers, but also thanks to its active nightlife.
However, finding a house in this area is a challenge, because of the lack of space. This neighbourhood is therefore not easy to find somewhere to live if you are a family with children. Heavy traffic is another downside of residing in the heart of the city.
Etterbeek
A highly urbanized commune, Etterbook has the densest educational network in the country, along with ample green spots and a growing international community.
Most expat families with young children find this district more appealing than the others, primarily because it is home to several 20th century styled townhouses, international schools and many cultural venues. Housing prices are relative reasonable too. Moreover, Etterbeek is regarded as a commercial hub, with the busy La Chasse neighbourhood, Place Jourdan and Rue Des Tongres.
Ixelles
Also known as Elsene, Ixelles is a huge community with ample style and character. It has become wildly popular with the expat community in Brussels for various reasons. There is a lot to see and do in this area for people of all ages and interests.
This neighbourhood offers easy access to the city but at the same time has a quaint, village-like feel to it. When it comes to housing options, you will find large townhouses as well as spacious apartment conversions; however, be prepared to pay premium prices for living in this area.
Ixelles is the only commune in Brussels that isn't restricted to a single piece of land. It is divided into two by Avenue Louise.
Woluwe Saint Pierre
The cosmopolitan, residential commune of Woluwe Saint Pierre occupies almost 9 square kilometers of the city, including 180 hectares of greenery. It is the neighbourhood of choice for employees of most foreign embassies because of its diversity, lively atmosphere, proximity to most European institutions, and upmarket housing.
The area has a mix of large houses and compact apartments but it has managed to maintain its harmonious layout over the years. It offers a large number of facilities and public amenities to its residents. You will find numerous parks, a sports center, and cultural hotspots across the self-contained Woluwe Saint Pierre.
Watermael Boitsfort
Up until the 19th century, Watermael and Boitsfort were considered as two separate hamlets. However, things were turned upside down during King Leopold the Second's urban renewal project. Since then, the two neighbourhoods have been joined.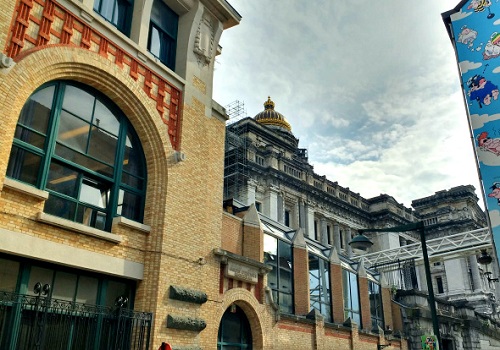 © jeviscachee.com
Located on the south of Brussels, bordering Ixelles, Watermael Boitsforth has recently become a highly sought-after residential area, with expats as well as the local population. This commune offers easy access to the city as well as the highway. Half of the territory is covered by Zoniënwoud. Watermael Boitsforth gets its quaint charm from its combination of semi-rural residential, village-like housing and large villas. Expats with kids prefer living in this neighbourhood as the International School of Brussels (ISB) is located here.
Saint Josse Ten Noode
Brussels' smallest neighbourhood has so many facets, it is known as "the commune with ten faces". While some refer to this area as culturally diverse, others believe it is a place of contrasts. You will find five-star hotels and modern office buildings close to residential properties.
Expats from all over the world, especially Turkey and the Middle East, call Saint Josse Ten Noode home. This has resulted in a bustling and friendly Anatolian ambience. Moving around is fairly easy, especially if you prefer walking short distances.
Schaerbeek
The northern area of the city houses a melting pot of cultures as the neighbourhoods are highly diverse sociologically. Schaerbeek is the second most populous commune, after Brussels City, with over 130,000 inhabitants made up of around 140 different nationalities.
This commune is full of noteworthy sights, ranging from cultural spots to unique markets. In spite of its wide streets, this well-planned area can get crowded and busy during the day. Fortunately, you can easily find some peace and quiet in the alleys and tree-lined avenues of townhouses.
Saint Gilles
If you are an expat in Brussels but would like to experience the local lifestyle, St. Gilles or Sint Gillis is the perfect place for you. This commune is regarded as the most dynamic area in the Belgian capital, with a bright future.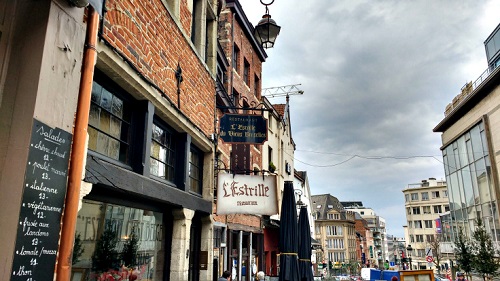 © jeviscachee.com
Both expats and locals are attracted to its enigmatic character. The Brussels-Midi train station in the lower part of the area has led to massive redevelopment. The neighbourhood is also packed with grand houses, charming shops, quirky restaurants and buzzing nightlife. There are several theaters, cinemas and galleries to explore too.
Uccel (Ukkel)
This serene, scenic southern commune boasts massive houses as well as elegant, classy apartment blocks. It has therefore become very popular with expat singles, couples and families that like greenery as well as outdoor activities such as swimming, cycling and horse riding. Because of the sizable population of foreign residents, the neighbourhood has a number of international schools.
While shopping and dining options are plenty across Uccel, the nightlife isn't as happening as in other places. Fortunately, the neighbourhoods are very well connected to the city center by the bus and tram network.
Anderlecht
Belgium's oldest farming locale has been urbanized as the city limits have spread out. Today, Anderlecht plays a dominant role in the economic life of the entire region. It has become an integral part of the city's landscape, with its shopping centers, industrial zone, horticultural colleges, hotels, abattoirs, and so on. Yet, this area manages to remain a green commune thanks to its numerous parks. The historical center of this commune has still retained its medieval feel too.
Molenbeek Saint Jean
The densely populated area of Molenbeek Saint Jean is home to a multicultural population, mainly because of it happens to be a large business hub. The lower part of the commune mainly consists of working class housing for migrants, while the upper part features a completely modernized urban landscape, with plenty of green spaces.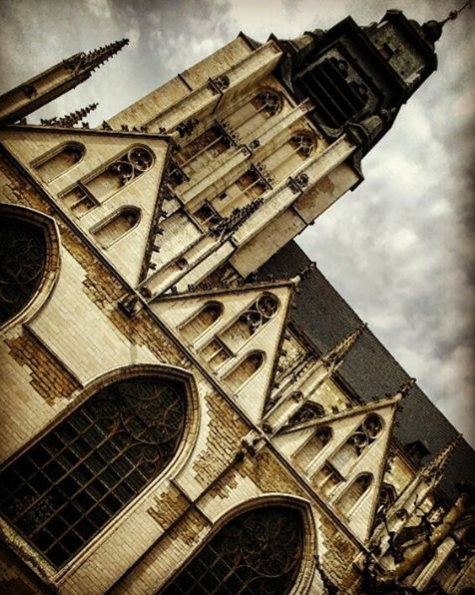 © jeviscachee.com
In the previous century, Molenbeek witnessed intense industrial activity, giving it the nickname of "Belgium's Little Manchester". However, a majority of those industries have since disappeared, to make way for urban developments on a large scale. In the present times, many commercial entities are based in this neighbourhood, having been attracted by its space, connectivity, and availability of workforce.
Koekelberg

Historically known for its small factories and renowned chocolate makers, Koekelberg is one of the denser areas of the city. It is located in the second ring, at the outskirts of Brussels. This commune is the ideal spot for those who crave a piece of Belgium's vibrant culture. At the same time, it has gone through a lot of redevelopment and reconstruction in the recent past. Because of this, there are numerous housing options, ranging from old townhouses to modern apartments.
Berchem Sainte Agathe

One of the friendliest places in Brussels to live and work, Berchem Sainte Agathe is not too far from the heart of the city. At the same time, in a striking contrast, its rural roots are evident in its woods, parks and green spaces. For example, you will find a calm and quiet square immediately after crossing a bustling and crowded avenue. This neighbourhood is therefore often referred to as "a village in a city". Fortunately, housing options are plenty and varied. The famous Hollywood star Jean Claude Van Damme was born and raised in Berchem.
Ganshoren

The residents of Ganshoren are said to lead a double life, as they live in close proximity to the city center but at the same time, have one foot in the countryside. This old farming district has blossomed into a peaceful, residential commune, favored by the locals as well as expats.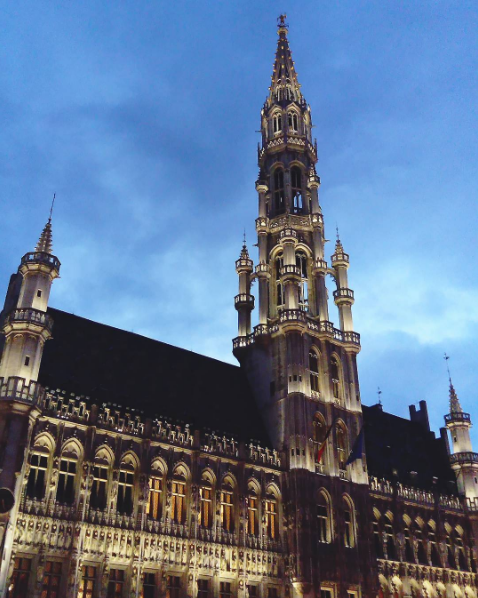 © jeviscachee.com
Jette

Jette was an old village, which got absorbed into the city over a period of time. It is a bit far away from the city center but is well-served by public transport. Urban residents choose this neighbourhood to enjoy the surrounding nature, with five parks in the vicinity. There is a lot to do for nature enthusiasts of all ages. Most families believe that Jette enables them to practice "the art of living well".
Evere

The urban landscape of Evere has undergone a major transformation, thanks to its rapidly growing population. The effort that the commune has made to balance housing options (mainly single-family homes) with enterprise by promoting non-polluting cutting-edge industry is evident. One part of this area is very green, with wide avenues and impressive apartment structures.
Auderghem

Best described as "part city, part forest", Auderghem's terrain is covered by the Sonian Forest as well as a number of large parks. This is one of the most pleasant residential areas in the Brussels agglomeration, as spacious streets with villas are alternated with more modest surroundings. In spite of increasing traffic, Auderghem has preserved its historical and natural heritage admirably.
Forest

Contrary to its name, Forest is a multicultural and modern commune, which boasts major industry, along with many pleasant and peaceful residential areas. It is very hilly. The highest point in this neighbourhood is about 100 meters above sea level, offering one of the finest vistas in the city.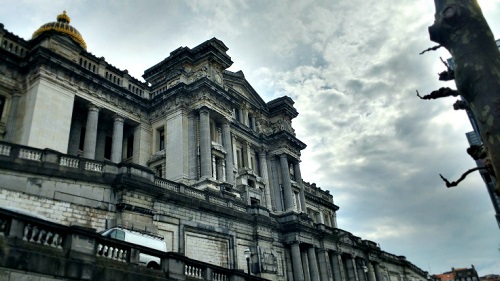 © jeviscachee.com
Woluwe Saint Lambert

A commune of contrasts, Woluwe Saint Lambert has vestiges of its rural housing, along with the university complex as well as a number of corporate offices and administrative centers. It is paradise for those who fancy retail therapy but at the same time, the landscape is balanced with plenty of greenery. Opulent buildings and townhouses stand side by side along some of the main roads.
You can find more information about moving to Brussels here.
Have you lived in Brussels? Share your thoughts in the comments below or fill in the questions here to be featured in an Expat Experience interview.