Fine living often comes at a huge premium. Most places where the quality and standards of life are high tend to be quite expensive. Many potential expats give up on their dream destinations, simply because the living costs in that location are beyond their means. Fortunately, it is possible to enjoy a tropical lifestyle, including great weather and pristine beaches, without making a huge dent in your bank account.Belize offers its residents a great life, with plenty to see, do and experience, at fairly affordable costs. This South American nation has been one of the top tourist spots because of its wide variety of flora and fauna, as well as its ancient ruins and archeological sites. If you are a nature, history or water lover, you will undoubtedly feel right at home in this country. The local population, which is a blend of English, Spanish, Creole, Chinese and East Indian people, will make you feel welcome.
In the last few years, Belize has been gaining a lot of popularity with expats from North America and Europe. Senior citizens from around the globe are also quite inclined to spend their golden years under the Belizean sun. Many of them will tell you that the country is quite expensive compared to other South American nations, like Guatemala and Mexico. The cost of living in Belize is indeed the highest in the region. At the same time, expats from the US, UK, Canada, Australia and Western Europe find this country quite affordable. So how much do you really need to lead a comfortable life in Belize?
The local currency is the Belizean Dollar (BZ $) and it is permanently tied to the US Dollar, at 2:1. You therefore won't have to worry about any fluctuations in currency rates when calculating expenses. Your expenditure will depend on your family as well as the type of life you lead. Several factors like the area that you live in, your overall health, activities and interests will have an impact on the amount you spend each month. On average, a couple needs at least BZ $ 2,000 (US $ 1,000; £ 776; € 886) per month in order to live comfortably in an owned property. This amount increases by almost double if they are renting.
So, before you book your tickets and pack your bags, look at all your sources of income and the amount you are likely to spend each month. Below is a short summary on the most common expenses you are likely to incur.
Rent and Utilities
With plenty of expat housing options available, finding good and reasonable accommodation should not be a challenge. However, the rents vary from one region to another. Like in any other country, the city center and the tourist hotspots tend to be a lot more expensive than other residential areas. A property on the beachfront will also demand a higher monthly rent.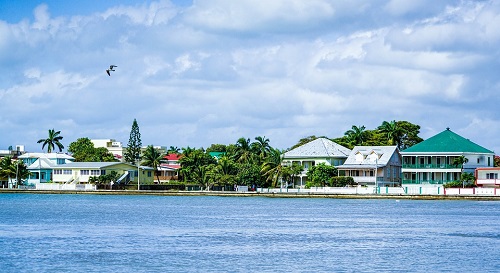 Beachfront properties are popular but expensive
© Mariamichelle on Pixabay
According to the latest statistics, you are likely to pay these amounts towards your monthly rent, based on the neighborhood and state of the property –
• A studio apartment (around 45 sq. meters) in the heart of the city: BZ $ 800 (US $ 400)
• A studio apartment (around 45 sq. meters) outside of the main city: BZ $ 550 (US $ 275)
• A 1-bedroom apartment (around 85 sq. meters) in the heart of the city: BZ $ 1100 (US $ 550)
• A 1-bedroom apartment (around 85 sq. meters) outside of the main city: BZ $ 900 (US $ 450)
• A 3-bedroom apartment (around 200 sq. meters) in the heart of the city: BZ $ 1400 (US $ 700)
• A 3-bedroom house (around 200 sq. meters) outside of the main city: BZ $ 1200 (US $ 600)
These amounts are only indicative of the average monthly rents across the country. You may get something a lot cheaper, or much more expensive, than what is mentioned above. Also keep in mind that furnished properties are likely to be much higher; many of the houses come with furniture, electronics and kitchen appliances.
In addition to rents, you also need to factor in at least BZ $ 300 (US $ 150) for electricity, water, heating and garbage charges every month. This is the average amount paid by a couple and will be higher if you have children. It is best to rent a property that has all the utility connections in place, otherwise you may be asked to pay the installation charges.
If you are signing up for broadband internet, it will cost you an additional BZ $ 300 (US $ 150) per month, for a basic pack. Other costs may include cable TV for BZ $ 50 (US $ 25) and phone bills for BZ $ 100 (US $ 50). It may be a good idea to look for a provider that offers you a package deal in town.
Groceries and Eating Out
Food is a huge variable when it comes to calculating expenses in Belize. The local produce is quite cheap, but be prepared to spend a huge amount if you would rather stock your pantry with imported items. The average monthly grocery bill for a couple may vary between BZ $ 800 (US $ 400) and BZ $ 1200 (US $ 600). This includes meals at reasonably priced restaurants once or twice a week.
If you eat like the Belizeans and cook at home, using ingredients such as rice, dried beans, chicken, tomatoes, onions, and coconut milk, you can minimize your grocery bills to a great extent. The local packaged food is on par with international items but most expats prefer consuming imported products, including fruit and vegetables. This can increase food bills by almost double.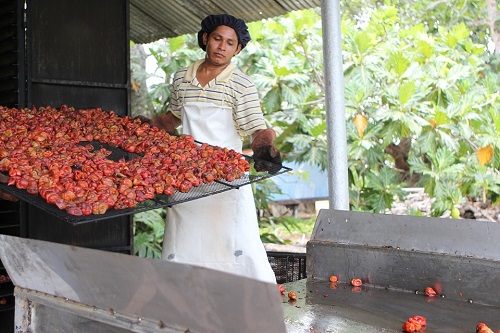 Eating like the locals, rather than importing food, can save you money
© mtouby on Pixabay
Eating out in Belize can be inexpensive if you choose the local seafood joints. A combo meal at a fast food joint will cost you around BZ $ 10 (US $ 5) or so. The tab for a light meal at a low-priced eatery should be more or less the same. A couple could spend up to BZ $ 60 (US $ 30) for a 3-course meal at a mid-range restaurant (without alcohol) and more than BZ $ 80 (US $ 40) for a full meal with wine.
Drinking alcohol doesn't necessarily have to burn a huge hole in your pocket. Most liquor stores stock reasonably priced domestic beer for BZ $ 3.5 (US $ 1.65), imported beer for BZ $ 5 (US $ 2.5) and mid-range wine for about BZ $ 30 (US $ 15). The prices of these beverages at a local bar or pub will probably be marginally higher. However, be prepared to pay at least BZ $ 10 (US $ 5) for a cocktail at a club.
Healthcare
Under the legislation of the Belizean government, all the legal residents are entitled to receive free treatment from the state facilities. To be eligible, you need to make the required number of contributions to the public insurance scheme through the Social Security Board. Even those who do not have insurance can easily afford the services of a doctor. On average, a day's stay at a public hospital will cost you around BZ $ 50 (US $ 25). However, getting an appointment with a doctor could take a while because of the long waiting lines.
Expats from developed countries find the public healthcare system in Belize inadequate, since it does not address some of the more serious conditions. You may therefore find it necessary to use private healthcare, which comes at a higher cost. The exact cost will depend on the insurance provider and the extent of your cover. The approximate health insurance for a couple is around BZ $ 600 (US $ 300) a month. You can choose to visit a private clinic even if you don't have insurance. In such cases, be prepared to pay for every service you require. A short visit that only includes consultation normally costs BZ $ 70 (US $ 35) or so.
Private treatment expenses will vary, depending on the facility you opt for, the condition being treated, the experience of the specialist and the type of room you stay in. You may end up paying thousands of dollars even for a simple procedure, if you are required to stay in the hospital for a couple of nights.
Traveling
Most expats who have settled down in the country prefer to purchase their own vehicle, so that they can get from one place to another without having to rely on public transport. The cost of a basic new sedan is in the range of BZ $ 60,000 (US $ 30,000) and BZ $ 80,000 (US $ 40,000), depending on the make and model. Many people only travel short distances and prefer using a golf cart, which can be purchased for under BZ $ 30,000 (US $ 15,000). Importing a vehicle from your home country is difficult as well as expensive, and therefore not recommended.
The cost of renting a car is exorbitant and people can only afford to do so on a short term basis. The price of gasoline is BZ $ 2.5 (US $ 1.25) a liter (quarter gallon).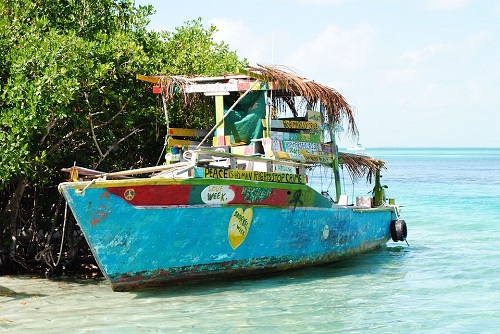 Since the roads are unkempt, many people use boats or bicycles to get around
© amon1500 on Pixabay
Unfortunately, because the roads in the country are not of great quality, it is quite common to get a flat tire. Many of the residents therefore use bikes to commute short distances.
Public transport in Belize is cheap and reliable, if not exactly comfortable. For example, many of the buses are actually old American school buses and adults have to squeeze into seats that have been designed for children. Nevertheless, if you commute by bus, train or ferry on a regular basis, you should not spend more than BZ $ 100 (US $ 50) per person, per month. Taxis are slightly costly as the starting tariff is BZ $ 5 (US $ 2.5) and you pay the same amount for every kilometer you travel.
Personal Care
When calculating monthly expenditure people often overlook the amount they are likely to spend on their personal care items like toiletries and visits to the hairdresser. Since these items can cost a lot, it is essential to factor them in when planning your monthly budget. Depending on the brands you use, your expenditure on your toiletries should not exceed BZ $ 200 (US $ 100) per month. However, this amount could easily double if you use imported products and visit the spa more than once a month.
The cost of a visit to your local spa will depend on the treatments you undergo. Many of them offer combination packages, thereby helping customers to save a lot. A standard men's haircut in a good parlor usually costs BZ $ 20 (US $ 10) or so.
Leisure and Entertainment
There is a lot to see and do in Belize but most of the activities come at an extra cost. On average, a couple is likely to spend at least BZ $ 200 (US $ 100) per month towards their leisure activities, which include movies, sports or a night out on the town. This amount does not take into consideration the cost of eating out or joining a fitness club.
You may also want to take into consideration the monthly expenses for domestic help and childcare if applicable, as these tend to be high amounts too.
It is fair to say that you can easily lead a simple yet healthy life at a low cost in Belize. The key is to watch your expenses carefully. This will include looking around and comparing prices before you shop for anything. Also, make sure that you stop converting prices or everything will seem "cheap" even if it isn't. It is possible for you to get "more for less" by making the right lifestyle choices.
Have you lived in Belize? Share your thoughts in the comments below, or answer the questions here to be featured in an interview!