Brunei is a tropical country with one of the highest standards of living in the world. It's a small country, with a population of 400,000 residents, and it has a robust economy on account of its booming oil and gas industries. Nearly 40 percent of Brunei's population consists of expats, who come here mainly on account of the tax-free income and attractive employment packages. Expats from North America and Western Europe will find that the cost of living in Brunei is comparatively low.Expats may experience culture shock when they first arrive at Brunei. It is an Islamic country with strict rules and regulations and foreigners are expected to respect and abide by local standards. All expats are required to dress in modest attire, especially women. Physical contact between men and women is not permitted in public. Expats may not face much of a language barrier in Brunei. The official language is Malay, but English and some Chinese dialects are also used, especially in business.
Brunei is considered to be a safe place for expats. There are strict regulations in place regarding drugs and alcohol, and there is a limit to how much alcohol expats are allowed to import.
Brunei's healthcare system is among the best in the world. Public medical care is available to residents at no cost. Expats are charged low rates. They can also avail themselves of private healthcare if they have a comprehensive health insurance policy. Private hospitals adhere to high standards, but are located in the main urban areas.
The country's public education system is of a high standard and receives considerable government investments. However, expats generally prefer to send their children to international schools, which are mainly located in Bandar Seri Begawan, the capital of the country.
Here are the top ten things to do in Brunei as an expat.
Enjoy the limited nightlife
Since Brunei is a devout Muslim country, there are strict laws when it comes to alcohol and alcohol consumption. Locals are strictly forbidden from bringing alcohol into the country and there are no bars in Brunei. Foreigners can import six cans of beer or two bottles of spirits every 48 hours. This means that most alcohol-related recreational activities are house parties. New expats will find that the expat community in Brunei is friendly and hospitable. Expats looking for bars can visit Malaysia, which is just across the border.
Walk in the wild
Over 80 percent of Brunei is still unspoiled jungle, which is lush and humid. A walk through the virgin jungle will feel like a walk back in time. There are also some beautiful waterfalls to explore. However, the visibility is low.
Those who are unsure about walking through the thick humid jungle can go walking at Tasek Lama and Bukit Shabandar, two popular recreational parks. Tasek Lama is located near the center of the capital city. Walking through Tasek Lama you will be able to watch monkeys as they swing from the trees. There is also a man-made waterfall that comes off of the city's main reservoir. Tasek Lama is popular among locals and many go there to get their morning exercise. It is also a family-friendly park as there are a number of playgrounds throughout the park.
Bukit Shabandar is a hill with several walking trails around it. Here too, monkey sightings are common. Many come to Bukit Shabandar in order to train for climbing Mount Kota Kinabalu in Malaysia. There are juice sellers at the foot of the hill, perfect for a refreshing end to an invigorating walk.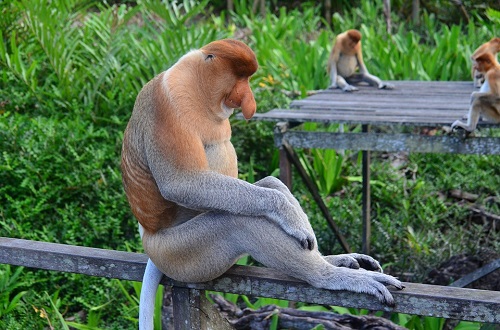 Meet the proboscis monkeys in Temburong National Park
© Lekies on Pixabay
There are also walking trails at Temburong National Park, where there is a tree-top walk over the forest canopy. It takes a boat ride to get there and along the ride you can spot some proboscis monkeys, a unique species with long noses.
Join a barbeque
Barbequing is a popular way to cook in Brunei and there are a number of public barbeques scattered along the beaches. Two of the most popular places for a barbeque are Muara Beach and Berakas Beach, where you can barbeque some delicious food and also engage in a game of soccer or frisbee. Those who would like a taste of barbequed food but don't want to cook it themselves can head to Gadong night market, where they can find fresh, inexpensive barbequed chicken or fish. The buffet dinner at the Empire Hotel, which is 5 km away from Jerudong Park, is the place to go if you prefer something more upscale. This is a great opportunity to enjoy a meal in the outdoor cabana while taking in the stunning sunset.
Visit a mosque
Brunei, being a devout Islamic country, has a number of mosques. Two especially spectacular ones are the Sultan Omar Ali Saifuddin mosque and the Jame Asr' Hassanal Bolkieh mosque. The current Sultan's father donated the Sultan Omar Ali Saifuddin mosque to the country, which is located at the base of the main shopping district in the Bandar Seri Begawan.
The Sultan Omar Ali Saifuddin Mosque is one of the largest mosques in this part of the world, and features an innovative design, while still adhering to tradition by incorporating Mughal and Italian Renaissance influences. The structure has a large dome, which is covered with gold plates. The marble minaret stands at a height of 52m and upon ascending it, one can feast their eyes on the city spread out below. An artificial lagoon that works as a reflecting pool surrounds the mosque. The interiors are lavish with the floor and walls made from the highest grade of Italian marble. It has chandeliers that were made in England and the beautiful carpets were sourced from Saudi Arabia. There is a ceremonial stone boat in the lagoon, which is a replica of the 16th century royal barge, called mahligai, where competitions on Quran reading once took place. The mosque ripples with life especially in the evenings, when people visit it for evening prayers, or to eat and shop in the area.
The Jame Asr' Hassanal Bolkieh mosque, also called the blue mosque by expats and tourists, was constructed by the present Sultan. It serves as an excellent example of modern Islamic architecture in Southeast Asia and was built to commemorate 25 years of the Sultan's reign. Locally it is known as the Kiarong mosque and overlooks the Kiarong and Kiulap commercial areas. The mosque comes alive at night when it is fully lit. The mosque features 29 golden domes with ornamented minarets. It stands amidst impressively landscaped gardens. With a capacity to accommodate 4,500 male and female worshippers, the mosque is one of Brunei's most revered cultural symbols.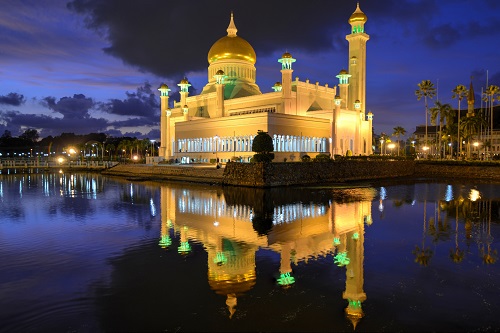 The mosques are beautiful examples of Brunei's architecture
© jlascar on Flickr
Get a taste of life in a water village
Expats living in Brunei must get a glimpse of life in a water village. Kampong Ayer is the world's biggest water village and is located on the outskirts of Bandar Seri Begawan and has been in existence for centuries, weathering the inconstancy of nature and time. It stands as a significant landmark of Brunei and also serves as a trade center. Kampong Ayer is located over the Bruner River in the middle of the city and has more than 4000 houses, schools, police stations, markets, clinics and mosques, all constructed on stilts. It has a population of nearly 30,000 and the majority of the population consists of fishermen.
There are also government officers and people working in the public sector. Kampong Ayer is equipped with basic modern infrastructure, and gets a yearly budget from the government since it has the status of a national landmark. According to archaeological findings, Kampong Ayer routinely moved its location in search of greater comfort, safety and security of its residents, until finally resting at its current location. The houses in this water village are simple yet durable against the natural elements. On account of modernization, older building materials were replaced with concrete, wood and zinc for building the walls, columns and roofs. Wooden or concrete bridges connect the houses. All the houses have electricity and clean water. There is even a fire station, schools, religious schools and clinics.
Other available amenities include transport lines, petrol stations, grocery shops, tourist centers, sanitation, garbage disposal system and a postal service. The inhabitants of Kampong Ayer use boats to get from one place to another. The more affluent residents own fiber boats, while the others use wooden boats. Kampong Ayer is sometimes called the 'Venice of the East' or 'Floating City'.
Visit the Royal Regalia Museum
Located on the outskirts of the downtown area, this free museum is an opulent structure. It mostly exhibits gifts that the Sultans have received from the different heads of state of the world, including gifts of exquisite crystal, ivory, jade and silver. It also houses things that have been used in important events such as coronation ceremonies. It has replicas of the Sultan's throne, crowns, gowns and even weapons.
One of the more interesting sections is the life-sized replica of the Sultan's silver jubilee held in 1992 and consists of a to scale model of his parade float with several uniformed mannequins. A visit to Royal Regalia Museum will give you an idea of the absolute monarchy that rules this small country. Remember to leave your footwear outside before entering the museum.
Stay at the Empire Hotel & Country Club
Brunei's premier resort, the Empire Hotel & Country Club, is a vast property with several wings, a number of restaurants and a spectacular lagoon-pool, which offers stunning views of the South China Sea. The Emperor Suite, an emblem of Brunei's opulence, covers an area of 665 square meters!
Boat ride to Bangar
One of the fun things you can do in Brunei is to take an exciting boat trip from the capital city of Bandar Seri Begawan to the city of Bangar. This is done via speedboat, which weaves through many meandering rivers and the feeling you get is similar to that of a rollercoaster. The trip lasts for about 45 minutes and gives you a chance to get glimpses of the beautiful scenery along the way, albeit at a high speed!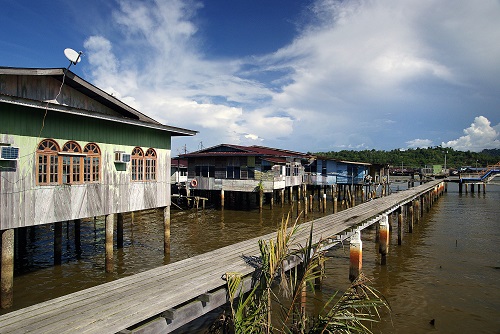 Visit Kampong Ayer water village, where many of the houses are on stilts
© volvob12b on Flickr
Bangar is a small, sleepy town and the capital of the Temburong district. It serves as the gateway to the Batu Apoi Forest Reserve and the Ulu Temburong National Park. The best time to visit is from December to February.
Visit Ulu Temburong National Park
Visit the rich lowland rainforests at the Ulu Temburong National Park. Here you can trek the jungle trails and climb the canopy walkway, from which you can see the forest from a height of above 60 meters. The walkway is built with steel towers supporting the cableway. The park is home to some amazing diversity. The Temburong National Park is perhaps one of the most popular attractions in Brunei. It was the first national park to be created in Brunei and has been protected since 1991. The park lies in Temburong District in eastern Brunei and spans an impressive 550 square kilometers, occupying nearly 40 percent of the district in the south. The park is nicknamed the 'Green Jewel of Brunei' on account of its lush unspoiled jungle. It is considered as part of the sultanate's successful forest protection policy.
Have a feast at Tamu Selera
Tamu Selera literally means 'Appetite Park' and is a popular nighttime food stall area where expats can try various local dishes at very affordable rates. This old-fashioned hawker center is an open area that offers Malaysian and Indonesian dishes. Locals operate the stalls and expats may face a bit of a language barrier here. It would be a good idea to being a native friend along, or a tourist guide, or simply just order what looks good or what the others are eating. Some of the popular dishes include satay, fried chicken and noodles. Tamu Selera is popular among tourists and the locals, and tends to get crowded mainly at night.
Have you lived in Brunei? Answer the questions here to be featured in an interview and share your experience with other readers!