Although conventional care in Bulgaria can be of variable quality, particularly outside the big cities, complementary therapies are flourishing in the country, with a growing number of holistic centres and spas.This is an ancient trend: Thracian communities grew up around the thermal springs. Several Roman emperors also noted the hot springs of the country and – given the Roman predilection for communal baths – established balneotherapy centres to enable citizens to access the therapeutic benefits of the region. Today Velingrad, south of Sofia, has a plethora of hot springs and thermal spas. The Black Sea coast specializes in therapeutic mud products and the mountain regions offer spas as well as workshops in herbalism and other complementary therapies.
Most such therapies will not be covered by your state health insurance, but if you take out private health cover you might be able to find a policy that covers what you are looking for.
What sort of complementary therapies are on offer?
When looking at therapeutic centres in Bulgaria, we need to distinguish the more conventional spas from specialized rehabilitation centres, as the country has both. The Chiron medical centre in Sofia offers a mix of conventional and alternative treatments, for instance, and the concept of integrated practice is popular.
The Specialized Hospitals for Rehabilitation – National Complex Ltd (SBR – NK EAD) – has 13 centres across the country and says that it "offers a wide range of physiological and rehabilitation methods of treatment. Natural and remedial factors such as… mineral water, curative mud in combination with instrumental physiotherapy and kinesiotherapy." It runs a wide range of therapies, from post-operative breast cancer care to psychological treatment and therapies involved in the treatment of diabetes.
However, Bulgaria also has many spas for relaxation and non-rehab complementary therapies, mainly focusing on the thermal springs but also with resorts up in the mountains. Borovets, for instance, has a number of spa hotels adjacent to its role as Bulgaria's oldest ski resort; prices range from €45 to €55 per night.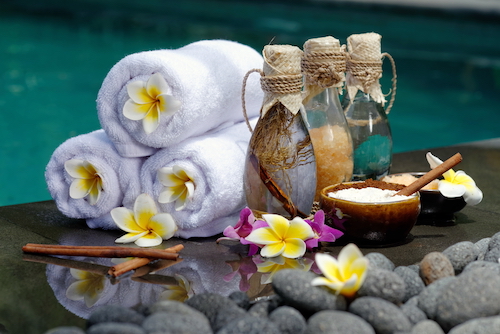 There are many spas around the country
For thermal spas, the town of Sapareva Banya offers a wide range of hotels, and its mineral waters are used in the treatment of loco-motor diseases, illnesses of the peripheral nervous system, gynaecological illnesses, acute and chronic poisoning with salts of heavy metals, dermic diseases, and illnesses of the upper respiratory tract. (Note that we cannot here make any claims as to the medical efficacy of hydrotherapeutic treatment, but the relaxing benefits of spas are unquestionable!) The towns of Sandanski, Velingrad, Hisarya, Kyustendil, and Devin also offer balneotherapy. Velingrad, for instance, offers mineral baths, swimming pools, beaches, sanatoriums, and Spa hotels, with the hottest water in the section of Kamentsa, with temperatures of up to 91 С.
The Saint George Hotel and Spa in Pomorie offers a range of mud therapy. And there's a more alcoholic and unusual form of treatment offered at the Uva Nestum Wine & Spa centre, which offers 'wine therapies.'
However, it's not just balneotherapy for which Bulgaria is famous. Herbalism is also widely practiced in the country, which is one of the top 5 herb exporters in the world. Only 5% of the 15,000 tons of medicinal plants that are harvested annually remain in the country, but Bulgaria has a rich variety of medicinal plants.
"Herbs must be our national priority. They are our wealth," says Svetlana Aladjem of the Information and Conservation Foundation.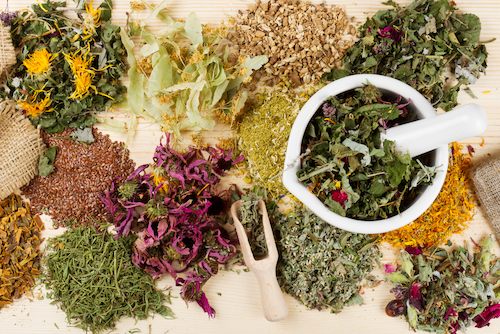 Bulgaria is a popular centre for herbalism
Currently, herbalism has become a livelihood for over 250,000 people, with some pickers earning up to BGN 50–70 per day.
If you're interested in this area, courses in herbalism are offered at places such as the Wild Thyme Retreat, run by a British herbalist. The centre also offers Reiki, OSHO meditation, and ayurvedic and deep tissue massage.
Bulgaria has extensive laws governing the wild collection of indigenous plants: this is regulated by the Medicinal Plant Act of 2000 and the Biodiversity Act of 2002, making Bulgaria a role model for the rest of Europe.
Other alternative therapies are also increasing in popularity in Bulgaria, with ayurvedic clinics opening in Bansko and Sofia, using Indian products and employing Indian personnel. Bulgaria has a Reiki Association, and the Bulgarian Reiki Centre runs ozone therapies as well as crystal healing. A number of places offer acupuncture and this practice, along with other forms of traditional Chinese medicine, has a long history in the country: prior to political changes in the late 1980s, acupuncture was routinely offered in Bulgarian hospitals and Bulgarian doctors were sent to Beijing to study in the early 1960s. Some of these forms of treatment are currently regulated under Bulgarian legislation and there is a recognition that Chinese traditional medicine, for instance, must be regulated in accordance with best practice.
Bulgaria also has a strong tradition of acupuncture
Hammam treatment (also known as the Turkish bath) has been popular in Bulgaria throughout history and there are still many places where you can engage in this traditional form of relaxation and book a massage at the same time, such as the Yoni Spa in Sofia. The Erma spa in Sunny Beach also offers hammam services, for BGN100 (around €50) for 90 minutes.
Finally, we may note that interest in alternative medicine is growing not just among Bulgaria's residents, but also among its medical personnel, with a recent pilot study suggesting that around 70% of GPs have expressed interest in some forms of alternative medicine, primarily homeopathy and phytotherapy (Western herbal medicine). In the early 1990s the National Institute of Health established an Office of Alternative Medicine to conduct research into a number of alternative treatments:
• biologically-based therapies
• energy therapies
• body/manipulative treatments
• mind/body medicine
• alternative/whole medical systems
The aim of this has been in part to develop a more integrated practice between conventional and alternative medicine. Whether you are resident in Bulgaria or just visiting, however, you will find no shortage of complementary therapies.
Would you like to share your experience of life abroad with other readers? Answer the questions here to be featured in an interview!